Nude Beaches on Oahu
TIME : 2016/2/25 15:14:06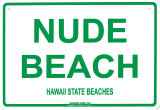 Nude sunbathing in Hawaii might be illegal in a technical sense, but that doesn't mean it doesn't happen all the time. Here's where to go to find the prime spots to shed your suit.
Nude Beaches on Oahu
Oahu has the biggest police force in Hawaii, so its beaches are the ones most likely to be patrolled to keep nudity at bay. It's also the most populated and crowded of the islands, so your chances of finding a quiet and secluded beach on which to sunbathe in the buff are slim. Still, if you've gotta get naked, these are some beaches to try.
Polo Beach (Mokulea) – It's on the popular North Shore, and is where many of the local nudists go, but it's not always nudist-friendly. West of Wailua, toward Farrington Air Field.
Diamond Head Beach – There's one area of this beach that's unofficially gay-only, so if that suits you then give it a whirl.
Two other beaches mentioned on Oahu to try are Kahuku Beach (on Route 83, 2 miles north of Laie) and Kaneane Beach (off Hwy 93, on leeward shore).
Be sure to check out the other nude beaches in Hawaii, too!