Awesome Tidepools in Kapoho Vacationland
TIME : 2016/2/25 15:14:22
In 2003, the shoreline off of Kapoho Vacation Land was made into a marine santuary. Now called the Waiopae Tidepools Marine Life Conservation District, no fishing or spearing of any kind is allowed. I visited the tidepools in 1997 or so, and was not impressed. I went again last month, and was blown away.

A small parking area has been created, signs have been put up, and a university employee is there every weekend to remind people of the rules. This however, is not the amazing part. What is so amazing is not only the abundance of fish, but of coral! Hot-pink, muted-red, every color green imaginable, blue, white, yellow coral! Huge mounds of mountain-shaped coral bigger than me! Delicate, lacy, tiny, wavy coral swaying in the current! I haven't felt the need to take underwater pictures in years, but Waiopae made me get on ebay and order an underwater case for my camera. I'm going back there as soon as I get it.
I have lived in Hawaii for over a decade and have been to just about every marine sanctuary in the islands. Nothing compares. I have always loved Kealakekua Bay for it's beautiful coral-covered bottom and multitudes of friendly fish, but Waiopae beats even Kealakekua. I think part of it is the water is so shallow at Waiopae, so the colors are not diluted by looking through 15 feet of water.
Of course, the difficult part about Waiopae is there are no facilities, there is no shade, and there is nowhere to sit. Most of us East Hawaii locals don't mind sitting and walking on lava rock, and our kids don't even notice it, but not all tourists will think it is a lot of fun. However, if you are one of those special visitors who doesn't need everything to be easy and comfortable, you need to head out to Kapoho Vacationland. Go on a weekday or early on Sunday, because the rest of the weekend there won't be any room for you. Better yet, rent a vacation home down there for a couple of days and go anytime you want.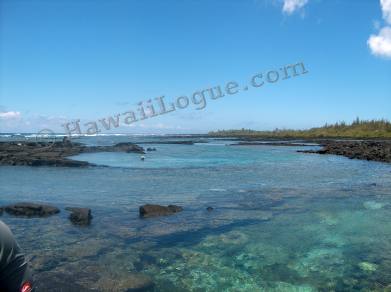 gorgeous!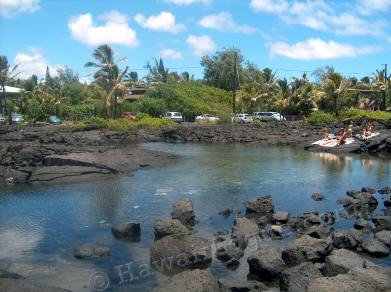 Not the most comfortable spot to sit