Though Las Vegas presents itself as a playground for adults, there are many activities in the city that are appropriate for children. In fact, Las Vegas is actually much more family friendly than many people believe it to be. Planning the perfect vacation, though, can often hinge on staying in the place best for everyone in the traveling party, and in Las Vegas, there are definitely some hotels that are better for families than others.
Keep in mind that you'll be able to book a variety of sizes and styles of rooms, regardless of where you stay, so the key to finding accommodations for the family is to choose one where kid-friendly entertainment isn't too far away. If you'll be traveling with kids, here are some hotels that are particularly welcoming to families.
Circus Circus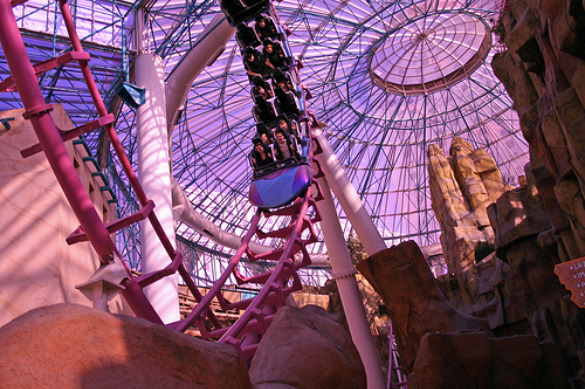 The most obvious choice for families staying on the Strip is Circus Circus. Located on the northern end of Las Vegas Boulevard, Circus Circus is a bit aged when it comes to the rooms, but this hotel is known for its value. Children 17 and under stay free with an adult. In addition to standard hotel rooms, there is an RV park run by KOA on site, which has 399 spaces.
Circus Circus itself is known for its family friendly entertainment, which truly is unmatched on the Strip. The Adventuredome, a five-acre indoor theme park, is packed with rides, carnival games, family activities and free clown shows. Rides range from a double-corkscrew roller coaster and a log flume with a 60-foot drop to gentle carnival rides fun for the smaller ones in the family. Enjoy mini golfing, rock climbing and laser tag as well.
Throughout the summer, the Adventuredome is open from 10:00 a.m.-midnight. During the school year, the theme park closes earlier in the evening. During the month of October, the Adventuredome is decorated for Halloween and is known as the Fright Dome. Ride prices range from $4.00-$7.00, depending on the category of the ride. If you plan on riding more than a few rides, consider purchasing an all-day ride pass.
In addition to the Adventuredome, families will be entertained by the free circus act, which is billed as the world's largest permanent circus. There is a free performance every day at 11:00 a.m. on the center stage of the Carnival Midway. Acts include juggling, acrobatics, flying trapeze, aerial gymnastics and contortionists. You'll also find more than 200 classic and new carnival and arcade games here.



Excalibur
Known for its laid-back, fun vibe, Excalibur's unpretentious atmosphere is perfect for families with high-energy kids. Children 12 and under stay free with an adult. Rooms are affordable and dining is generally a casual affair here.
Fantasy Faire, the resort's midway, is in expansive area composed of arcade, video and carnival games as well as 4D rides and a laser maze. The midway is open Sunday through Thursday from 10:00 a.m.-midnight and on Friday and Saturday from 10:00 a.m.-1:00 a.m. The resort's pool is open daily from 9:00 a.m.-7:00 p.m. and is free to both guests and non-guests. It consists of four pools, including an 18+ pool and one with water slides.
Excalibur also hosts the Tournament of Kings, a jousting dinner show complete with invading armies, dancing maidens and fireworks. Tournament of Kings can be seen Monday through Thursday at 6:00 p.m. and Friday through Sunday at 6:00 p.m. and 8:30 p.m.
It is also worth noting that Excalibur is located within walking distance of Showcase Mall, which houses Gameworks, M&M's World and an extensive food court.



MGM Grand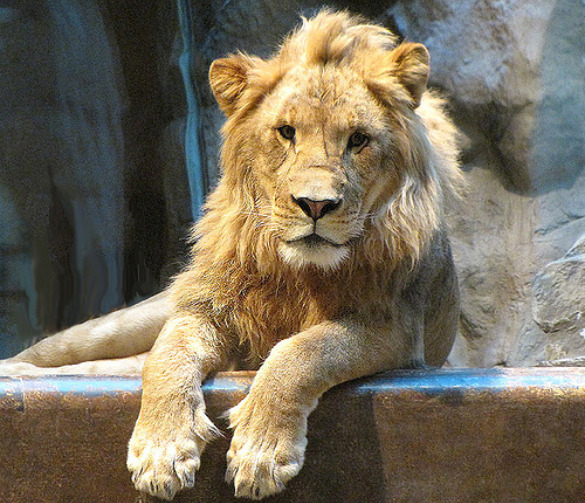 Though MGM Grand is not as inexpensive as other family-friendly hotels on the Strip, there are amenities in the resort that do cater to those with kids. The Lion Habitat at MGM Grand can be fun to watch (depending on whether the lions are awake and roaming around or snoozing). From 11:00 a.m.-7:00 p.m. daily, visitors to the resort can view the resort's lions, which stay in a multi-angle viewing enclosure during the day.
At mealtime, consider taking the family to the Rainforest Cafe. This national chain has a fun, colorful atmosphere with tropical fish and birds throughout the restaurant. After dinner, consider catching KA, a plot-driven Cirque du Soleil show. Younger children will enjoy the circus elements of the show while adults will appreciate the story line, music and theatrical components.
MGM Grand is also conveniently located near other family friendly activities on the Strip. It is next door to Showcase Mall, which houses Gameworks, M&M's World and an extensive food court. New York New York, with its roller coaster and several grab-and-go dining options, is right across the street.
Children 12 and under stay free with an adult.



New York New York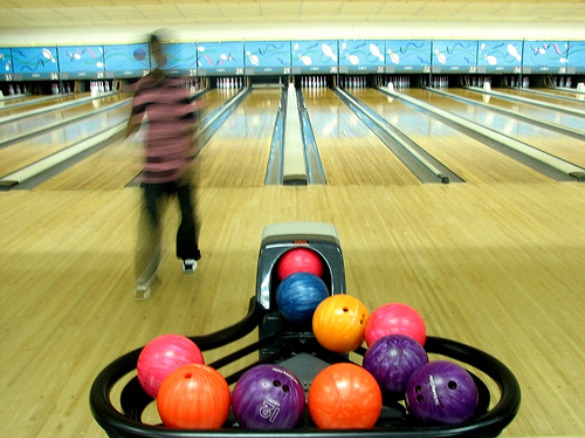 New York New York is a reasonably priced hotel with rooms starting at about $60 per night for a midweek stay. Its atmosphere is fun and inviting, with "streets" through Greenwich Village that lead past pizza joints and ice cream parlors.
If there's one thing that New York New York is known for, it's the roller coaster, which drops at 144 feet at one point and reaches speeds up to 67 MPH. Riders must be at least 54 inches to ride, so this isn't something for the smallest members of the family, but older kids will enjoy the adrenaline rush.
New York New York is located across the street from Showcase Mall, which houses Gameworks, M&M's World and an extensive food court. MGM Grand, home to The Lion Habitat, is located next to Showcase Mall.



Station Casinos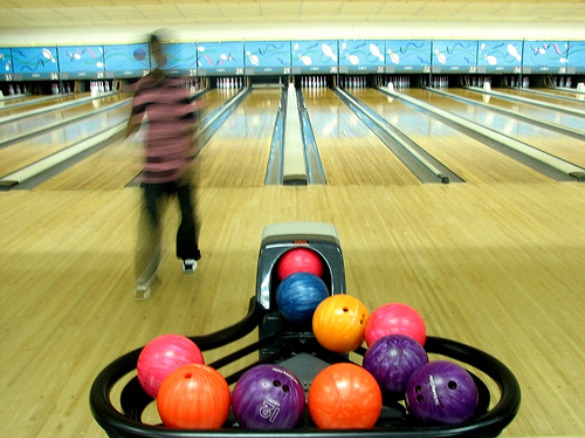 A hotel and casino chain in Las Vegas known as Station Casinos has no properties on the Las Vegas Strip, but if you have a rental car, you might consider staying in one for the family friendly atmosphere. The Station Casinos are reasonably priced. Most are older than several of the well-known resorts on the Strip, so rooms are a little rough around the edges, but if you don't mind a short drive and aren't planning on spending all your time in your room anyway, this may be the ideal match for your family.
The Station Casinos are generally known as the locals' casinos, and it's no wonder why: Families come for the bowling alleys and arcades and teenagers like the movie theaters. In addition to standard bowling, the bowling centers offer cosmic bowling. The movie theaters are run by Regal Cinemas and Century Theatres and have state-of-the-art surround sound and 3D technology. Fiesta Rancho even has an ice skating rink!
Five of the Station Casinos (Santa Fe Station, Boulder Station, Sunset Station, Texas Station and Red Rock Casino Resort Spa) have Kids Quest centers. These centers are professionally supervised entertainment settings for children six weeks to 12 years old. They include arts and crafts, indoor playgrounds, tiny tot rooms and interactive, kid-friendly technology. Kids Quest locations are open seven days a week, including evenings, at an hourly rate.
There are several hotels in the Station Casinos chain, so check the amenities to ensure what you are getting is what you are looking for in an accommodation. Policies vary regarding how old children have to be in order to stay free with an adult; check with your hotel when booking.
The Orleans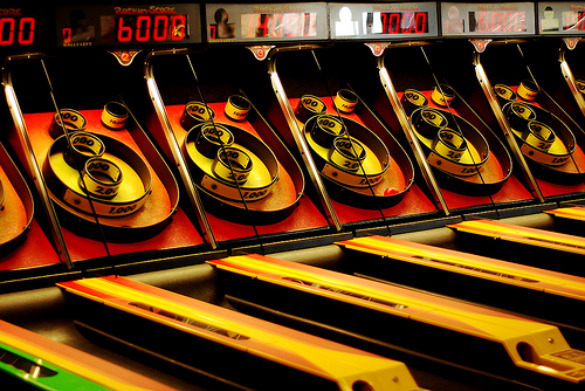 The Orleans is located at 4500 West Tropicana Avenue, just a few minutes from the Las Vegas Strip. Rooms are affordable for families, and children 13 and under stay free with an adult. A complimentary shuttle runs between The Orleans and its sister property, the Gold Coast, to Bill's Gambling Hall on the Las Vegas Strip every 30 minutes.
One of this resort's most appealing features to families is an 18-screen movie theater. The bowling center at The Orleans is frequently voted the best in the Las Vegas Valley. It features 70 lanes, a fast food snack bar and a video arcade.
The Orleans is also home to Kids Tyme, a professionally supervised play area for children ages three through 12. A multi-level jungle gym, coin-free arcade room, interactive play stations, a movie room and an arts and crafts station are among the highlights.



Photo credit: Circus Circus (mulf), Excalibur (msmail), MGM Grand (o palsson), New York New York (Ben.a), Station Casinos (mawkymawk), The Orleans (dixieroadrash)