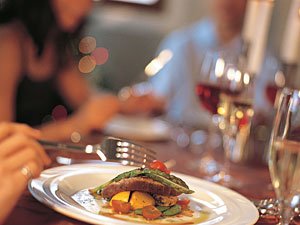 Imperial Palace Las Vegas offers six specialty restaurants, featuring a variety of cuisines and dishes to satisfy all tastes.
Ginseng 3 – Korean, Japanese & Chinese
It is open 24 hours a day and is an affordable choice at the hotel. It features some of the most exotic tastes of the Far East. The restaurant is located at the hotel's fifth-floor dining plaza and features traditional Korean cuisine.
Hash House A Go Go – American, traditional
It is open from 7 a.m. to 11 p.m. from Sunday to Thursday and from 7 a.m. to 2 a.m. on Friday and Saturday. It is located on the hotel's second floor, right above the casino floor.
The restaurant offers the city's best breakfasts, one pound burgers and huge salads for lunch. You can choose among the various interesting dishes, such as the chorizo, jalapeno, cheddar and tomato hash, the one pound burgers stuffed with apple smoked bacon and mashed potato or the Sage Fried Chicken breasts served on a bacon waffle tower with hot maple reduction and fried leeks. Of course, decadent desserts complete the menu.
Betty's Diner – casual, cafe
It is open from 6 a.m. daily and features ice creams, shakes, sundaes, but you can also grab a quick bite here, such as sandwiches, bakery and specialty coffees. You can use the wi-fi for a nominal fee.
Burger Palace – American, traditional
It is open 24 hours a day and features affordable American fare. You can choose among the wide selection of burgers, fries and other fast-food fare, along with the soft drinks.
Emperor's Buffet – Buffet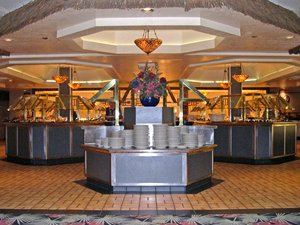 It is open for brunch (7 a.m. to 2 p.m.) and dinner (4 p.m. to 9 p.m.). The brunch can be served daily and costs $12.99. Dinner can also be served daily and costs $18.99. Also you can opt for the "$25 unlimited buffet access" and you can eat everything you want (and can) during the entire day.
Embers – Steak and Seafood
It is open from 5 p.m., from Thursday to Monday. The average entrée price is $25-40, making the restaurant one of the more expensive choices at the Imperial Palace Las Vegas.
The menu features appetizers such as Oysters Rockefeller and Prawn Cocktail. You can choose among various salads, such as Spinach Salad or Chopped Salad and the meats choices include dishes such as Filet Mignon and Roasted Chicken Breast.
Pizza Palace – Italian
It is open daily from 5 p.m. and features Italian pizzas and pastas. The portions are large and the prices affordable. You can choose among appetizers such as Stuffed Seafood Portabello, Calamari Frita or Chicken Wings. The pizza menu features items such as Hawaiian Pizza, Five Cheese Pizza or Greek Pizza. For dessert you can indulge in a serving of Tiramisu.
Quesadilla – Mexican
It is open daily and features Mexican cuisine. The restaurant is located on the fifth floor. The appetizers include items such as nachos or Mexican style shrimp cocktail. You can try the specialties which include dishes like burritos, enchiladas or tacos. For drinks you can choose one of the interesting cocktails: tequila sunrise, mojito or sangria.