Bellagio Las Vegas
TIME : 2016/2/25 16:06:50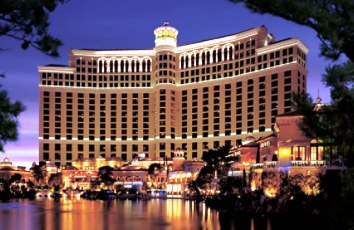 Bellagio is a luxury hotel and casino located on the Las Vegas Strip. It was built on the site of the demolished Dunes hotel and casino and is owned by MGM Mirage. The hotel was inspired by the Lake Como resort of Bellagio in Italy and is known for its elegance and the beautiful Fountains of Bellagio, which dance synchronized to music.
Year opened
The Bellagio opened on October 15, 1998 in a ceremony which cost US$88 million. The hotel and casino was built on the site of the legendary Dunes hotel and casino (which was demolished in 1993). Since 2000, it became MGM Mirage property (when Mirage Resorts merged with MGM Grand Inc.).
Location
Nightclubs
The sophisticated atmosphere can be felt in the nightclubs and bars at Bellagio as well. Whether you are looking for an intimate night out or plan to spend some time with the friends sipping cocktails, Bellagio has everything you might dream of.
>>read more about the nightclubs at Bellagio Las Vegas
Entertainment
"O" Cirque du Soleil is the resident aquatic show at Bellagio. The live entertainment in some of the elegant lounges completes the offer for an excellent night out.
>>read more about the entertainment at Bellagio Las Vegas
Things to do
The Fountains of Bellagio are famous all over the world, but the hotel and casino has plenty more things to offer. You can walk in the Botanical Gardens, enjoy the Fine Art Gallery, spent time at the pool, relax at the spa, shop or play golf.
>>read more about the things to do at Bellagio Las Vegas
Read more about:
>>Eight Ways To Enjoy the Bellagio For Less Than $20
>>Bellagio Art Gallery: The Impressionist Landscape