Andrea Bocelli to Appear at MGM Grand
TIME : 2016/2/25 16:14:49
Current Vegas chanteuse Celine Dion once said, "If God had a singing voice, it would sound like Andrea Bocelli."
Bocelli is a little more modest when speaking of himself, "What I crave most, what I hope to achieve, is to communicate with the listener; to touch them in the same way that I was touched as a child by my favorite singers, who touched my heart, inspired me, could make me cry and make me dream."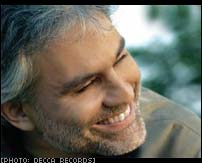 One can say that the Italian-born singer has achieved that. He expressive voice has resonated with millions, from his classical recordings such as Aria and La Boheme, to his more romantic pop-flavored cds such as Sogno and Andrea. In addition to the love of the music-buying public, Bocelli has been showered with just about every honor in the recording industry.
So it would seem that it's about time for The Best of Andrea Bocelli, a first-ever collection of sixteen of his best songs, and the singer is launching a world tour to coincide with the cd's October 30th release.
The tour will bring Bocelli to the MGM Grand Garden Arena here in Vegas on December 1st. This will be the first of only eight scheduled US dates, and is sure to sell out.
Tickets range from $75 to $400 and go on sale to the general public on October 1st. But, if you want to be sure you get the best seats, you can get in on the presale event which starts tomorrow, September 24th. Simply visit Ticketmaster.com at 10am and enter the code word TUSCANY and you'll be in like Flynn.