Gold Spike Sold to Miami Developer
TIME : 2016/2/25 16:17:23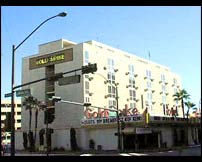 It was announced this week that Tamares Las Vegas Properties, owners of several downtown hotel-casinos, have agreed to sell the run-down Gold Spike on Ogden to a Miami developer – sight unseen! – for a little over $15 million.
The new owner, Gregg Covin Development, has a reputation in Miami for taking older undesirable properties and turning them into boutique hotels, like they did with what is now known as Hotel St. Augustine. And that's exactly what new owner Covin says he wants to do with the Gold Spike. The property will remain partially open during renovations, possibly closing briefly to finish any details they can't do with guests on property.
All of the hotel's rooms will be majorly upgraded from furnishings to decor. In fact, "gutted" is a term I heard bandied about. The casino is also targeted for a revision and Covin reportedly even wants to squeeze in a mini-spa. I'm not sure where he's going to find the room for that in the tiny building.
No time window has been set for the start of the renovations, but rumors are flying it may be as early as September or October of this year.
When the hotel-casino re-opens in its new identity, don't expect to get the current $30 a night rooms or cheap booze. Covin says you can expect rates in the neighborhood of $125 – $150 a night for the new boutique hotel.
Will visitors pay that much to stay downtown? Would you?