Jerry Yang Wins World Series of Poker Main Event
TIME : 2016/2/25 16:17:24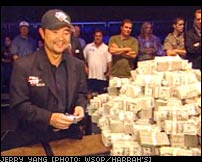 The 55 events of the 2007 World Series of Poker came to a close yesterday morning (July 18) when Jerry Yang caught an inside straight on the final card of the final hand of the main event, which was telecast live on ESPN pay-per-view. This enabled him to win the $8.25 million top prize in that $10,000 No-Limit Texas Hold'em Championship game and walk away top dog.
The 39-year-old Yang hails from Temecula, California, where he is a psychologist and social worker. He was ecstatic, despite the 4am finish at the Rio.
"The feeling is just unbelievable," said Yang. "Words can't explain it. I'm looking forward to using the money to help as many people as I can. I have promised to split 10 percent of my winnings among three different charities – the Make-A-Wish Foundation, Feed the Children, and the Ronald McDonald House – and that is the first thing I am going to do."
Tuan Lam of Canada finished second with $4.84 million and Raymond Rahme of South Africa placed third with $3.05 million.
If you missed any WSOP events this year, ESPN will air select events, including this main event final, every Tuesday from July 31 through October 30.