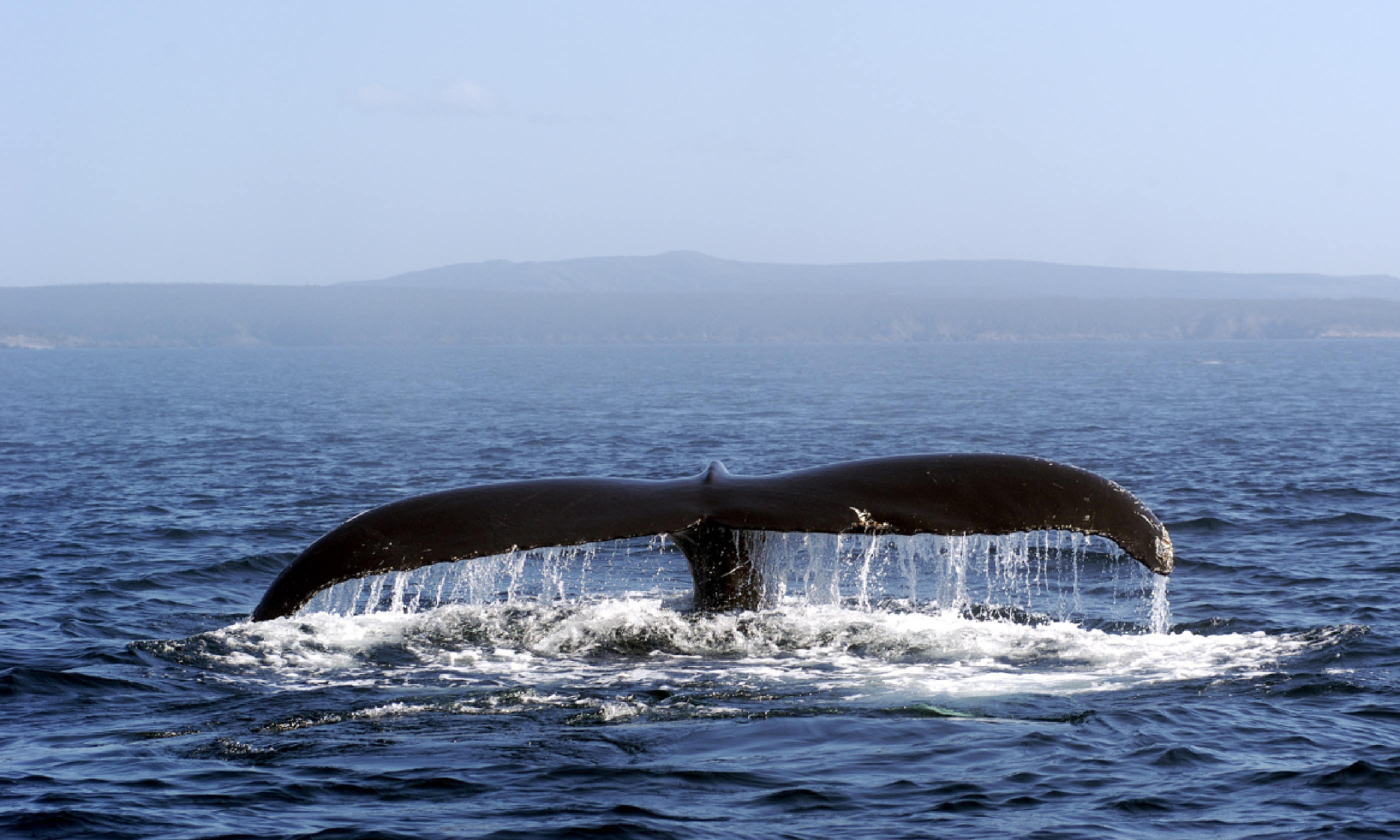 Searching for whales in Newfoundland, Canada
With its drifting icebergs, puffin colonies and picture-perfect fishing communities, this Canadian province has starred in many a movie. But would its A-list whales turn up?
A thick fog clogged Cape Spear, the most easterly point in North America. I'd heard you could see whales from here but, today, visibility was reduced to a few feet. A foghorn sounded mournfully. Tourists shivered. Somewhere in the murk was the oldest surviving lighthouse in Newfoundland, dating from 1836. But we couldn't see it.
The inauspicious signs had been there when I'd landed in Newfoundland's capital, St John's, the day before. The chap at the car rental had been very friendly, asking me what I hoped to do on my visit. When I mentioned whale watching he'd shaken his head: "They haven't arrived yet."
But this was early July, I countered – theoretically the best time to see both Newfoundland's whales and icebergs. Seems no one had told Mother Nature.
Movie magic
On my first morning's tour of St John's, the talk was of lobsters rather than whales. The city is increasingly gaining a reputation as a foodie hub, and we pumped our guide for recommendations. It was the last week of local lobster season and everyone was keen to take advantage.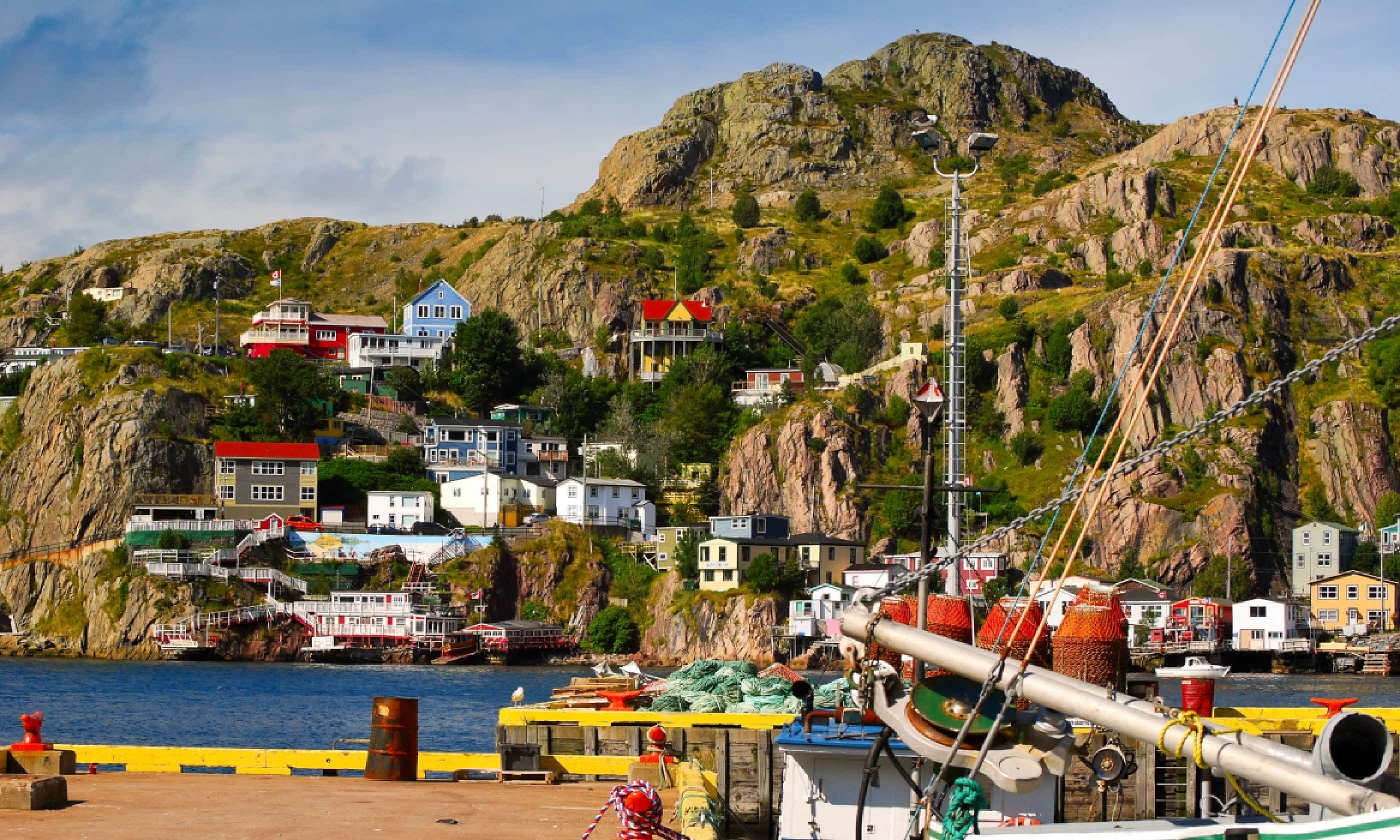 St.John's, Newfoundland (Shutterstock)
The fruits of the sea have long been key for Newfoundland. This big island, considered Britain's oldest colony, has a raggedy coastline of fjords and inlets, and its early settlers built their livelihoods on fishing. Cod to be precise, which was caught in vast numbers out on the Grand Banks.
We cut down to Petty Harbour, one of the oldest settlements in North America, dating back to 1598. It was badly hit by the moratorium on cod fishing in 1992, when stocks had collapsed to 1% of former levels. The northern cod used to migrate here, following a small fish called capelin, and the community depended on the inshore fishing.
The community is half Irish, half English. ("When I was a boy the two sides used to meet on the bridge and fight!" one resident told me.) Now, with the cod gone, the population is much smaller. However, the lack of cod has allowed other species to thrive, including crab and lobster. Locals are allowed to fish for cod at certain times of year but with strict limits; many restaurants still serve cod (often described as 'fish') but this is usually farmed.
Petty Harbour has also been used as a filming location – the 2002 movie, The Shipping News, was shot here. However, it was the gorgeous little town of Trinity, on the Bonavista Peninsula, that really looked like a film set. "People don't think the town is real," laughed resident Marieke Gow, whose mother runs the Twine Loft restaurant. "We've had people ask what time we finish and go home."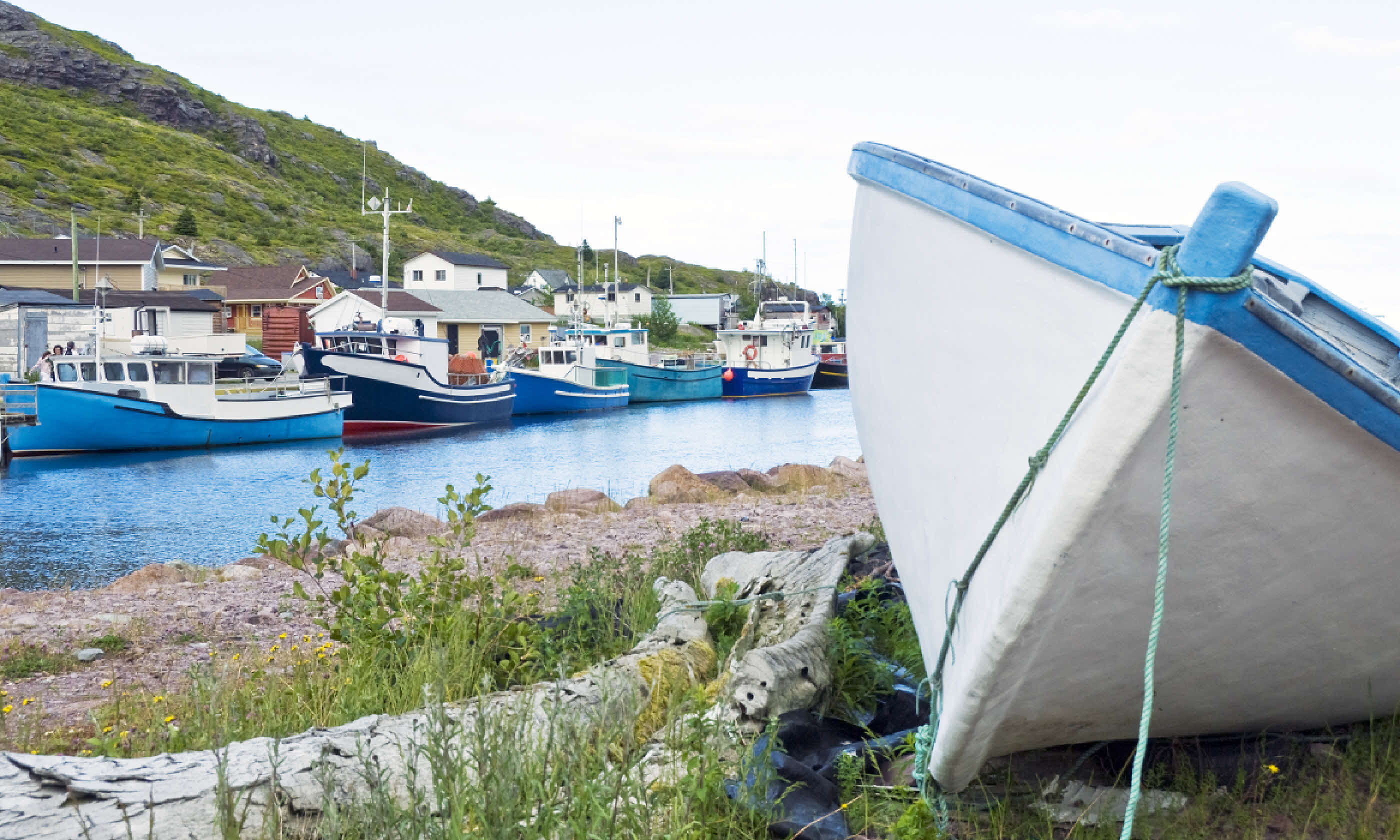 Petty Harbour
You could see why. The handsome wooden houses, surrounded by mowed lawns and white picket fences, looked too good to be true. There are also heritage sites dotted throughout the town, including a blacksmith's shop and a cooperage. Trinity's harbour was considered one of the best in Newfoundland.
The town was initially a boat-building village, and grew to be capital of the salt fish trade in the late 18th century. Wealthy merchants lived, traded and banked here. Now the population is fewer than 40 year-round.
Blast from the past
While Trinity looks like a film set, there's a real one 30 minutes' drive up the road at New Bonaventure. Built in 2000 for a mini-series called Random Passage, the site is a replica early 1800s fishing village. The buildings and interiors are faithful recreations, with the exception of having glass in the windows. You can see how cod was dried on flakes (racks) and then loaded into wheelbarrows.
The site was originally a settlement called White Point, one of numerous coastal communities whose residents either chose to leave, or were enticed to do so by the government, in the 1950s, 60s and 70s. Today, the site is a visitor attraction, the best sort of history lesson for both international visitors and Newfoundland schoolchildren.
"Many of our ancestors had to learn to survive here. They knew nothing of the climate of the land," explained guide Dora. Dora's mother grew up in one of the communities that chose to resettle in search of a better life. "Many of the settlements couldn't be reached by road. They had to be self-sufficient or bring things in by boat. Up to the 1950s most communities didn't have electricity and so children had to take a log to school to help heat it. My mother was often sent home. She had to help dry fish, carry water, tend the vegetables and look after the livestock."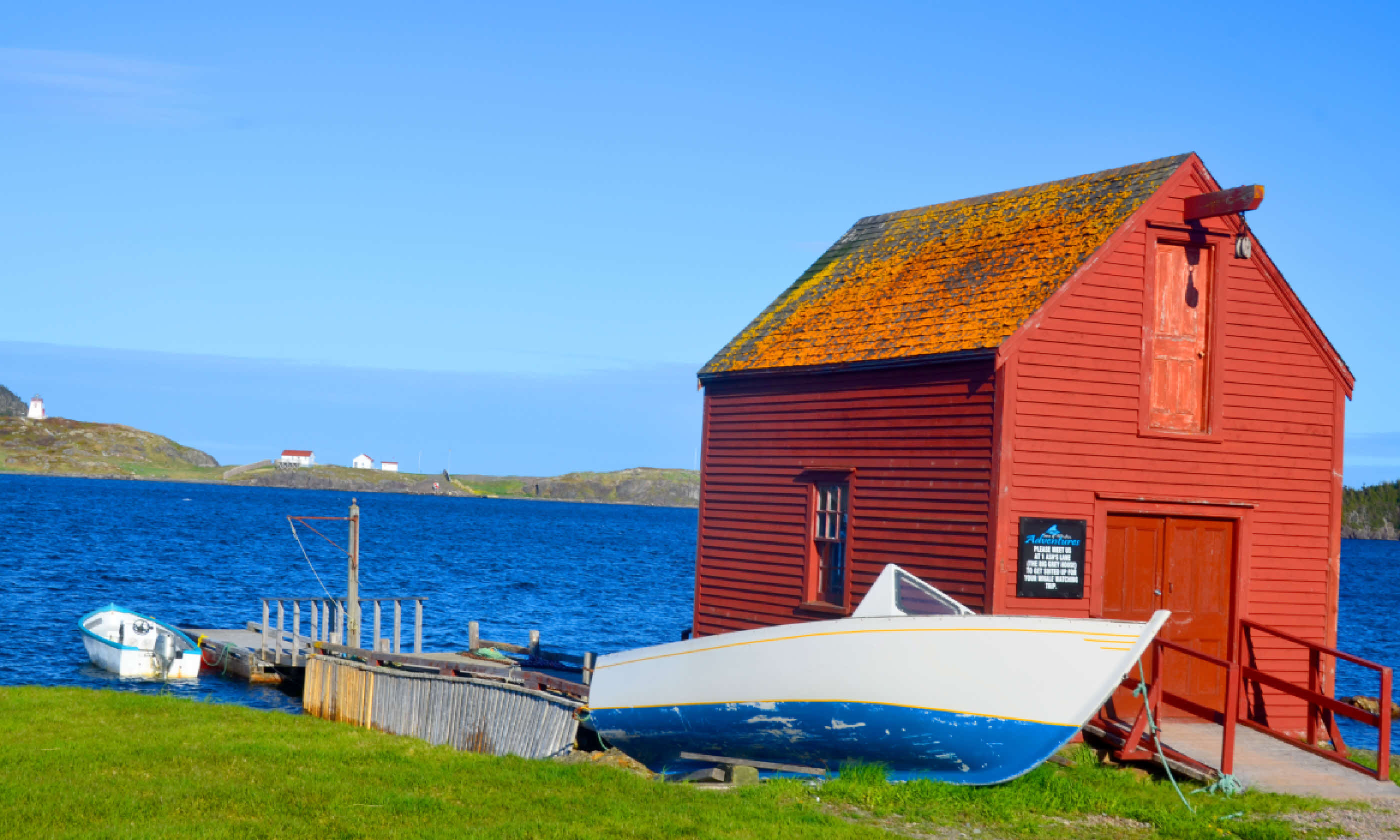 Fisherman house in Newfoundland (Shutterstock)
Over the hill is another movie relic: a wooden building used as a bar in 2013 comedy, The Grand Seduction. Set in the 1950s, the film is about a dying fishing community trying to encourage a doctor to stay so a factory can open. 'Joe's Place' is now manned by volunteers, and is licensed; it's hoped it will operate as a real bar in coming seasons.
Parsnips and puffins
Life was never easy in Newfoundland, but at least, for 500 years, there was cod. Dwindling stocks, and then the moratorium, resulted in many communities either disappearing or reinventing themselves. Further up the coast, the town of Elliston is a case in point. Once a prosperous town, the cod moratorium hit it hard, and many locals left the town in search of employment. Those who stayed looked desperately for new ways to make a living.
"To save money, the street lights were going to be turned off ," said Don Johnson of the local tourist board. "But in 2000 a genius came up with the idea of root cellars to draw tourists in!" A road sign now proclaims Elliston the 'Root Cellar Capital of the World'.
Root cellars were used to store carrots, parsnips, turnips, potatoes and berries at a constant 8°C year-round. Built into hillsides around the town, some are over 100 years old. "There is a vast lore of knowledge about root cellars," said Don. "People are rediscovering the use of them again."
Elliston also has a new museum focused on sealing. Whatever your feelings on the topic, the museum gives an insight into the human cost of the once essential activity that was carried out each spring. Particularly poignant is the story of the terrible sealing disaster of 1914 in which 78 men and boys died, many from Elliston. On the edge of town a statue of a father and son commemorates the tragedy; raindrops hung off the father's chin like tears. Don sighed: "The sea is like a wealthy but abusive mother. She'll pour her bounty on you, but the next day she'll take it all back."
Elliston's biggest draw, though, is birds. The puffin is the official bird of Newfoundland & Labrador and Elliston is one of the most accessible places to get a good view of them from land. Buffeted by strong winds, we took a short walk to a cliff top just outside town and gazed out at a small island, home to a colony of thousands of Atlantic puffins.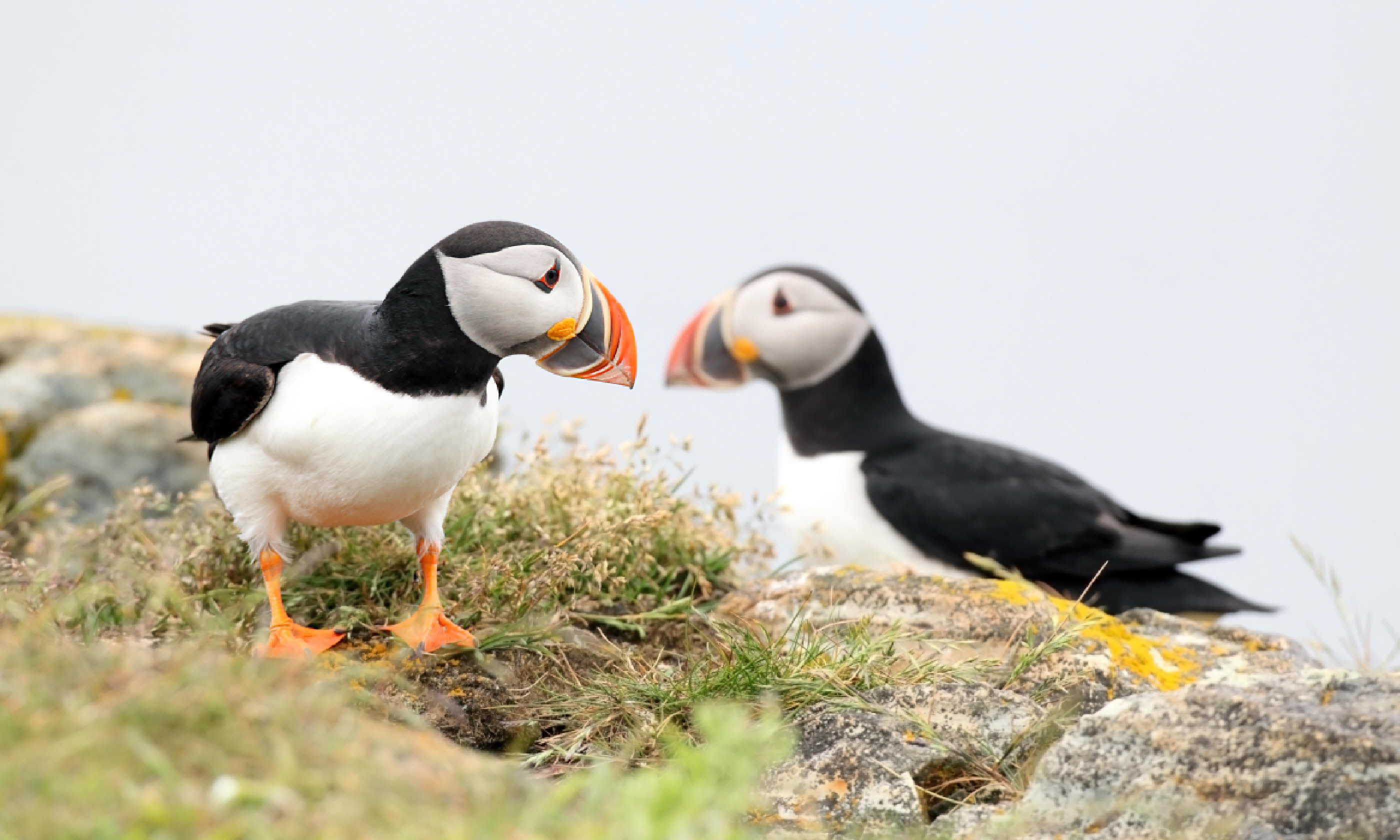 Puffins, Newfoundland
The island was pocked with burrows. "Those are for the babies: a pair only has one chick so invest a lot in it," Don explained. There were no signs of chicks, but I hoped they hadn't hatched yet, given that the summer fish hadn't arrived. "They are waiting for the capelin too. The capelin drive the ecosystem at this time of year. Just some years they are earlier, some they are later. And the whales will be right behind."
Iceberg, dead ahead!
Yes, those whales. The rumour was that there were currently more sightings of both whales and icebergs – which drift down the coast from the Arctic each summer – on the western side of the Bonavista Peninsula. So we joined a boat trip from a small settlement on the west to maximise our chances.
Waiting on the quay, I was hopeful. A previous group came in, exhilarated at having seen a sperm whale. "Every time is different," warned Kris Prince, owner of Sea of Whales Adventures. "We'll try looking for the sperm whale, and there were some humpbacks around earlier. But I can't promise."
We headed out into the bay and then stopped as Kris lowered a hydrophone. He could hear a sperm whale: "That's quite a distance though." He explained that there were deep underwater trenches further out, where the sperm whales hunt giant squid.
We kept scanning the waves for a leviathan – but in vain. A pod of whitebeaked dolphins kept us amused for a while. Then Kris asked, "Do you want to see an iceberg?" He opened the throttle and we raced out of the bay's sheltered waters. Here, we found three huge hunks of ice, sticking out of the ocean like jagged molars. We circled them, marvelling at the variations in colour and texture. When we heard a loud crack, Kris accelerated away.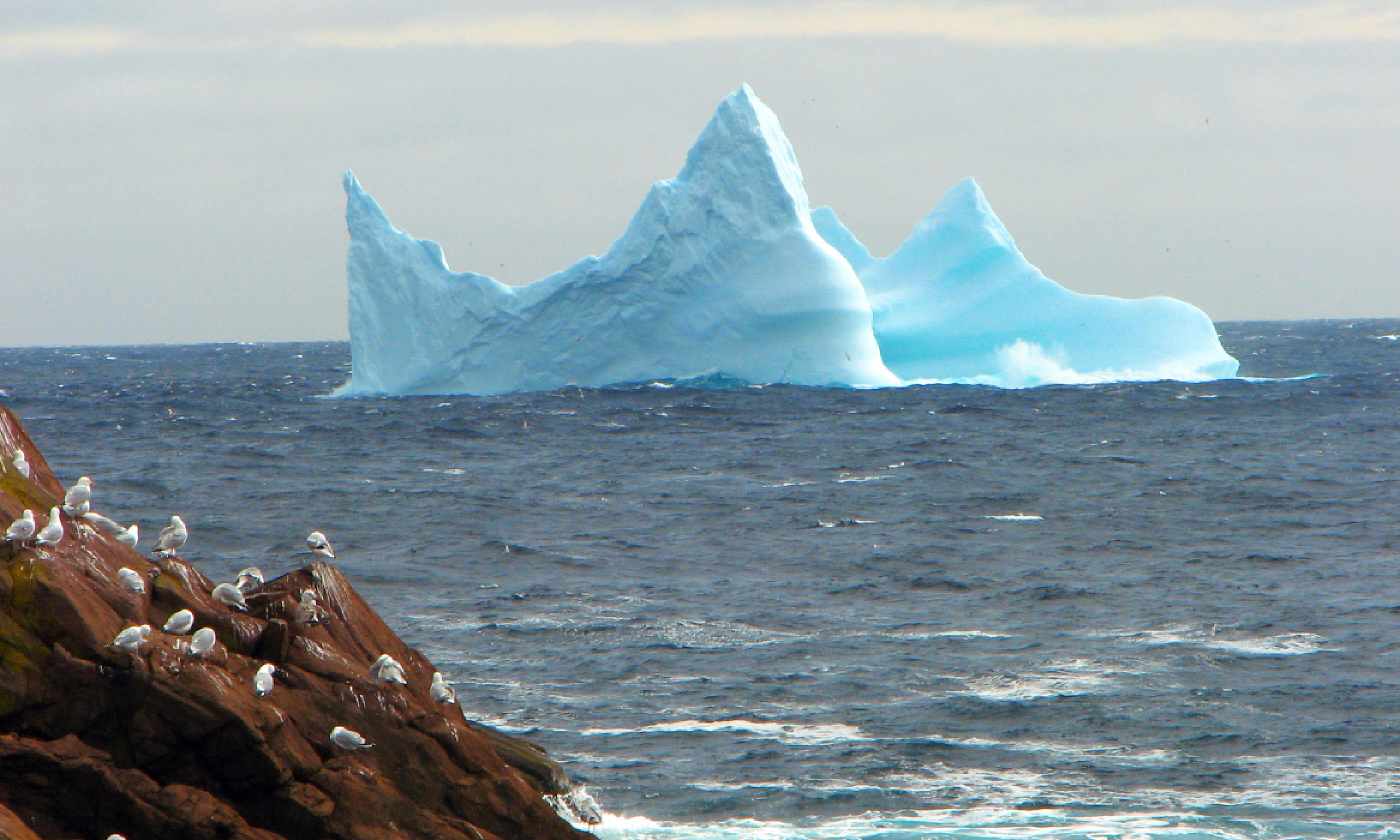 Newfoundland iceberg (Shutterstock)
Heading back into the bay, suddenly a cry of "Whale!" went up. A fin whale, the second-biggest species, was moving along at speed – they're not called the greyhounds of the sea for nothing.
It was a thrilling trip but sadly I'd not seen the humpbacks that come to Newfoundland following the capelin. I hoped a kayaking trip on the Avalon Peninsula might prove luckier.
Late arrivals
South of St John's, the Avalon Peninsula is home to many communities founded by Irish settlers. At Cape Broyle, at the head of a sheltered fjord, Stan Cook and his family have converted a heritage building, the former RJ O'Brien General Store, into their kayaking HQ.
Stan junior was taking us out. He explained that, although in season they often see whales, it was unlikely today. Following a briefing, half a dozen of us got into kayaks and paddled down the north side of the fjord, following Stan. The water was incredibly clear, like looking through glass, and we could see fish, urchins and starfish underneath.
Stan pulled several urchins out of the cold water and passed them around. At Stan's encouragement we turned them over, stroked them, and chuckled as the urchins' teeth appeared. Using his paddle as a cutting board, Stan then carefully cut one urchin into pieces and offered the edible parts around, sashimi style. "Forget lobster," he said, "these are the delicacy Japanese visitors go crazy for."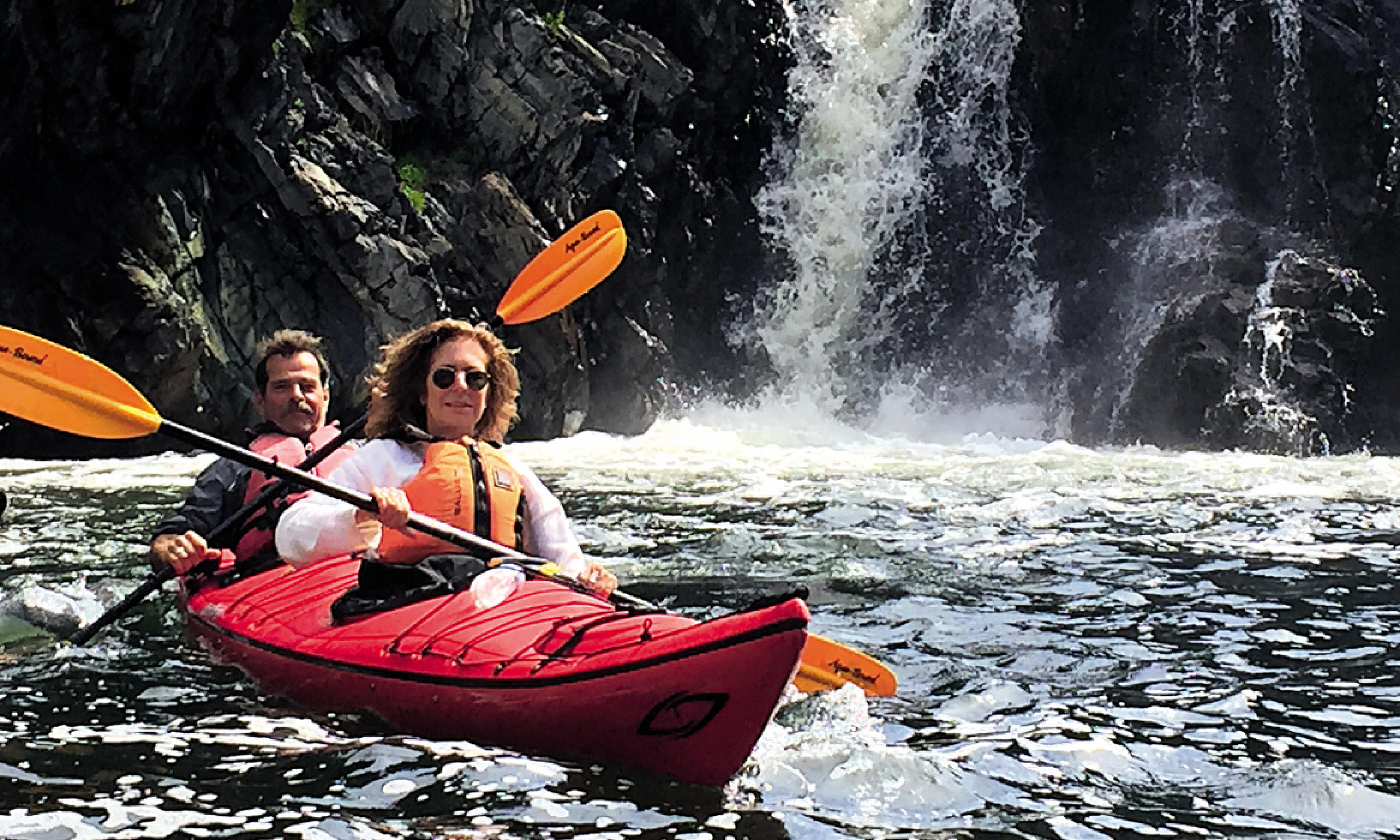 Kayaking in Newfoundland (Simon Chubb)
Following the rocks, we explored the cliffs' nooks and crannies. We crossed to the other side of the fjord and took turns to paddle into the Devil's Nostrils, twin openings in the cliff, eerie inside. Bald eagles watched from the trees. Brown water, heavy with iron ore and peaty soil, spewed from myriad waterfalls. "We often see humpbacks in here," said Stan as the bay widened. "We might see three at a time. But I have never known a year like this when the capelin are so late."
We'd planned to land at a beach for a picnic and then walk the East Coast Trail back to Cape Broyle. However, a strong easterly wind was coming in, so Stan senior came to pick us up in a boat. "Perhaps this wind will blow the capelin in!" he said. "The whales never used to come this close – they used to feed out on the Grand Banks," he added. "But when the cod were decimated the whales started to follow the capelin to shore."
Stan senior has been running tours since the 1970s. He was a teacher but enjoyed kayaking and started taking tourists out in the school holidays. His children were put into canoes as babies, and are now involved in the business, which continues to thrive.
"There was no tradition of recreation on the ocean here," Stan explained. "It was work. It was cold. It was dangerous."
We drove to the small fishing community of Brigus South and walked up onto a grassy headland. The sun came out as Stan junior started laying a picnic. We moseyed around, taking photos and admiring wildflowers. And then we realised: among the white horses out at sea, there were whale spouts. Three humpbacks were cavorting within a couple of hundred metres, while several minke were feeding at the foot of the cliff. At last, they had arrived.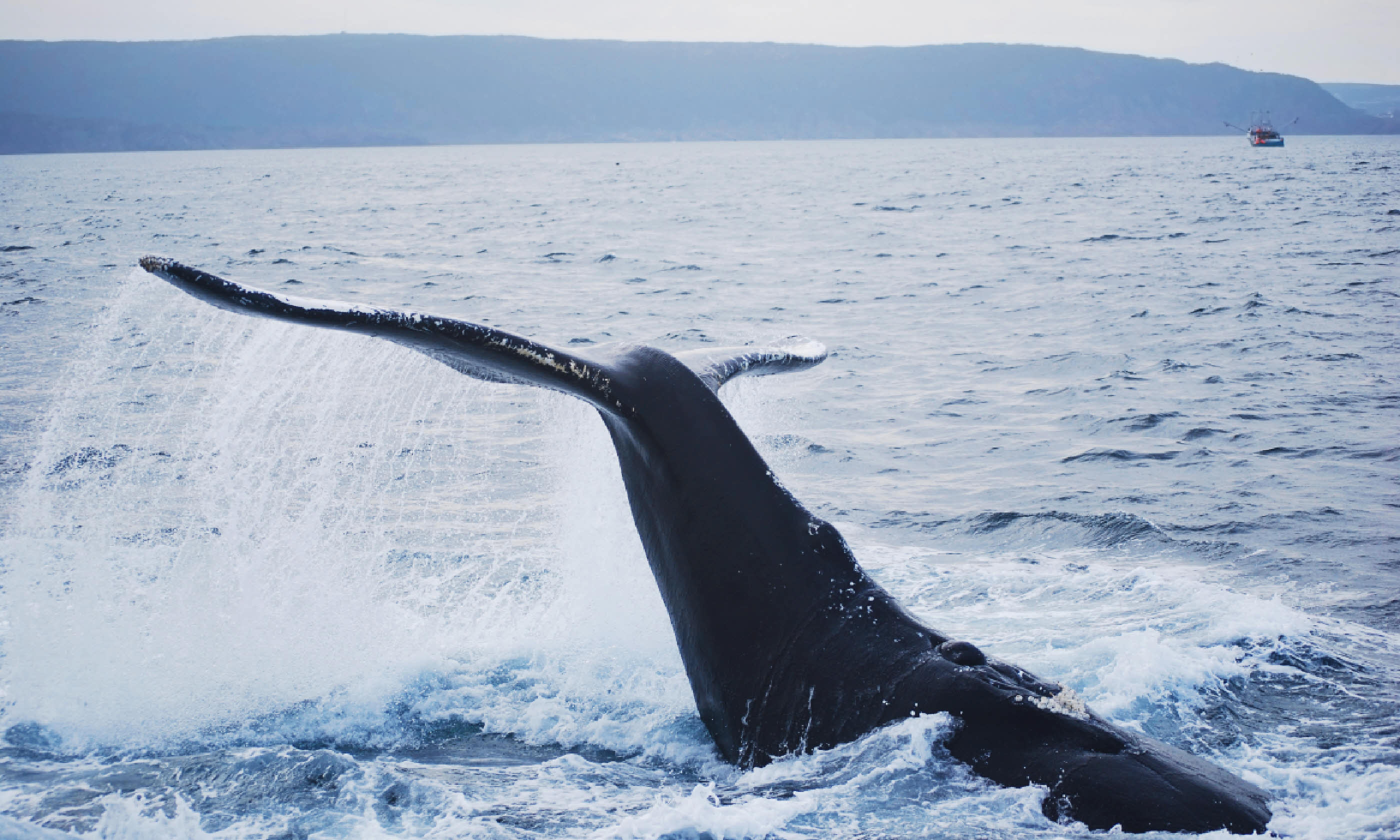 Humpback whale in Newfoundland – at last! (Shutterstock)
Make it happen...
Getting there & around
Air Canada flies non-stop to St John's from London Heathrow year-round. Returns cost from around £500; flight time is 5.5 hours. Car hire is easily arranged, and the best way to get around. The roads, once out of Trinity, are very quiet, although sometimes in need of repair. Watch out for moose.

Accommodation
The Vicarage Suites offers accommodation in historic houses in Trinity.
The Artisan Inn is another period option.
Fishers' Loft Inn in Port Rexton is a collection of traditional buildings overlooking Ship Cove harbour.