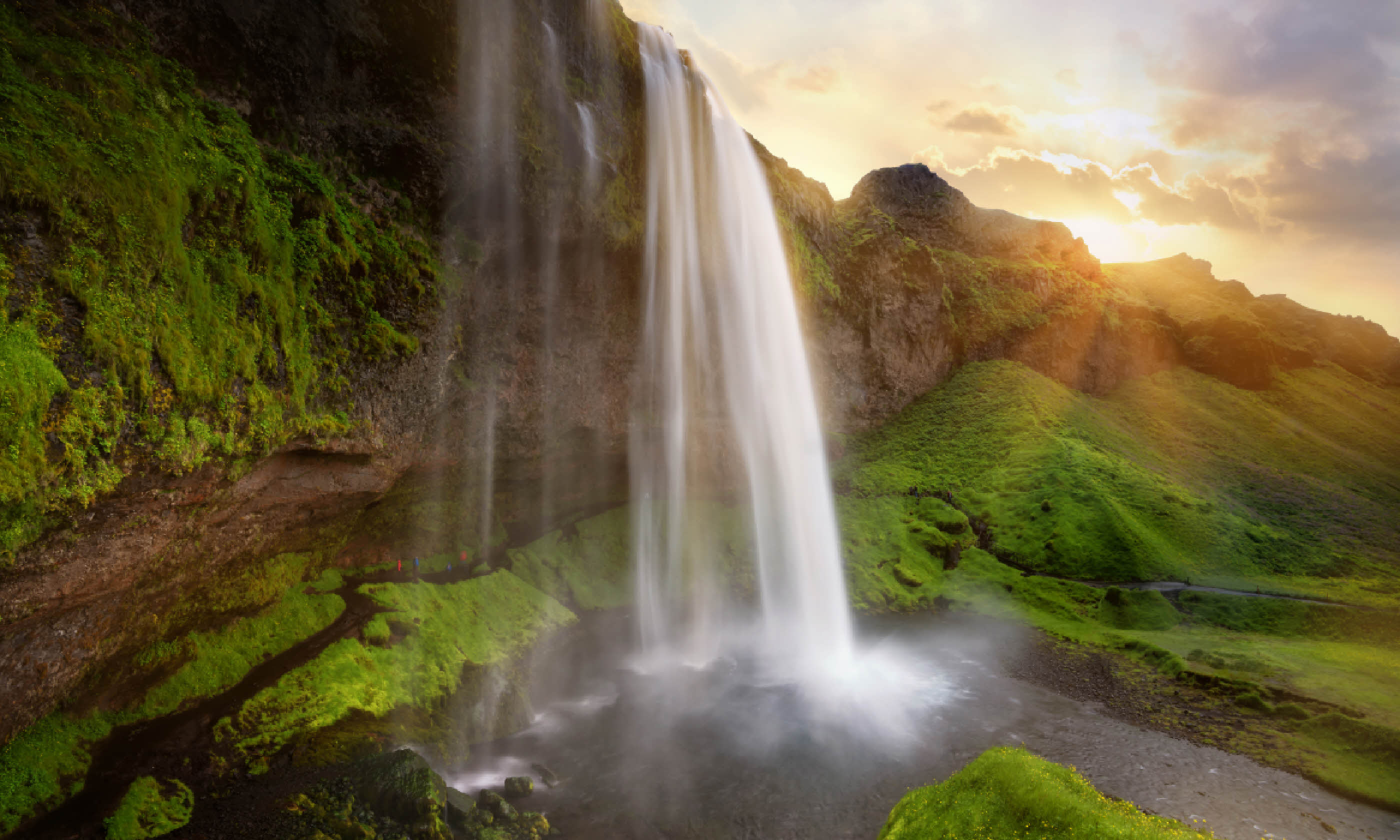 Two incredible weeks in Iceland and Canada
Travelling from the UK? Combine alien Iceland and serene Canada with an extended mid-Atlantic stopover in Reykjavik en route to Alberta
The Rockies receded in the wing mirror's reflection, mighty mountains miniaturised in the glass. As the car ploughed forward, my eyes stayed glued on what we were leaving behind: the barricade of snow peaks; the pines, lakes, cabins, trails, moose and bears that lurked within. We'd been amid all manner of wilderness – from lunar weird to postcard majestic – for two weeks now but, still, I wanted more. Gaze fixed backwards until the last summit melted from view, I was eeking out every last drop.
Greed? Yes. I was gorging on travel. This was the McDonald's school of holidaying – I had opted to Super Size. Small fries? No thanks. I wanted huge portions of huge things crammed into my fortnight. And countries? Two for the price of one, please. Iceland and the Canadian province of Alberta have their own individual but complementary epic-ness.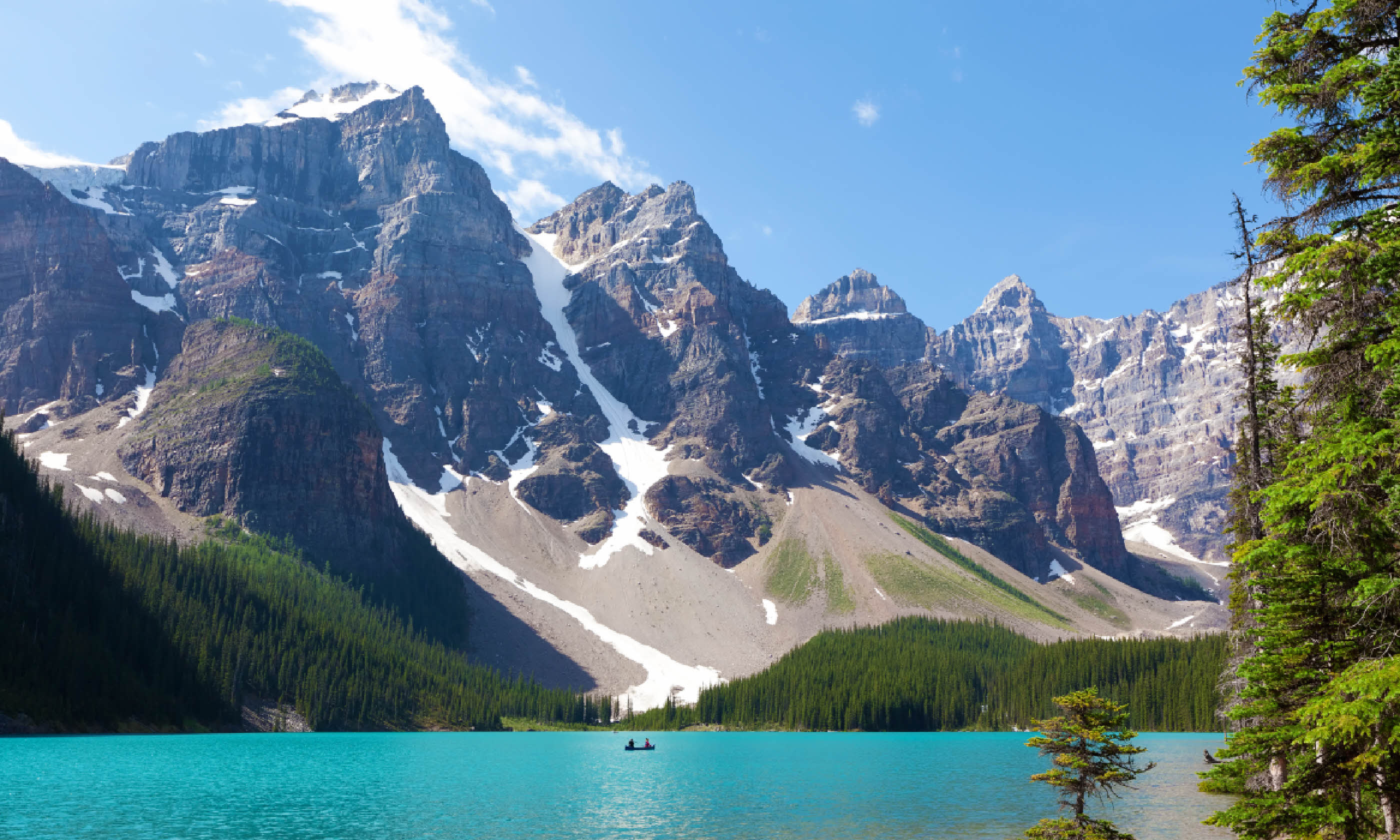 Alberta, Canada (Shutterstock)
Iceland is Mother Nature's work-in-progress, where the ground still grows, groans and fizzes; it's probably the place on the planet that feels least on this planet. Alberta, with its rolling prairie and Rocky highs, is blockbustorial, an opening-credits camera sweep made real. Together, these two wilderness destinations would be a lot to swallow in a limited time.
Luckily, I'm a glutton. Luckily, also, that Icelandair launched flights from the UK to Edmonton in 2014. This means that it's now possible to fly to the Albertan capital via Reykjavík, and include a multi-day stopover in Iceland en route for no extra airfare. Let the gorging commence.
Chamber choir
The boyfriend and I had four days and a hire car to consume as much of Iceland as possible. Fortunately the island is compact, and blessed with some excellent roads. It is also mad as a spoon: it seemed someone had stolen most of the trees, distorted all the rocks, luminesced the grass to an alien shade of green and fragranced the air with egg. The world rolling by outside the window – whether gilded by sunlight or made brooding by rain, sometimes both in the same minute – was unlike anything anywhere else.
This wonderful weirdness is down to Iceland's excitable location atop a plume of magma, on the meeting of tectonic plates. Consequently, the island can barely contain itself, and is rife with steam puffs, geysers and gurgling volcanoes – plenty of action to pack into an action-packed trip.
Given Iceland's over-energetic innards, we decided that our first adventure should be underground. At Thrihnukagigur you can descend into a 120m-deep emptied magma chamber on a glorified window-cleaner's lift. We drove from Reykjavík, past broody, otherworldly scenery, to what felt like Middle Earth.
From the car park rendezvous, it was a 45-minute hike across stark, lava-rumpled terrain. At one point we crossed a small metal bridge over a dark fissure. "Oh, that's the gap between the North American and Eurasian tectonic plates, sort of," our guide threw into conversation. I started walking more gingerly, lest I fall into the abyss.
Of course, that's sort of where we were headed, into the void. At the chamber's mouth, groups of five helmeted tourists at a time were clipped onto a narrow, shifting platform, to descend into – what exactly? At first it was a tight squeeze through a secretive entrance, revealing little. But then the underworld expanded, bloating into a cavern of cathedralic size and splendour. Such colours!
For six minutes, we floated gently down into a rocky nave of crimson, purple and gold with the hushed awe of the devout. At the bottom we clambered over Thrihnukagigur's solidified spew, trying to take in all the strangeness. A fellow explorer – with luck, a professional opera singer – burst into song; where once there was magma, now there was Wagner, resounding like cut-crystal in the chambers' flawless acoustics.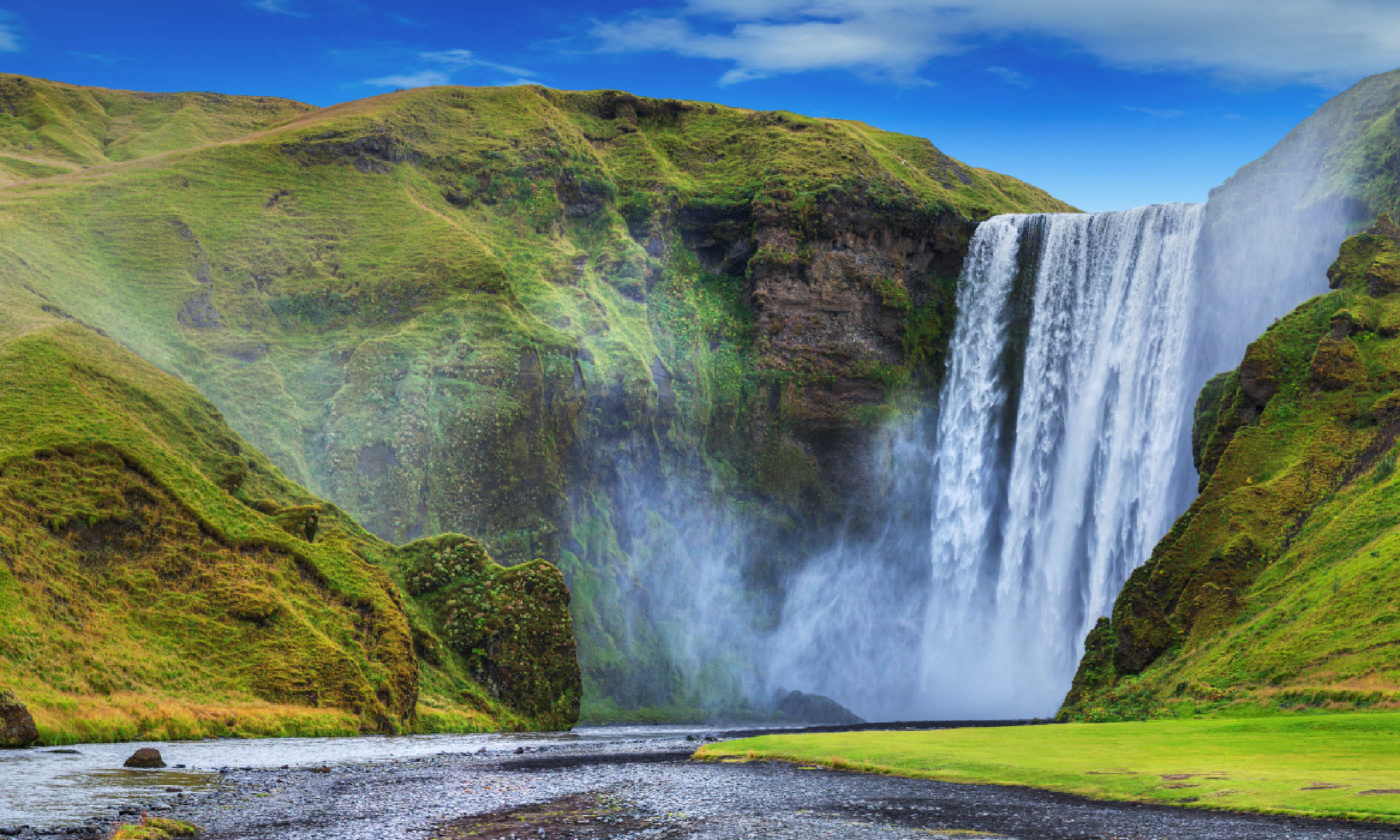 Seljalandsfoss falls, Iceland
App happy
Iceland offered far more big adventure that can be squashed into this little paragraph. For instance, we were reintroduced to that continental divide at Silfra, where we pulled on dry suits and snorkels to swim through the surreally clear water that lies between. And we bounced into the country's Martian interior in a super jeep with wheels bigger than most sheds to watch an erupting volcano; oh, and on the way home, we saw a glimmer of the northern lights.
But sometimes it's the little things. Our hire car came with an iPad, loaded with a special Iceland app. At first it felt a little gimmicky, but idly swiping its pages, we discovered tempting detours. At Seljalandsfoss, we walked behind the much-visited cascade, but also – prompted by the app – continued on to Gljúfurárfoss, hidden just a few hundred metres further on. No one else had bothered, so we were alone as we splished through the shallows, edged around the moss-slimed rocks and entered the slot canyon to find the falls crashing away to themselves in magical fashion.
Driving back from the interior, we took a diversion to Stöng, home to the excavated remains of a longhouse owned by one of Iceland's greatest vikings. It was abandoned in 1104 when Hekla erupted but you can still make out its floorplan. Better, from the longhouse it was a short walk to Gjáin, arguably the best waterfall in Iceland (though I realise that's quite a claim).
Little-known Gjáin isn't especially tall or fancy, but it puddles into the prettiest blue-green pool before trickling into the Thjorsa Valley, tumbling into lagoons and channels amid a vanguard of columnar basalt and grassy knolls. Again, we had it to ourselves. Probably. If Iceland's purported elves really do exist, I guarantee they're living here.
Paddle to paradise
Canada and Iceland make easy bedfellows. My brain was already well into wilderness mode as we flew across the rest of the Atlantic. Our next plan: bid a swift farewell to Edmonton and head west for the Rockies. Soon we were out of the city and driving through sun-scorched farmland, which stretched so far I began to worry that the mountains would never appear. But, finally, after four flat hours, the world reared up: welcome to Jasper National Park.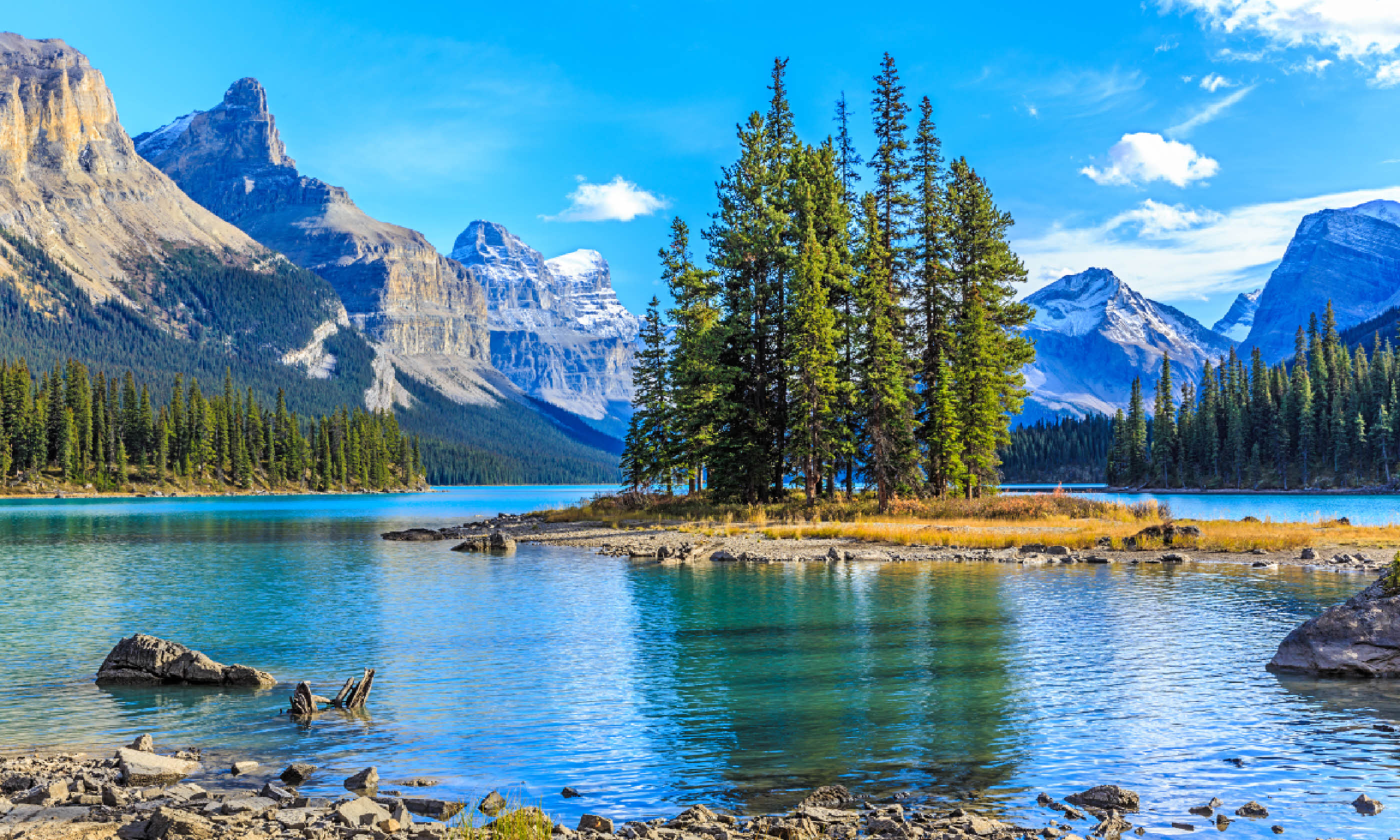 Jasper National Park, Alberta
If Iceland is odd, Alberta is classic. It is the peak-pine-lake landscape of brochures and postcards – though our aim was to take that postcard and raise it one. Maligne Lake is a 22km-long shimmer of icy blue, puddled amid mountains, licked by glaciers and fringed by deep-green forest; Spirit Island, a mid-way spit jutting out into all this splendour, is one of the world's most photographed landscapes. Cruises run from the road-accessible end of Maligne, to Spirit. But our plan was to ape the early pioneers who first charted this territory, and paddle there under our own steam.
It was a perfect sunshiny day as we pushed off from the Curly Phillips Boathouse. I mean it – perfect. Achingly so: blue sky and mountains mirrored in the water's silky surface, the bright yellow-red prows of our kayaks slicing away from the busy car park and into the unpeopled wild – there's no way to get into the depths of Maligne other than by boat.
This, I think, would please Mary Schäffer, the first white explorer to visit the lake, in 1908. She was both responsible for popularising tourism to the Rockies and depressed by the development that brought. 'There are some secrets you will never learn... heart thrills you can never experience,' she wrote, 'till, with your horse, you leave... your recognised world, and plunge into the vast unknown.' We may not have arrived at Maligne on horseback, but we were at least taking the plunge.
We soon found rhythm, gliding by gnarled trunks and straightbacked pines; we scanned for moose and caribou but spotted only squirrels. A golden eagle perched regally on a stump while a loon giggled in the distance. We hauled up onto a little beach for a picnic; when the motorboat that runs to Spirit Island passed by, its wake rippled shorewards and slapped the pebbles, which echoed down the valley like rapturous applause. I couldn't agree more.
It took us about four hours to reach Fisherman's Bay, one of two basic campsites on Maligne, with only eight pitches. A few wisps of campfire smoke and a chuckle of conversation were the only hints we'd arrived at our home for the night. I felt sublimely disconnected from our recognised world; it may as well have been 1908. This was a little taste of pioneering, albeit with bear lockers and a long-drop loo.
That night we sat, as Mary might have, on the shores of Maligne – 'a string of pearls', she called it – watching the sun turn everything golden, then the moonlight kiss the snow-peaks and shimmy like a hula girl on the ruffled water. Every time I looked skyward, a new star appeared, as if I was conjuring them with my eyes. The temperature plummeted; my heart soared.
Maligne Lake, Jasper National Park (Shutterstock)
The next morning we were away early. Motorboat trips on Maligne start at 10am and we wanted to beat them to Spirit Island, a kilometre on from Fisherman's Bay. We had the lake to ourselves as we paddled to 'that' view. In fact, Spirit isn't an island at all, rather a picturesque promontory that looks like the sort of spot elves might hang out, if they were taking a break from Iceland. We circled Spirit, swishing slowly, peacefully, around its rocky foreshore, feeling like the only people on the planet.
Halfway through our paddle back to the boathouse, the first cruiser of the day puttered past. Return to the real world.
Finishing the plate
Or was it? Nothing felt particularly real in Jasper the next morning, where the previous day's heat and sunshine had been replaced by a blizzard. When I'd planned a trip to pack in a bit of everything, I hadn't meant all seasons. But a little snow wouldn't have stopped Mary Schäffer, I'm sure; it just meant our backcountry expedition might be a little more... sparkly.
Guide Maria was leading us into Jasper National Park's Tonquin Valley, a wide plain first explored by Europeans in 1915 and barely more accessible 100 years on. It was a six-hour hike to our home for two nights, the Wates-Gibson Hut; en route we saw elk footprints in the snow and bear scat on the trail but no other people.
The forest was alive enough on its own, though: shoots erupted from the moss-like alien antennae; fungi of all shapes – feathery, cabbagey, cup-like – stippled the earth; endless armies of trees groaned under their snowy burdens. "Pluck a needle," said Maria, offering some evergreen identification advice. "If you can roll it between your fingers it's a fir; if the needle is flatter and won't roll, it's spruce."
The trees we could see. The mountains, however, were truncated by clouds, but you could sense their presence, just as you could sense there might be bears close by. Before setting out we'd read national park warnings that a mother with cubs was frequenting the area. We chattered loudly, and wore cans of bear spray holster-style, just in case.
We made it to the hut unhindered and – despite our lack of a bear story (every hiker here has one) – felt as Canadian as Canadian can be. The hut was log cabin perfection, a shack made of thick trunks set in a clearing before a little lake, with a tendril of smoke twirling up from its chimney. Inside, we dried our socks by the woodburner and read tales of the huts' early visitors, who came here in the 1930s to make first ascents of the surrounding peaks. We had no such high-falutin' aims. Instead, our plan was to hike deeper into the Tonquin the next day, before returning to the hut for another night, then hiking back out to civilisation.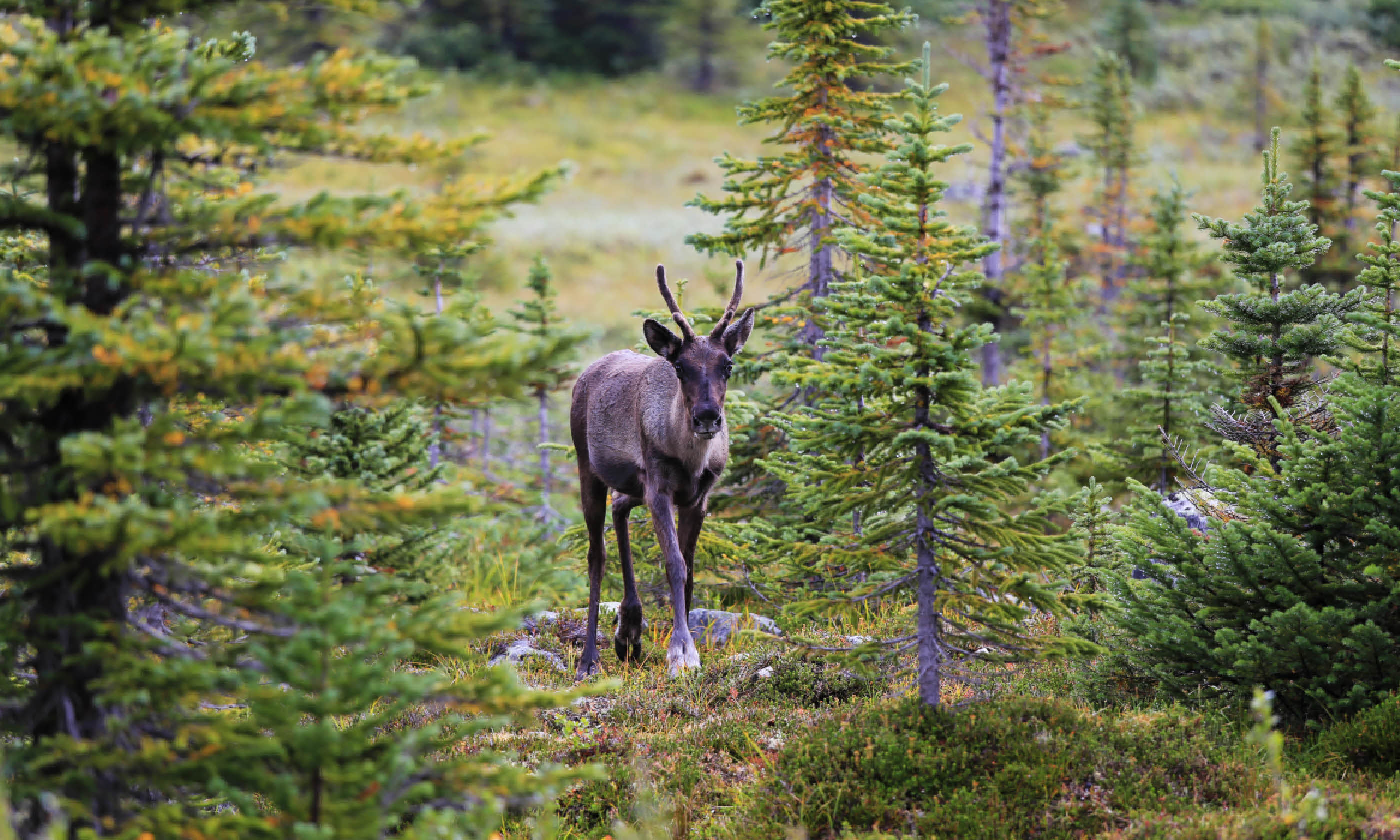 Caribou in Tonquin Valley
Our expedition day dawned chilly; icicles hung from the outhouse and fresh snow highlighted every crinkle in the surrounding ridges, as if a policeman had dusted them for prints. The cloud was low but the lakes still vivid, the forest still atmospheric, the freedom still thrilling.
We were heading for the Ramparts range, a beefy bulwark shielding pristine Amethyst Lake with all the muscle and subtlety of a nightclub bouncer. Alas, the Ramparts' full might remained hidden by cloud, though as we ate our sandwiches on the lakeside, the sky's ebb and flow gave glimpses of what lay beneath. It was almost frightening.
"The Ramparts mark the divide between Alberta and British Columbia," Maria explained as we tried to stare the clouds away while also scanning for caribou. "And this range was the original divide between the North American and Pacific tectonic plates." As far as my limited geology understands, British Columbia was sort-of added on to the North American plate about 175 million years ago; previously, the plate ended around about here.
The plate may have finished here... but we had more of Alberta to see – dates with Banff's hot springs, Lake Louise and the moose of Kananaskis Country – but we had already come full width. From the fissures of Iceland to the Ramparts' rock-solid wall, a whole tectonic continent traversed. A full plate. Gorging indeed.
Make it happen...
Discover the World offers tailormade self-drive holidays throughout Iceland and Canada. A 12-night trip exploring the natural wonders of south-west Iceland and the alpine landscapes of Alberta includes three nights' accommodation in Reykjavík and nine nights in Alberta (Edmonton, Jasper, Lake Louise, Banff), plus eight days' car hire in Canada and return flights with Icelandair.
Accommodation
Hotel Klettur is a fresh and welcoming stop in Reykjavík.
Hotel Rangá is a cosy lodge just off the Ring Road, with hot tubs, a well-equipped on-site observatory and excellent food.
Hotel Highland is all about location, tucked deep in the interior; rooms are comfortable if no-frills.
Buffalo Mountain Lodge is an atmospheric all-Canadian retreat on the edge of Banff. Rooms have wood-burning fireplaces and usually a patio/balcony; there's also a hot tub and great restaurant.
The Alpine Club of Canada runs a network of huts. The Wates-Gibson hut, in the Tonquin Valley, sleeps 26 in one dorm; there's a well-equipped kitchen (bring your own food) but no showers.
Fisherman's Bay campsite on Maligne Lake is a 13km paddle from the boathouse; it has eight pitches, bear lockers, a long-drop loo and fire pits.
Getting around
The best option for both destinations is car hire. There are hire companies at Keflavík and Edmonton airports.
Discover the World supplies iPads to all travellers booking hire cars in Iceland; these are loaded with its iDiscover app, which contains tips on your itinerary, possible detours and other useful info, as well as Wi-Fi access.
Based in Canmore, Yamnuska Mountain Adventures runs a range of hiking, trekking, mountaineering and backcountry skiing experiences in the Canadian Rockies, with knowledgeable guides.
Kayaks can be hired from the Curly Phillips Boathouse on Maligne Lake; a single kayak costs C$35 (£18) an hour, C$100 (£53) a day. Other kit (such as tents and camping stoves) can be hired from Totem Ski Shop in Jasper if you don't have your own.