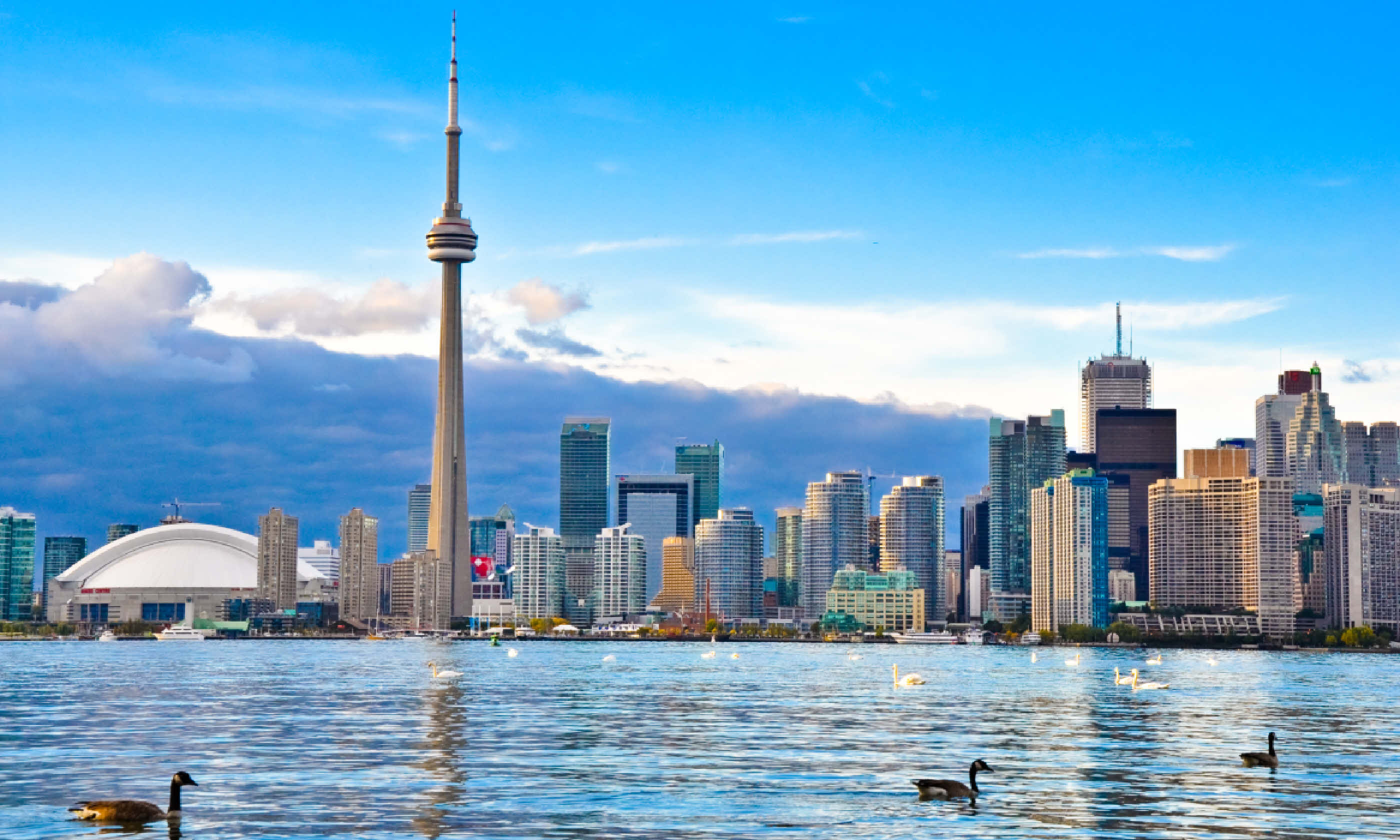 10 free things to do in Toronto
As one of the biggest cities in Canada, Toronto's got a lot going on – but most things come at a price. Here's how to dodge the charges and do Toronto for free
1. Find a free museum
Toronto is home to a number of world-class museums, and most offer one evening a week admission-free. Stroll through the
Art Gallery of Ontario
– home to classic and contemporary art from across the globe – for free on Wednesdays from 6-8.30pm. Don't miss the critically-acclaimed glass Galleria Italia wing designed by Frank Gehry – breathtaking from both the inside and outside.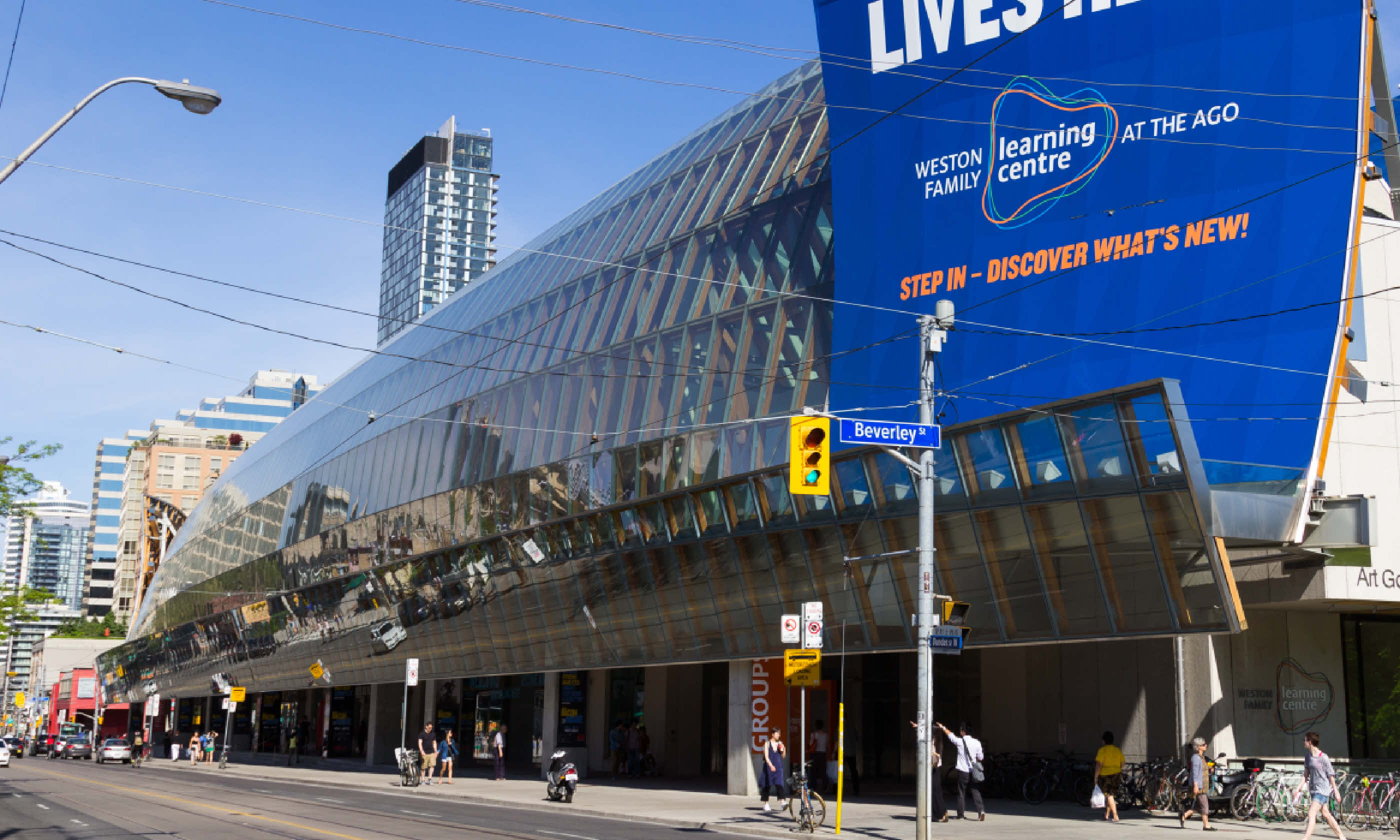 Art Gallery of Ontario, Toronto
The Museum of Contemporary Canadian Art
is free every day and focuses on both emerging and established artists. Make the most of pay-what-you-can evenings at the
Textile Museum of Canada
on Wednesdays, and the
Bata Shoe Museum
on Thursdays, both 5-8pm.
2. Hang out on Toronto Island
As long as you can scrape together the ferry fare (CAD$7/£3.60), the islands just off the shores of downtown Toronto are packed full of budget-friendly activities. Opt for the ferry to Centre Island and discover the park on foot along its many walking trails. Make sure you pop over to both Olympic Island for perfect views of downtown Toronto – spectacular by day and night – and Centre Island Beach (also known as Manitou Beach) on the other side to look out over Lake Ontario. Stop off at Gibraltar Point Lighthouse to see one of Toronto's oldest landmarks.
Ferry schedules change depending on season, so check before visiting.
3. Take a free tour
Toronto's history is much richer than most guidebooks can explain, so it's worth grabbing a Torontonian during your time in the city to give you the full scoop.
Tour Guys
run four different free 90-minute walking tours from June to October (when it's warm enough to walk around for that long!), touching base at the Waterfront, in the Financial and Entertainment Districts, and even introducing the darker side of the city's past. Tips are welcome at the end, but not obligatory.
4. Evergreen Brick Works
For all things eco-friendly, spend the day at
Evergreen Brick Works
, an environmental centre based in the Don Valley, east Toronto's 'green lung'. This community project runs a series of events, exhibitions and markets all-year-round to promote a more sustainable Toronto. Free or pay-what-you-can activities include hatha yoga classes, children's workshops and gardens, public skating rinks, and weekend farmers' markets.
Events and attractions change according to seasons, so check the schedule before visiting.
5. Walk the city's neighbourhoods
Toronto has a distinct range of neighbourhoods, and a stroll through some of its most unique districts will give you a good feel for the city. Dive into colourful and creative
Kensington Market
for thrift stores and all-things wacky, the
Distillery District
to walk among Victorian industrial buildings renovated into independent shops, restaurants, bars and a brewery, or hectic Chinatown where markets spill onto the street.
Also check out Queen Street, which to the west offers an up-market, trendy vibe, and to the east threads through Leslieville, a laid-back, hip area not often explored by tourists.
6. Picnic in High Park
High Park
is Toronto's largest city park, with nearly 400 acres of green space, offering gardens, playgrounds, walking trails, picnic areas and a zoo. People flock here in late April/early May to catch the blooming cherry blossoms, most of which are located next to Hillside Gardens.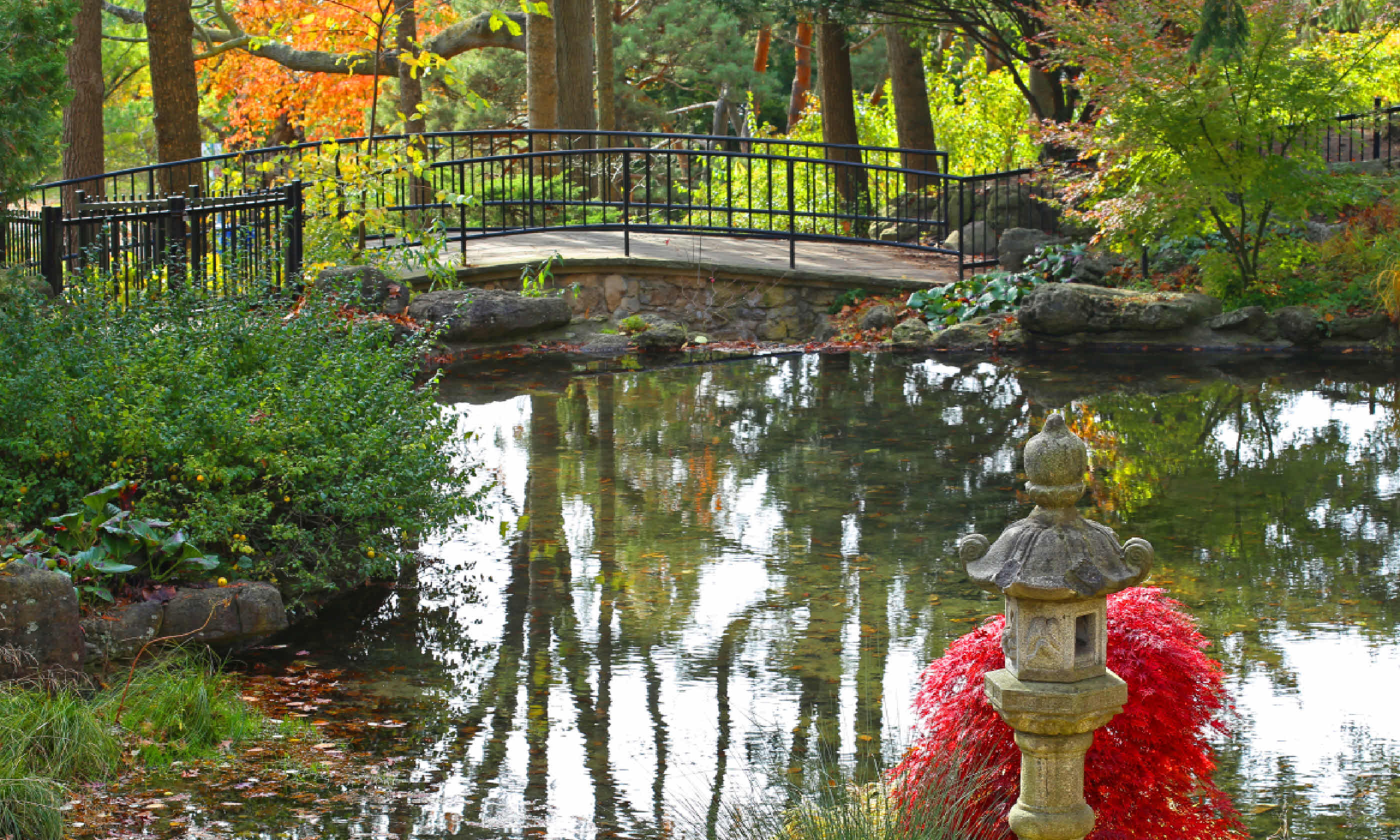 Pond in High Park, Toronto (Shutterstock)
If you're in Toronto from mid-June until the end of August, don't miss out on al fresco performances of Shakespeare plays held in High Park each year. These are free events but that's by no means a reflection on budget – the stages, costumes, and actors are all top quality. To get any chance of sitting space, come 45 minutes to an hour before performances start. Bring food to nibble as you watch!
7. Hit the beach
While a beach on the shores of a lake might not sound like the white sands of paradise, Toronto's beaches are surprisingly inviting. Woodbine and Kew beaches are the most popular: ideal spots to people-watch while catching some rays in the sunny months of July and August. The water quality is passable, but by no means crystal clear.
If you visit in July, go to the
Beaches International Jazz Festival
, a free event held annually in nearby Woodbine Park. Even if you're not a fan of jazz, this is well worth checking out for its lively atmosphere – a lovely spot for a few beers on a summer evening.
8. Catch a free movie
The city is used throughout the year as an alternative to New York for film shoots, and is home to the star-studded Toronto International Film Festival. As testament to how much Toronto is dedicated to the art of the silver screen, various spots around the city run free film screenings – some seasonal and others year-round.
Tiff Cinematheque
has a permanent free screen that shows experimental films – tickets are on a first-come, first-served basis, and are released two hours before the show.
In summer, the city's parks open up for free outdoor screenings and film festivals, mostly showing old classics and indie hits, but also some kids' movies and new films. Highlights include TIFF in the Park,
Christie Pits Film Festival
, Movies in the Park (Riverdale Park), and the
Regent Park Film Festival
. Bring snacks and something to sit on.
9. Stroll on Scarborough Bluffs
Around 16km east of Toronto's downtown, the Scarborough Bluffs (locally known as The Bluffs) are a stretch of coastline eroded by Lake Ontario over thousands of years to create beautiful grey-white sand cliffs. Thanks to millions of dollars of investment, this area is now home to a number of free parks that offer impressive views over the lake and geological formations.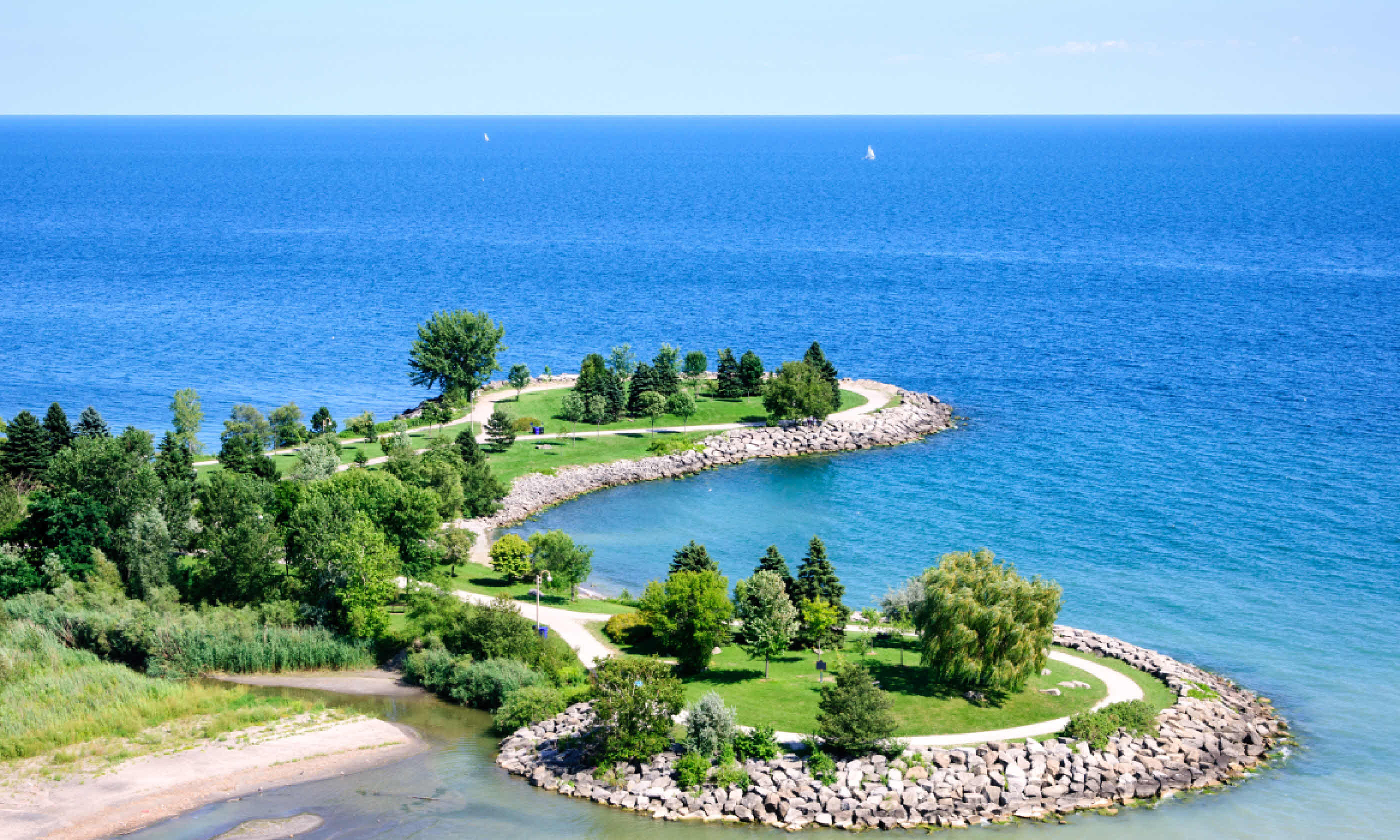 Scarborough Bluffs, Toronto
A string of different parks line the coast here, but you'll want to turn your attention to Scarborough Bluffs Park, Bluffer's Park, and Cathedral Bluffer's Park, where you can (carefully) walk along the tops of the cliffs, look out over the water from protruding viewpoints, and head down to the beaches to look back at the rocks.
10. Visit the Harbourfront Centre
As the beating heart of shore-side Toronto, the
Harbourfront Centre
is the place for all things cultural in the city. From theatre performances to exhibitions and festivals, there's always something going on here. During the week you'll no doubt stumble upon an art show, but things start to hot up at the weekends with food festivals, arts lectures, or craft days for kids – many are admission-free.