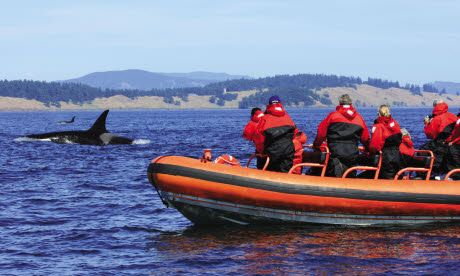 How to explore classic Canada
Moose, bears, whales, mountains, maples: for a slice of quintessential Canadian wilderness not too far from civilization, head for Québec, says Sarah Baxter
The world as I knew it was vanishing. The gloam rendered everything – river, forest, Laurentian Mountains – a palette of purples and greys, yet the landscape's watery reflection was still so clear I could scarcely tell which way was up. I dipped my oar into the ink, trying to chase the valley's V – mirrored in the calm just ahead – but it remained, always, just beyond reach.
In this twilight – turned to darkness now – I had no anchor to the modern age: all that existed were shadowy ranks of birch and pine, a spreading rash of stars and the splish of a moose I could no longer see, sifting the water for weeds. I stopped paddling, to become part of the stillness, so absolute it felt like a minute's silence for a fallen hero – even the breeze paid its respects, briefly ceasing to blow.
"Are you OK?" Marie asked from behind, her rowing paused too, surrendering our vessel to the river's whim.
"Fine," I replied. "Just fine."
Cliché? Moi?
Canada is a name you can almost smell: forest-fresh, earthy, with a hint of the sea. It conjures clichés, but they're all appealing: big country, moose and bears, frontier canoeing, epic trains, whales, mountains, maple trees. I craved them all, soaked in syrup. I just didn't have time to mount an expedition. Lucky, then, that I wasn't paddling my First Nations-style rabaska up some remote, inaccessible river. I was less than 30 minutes' drive from the second-biggest city in Québec.
Indeed, from Québec City (the metropolis in question) it's easy to find those satisfyingly Canadian experiences, just a few hours away. So, using it as a hub, I was going to make short forays to some of the region's best bits.
Québec City itself isn't a country cliché. Founded in 1608, the Gallic province's capital is a pocket of old in the New World. Its historic centre, still embraced by thick stone walls, is a multi-level disarrangement of houses that flings a well-aimed cobble at the grid structure beloved of most North American cities. Unesco-listed and endowed with many an 'oldest such-and-such' superlative, it is European in feel, amble-friendly and awfully pretty.
But it was after I'd clogged my arteries with poutine – a stodge of fries, cheese curds and gravy – and browsed a hundred knick-knack shops hawking all things Château Frontenac (QC's all-dominating hotel), that I decided to leave this comely city for something wilder. Even if it was just 40km up the road.
Classic 1: Moose and mountains
Jacques Cartier first arrived in Québec in 1534, on a mission to find a western passage to Asia for the French; I'd arrived in the national park that now bears his name quite content to find Canada.
This 670 sq km reserve protects a deep gash in the Laurentian Plateau, through which the Jacques-Cartier River trickles and churns. Over time, this dark, tannin-stained slither has gnawed away at the limestone, so that now the waterway is flanked by 550m-high slopes bewhiskered with white pine, yellow birch and sugar maple. As I'd realised with Marie on our twilight paddle, it was just the wilderness I'd been hoping for.
Black bears lurk somewhere amid all those trees, but René, my guide for my second day in the park, looked grave when he read 'ourson' (bear cub) on the visitor sightings board: "This is not good news for the bear." For the safety of both animals and people, any bears that encounter humans here are shifted to more remote areas.
The orignaux (moose) are more welcome, however: Jacques-Cartier is a hotspot for the lanky mammals. Standing in the foyer of the shiny new Discovery and Visitors Centre, I gaped as two walked right by the door; René and I passed another pair, fetlock-deep in the river, as we drove up the valley to our canoe put-in. "They eat the aquatic plants," he explained. "And the water provides relief from the flies."
The rain kept the flies away today though, its persistent plish accompanied by a low mist, which ferreted about the hill tops as if looking for something lost. Fortunately, squeezed into wetsuit, lifejacket and rubber booties, I was practically impervious to the weather.
Our canoe wasn't traditional birch bark, like those the Huron Indians once paddled here, en route to trade with European fur trappers. But it was sturdy, and would see us through the rapids ahead.
Jacques-Cartier's whitewater isn't very white. The rapids are graded I to III+ and the gnarliest of those must be portaged around if you don't want rock punctures in your hull. But it was still a thrill, paddling like billy-o through the fizz to rejoin a glistening smoothness on the other side. As we floated, kingfishers flashed from bank to bank and sawbill ducks caught the current. Up on the slopes, a lone maple flushed autumnal crimson in a sea of still-green, like a fashionista ahead of the crowds; the others would soon follow the season's trend.
René and I spent most of the day on the water. By the end of our 24km run, I'd tackled eight rapids, helped hoist the canoe over a beaver's dam (sadly the architect wasn't around) and started to feel like a backcountry pioneer. To further my exploratory credentials, I peeled off the wetsuit and, in the improved mid-afternoon's weak sunshine, set off on a walk in the woods.
Les Loups is the park's flagship trail, a 10km out-and-back hike up Mt Sautauriski via dense undergrowth and – maybe – moose. I didn't know how I felt about that. Seeing one of these magnificent ungulates while hiking solo would be awesome, but intimidating. Moose aren't usually aggressive, but they are big (up to 2m tall) and surprising one would be ill-advised. My disproportionate fright at a pigeon bursting from a mossy hollow confirmed to me that I'd prefer my walk moose-free.
It was – and people-free too: setting off late meant most other hikers were off the trail. I weaved up through the trees alone, ascending via rain-slick root ladders and stepping stones. When I arrived, the summit lookout was surprisingly rowdy – with birds, their dissonant bleeps like an arcade of fruit machines. Beyond, green hills purled away without end. No end, that is, until hitting the city, just 40km away.
Classic 2: Whales and waterways
It takes less than three hours to drive north from Québec City to L'Anse-St-Jean (just pack CDs if you're not a fan of crackly French crooners, which was all I could raise on the car stereo). A landscape prohibitive to radio signals is more interesting to travel across though, and I didn't begrudge the forested undulations, as they obliged views east to the great St Lawrence River and west into the Laurentians, which were on the verge of their full fall spectacular.
L'Anse-St-Jean sits officially pretty on the shores of the Fjord du Saguenay – it's a member of the Association of the Most Beautiful Villages of Québec. It was founded in 1838 by lumber prospectors, and graceful clapboard homes from the mid-19th century still stand, looking out onto a bay where blue water sparkles and yacht masts clang. My vessel would be smaller – a sea kayak. I'd seen moose, now I wanted another Canadian biggie: whale.
The Saguenay is home to around 500 beluga and I had the rather optimistic notion of paddling amid a white-whale frenzy – something Louis, owner of Fjord en Kayak, had experienced a few days previously.
"But that was on a three-day trip to Tadoussac, via Baie Sainte-Marguerite, where the beluga breed," he explained.
It sounded great: camping out in uninhabited bays, gliding with marine mammals. But I hadn't enough time – Baie Sainte-Marguerite was too far east. I'd have to make do then, with the 950-million-year-old fjord, "and perhaps some seals," Louis added, "I know them all by name."
We cast off from a sandy beach and were soon stroking through the watery turbulence. The seals stayed away but, nonetheless, we had the best view in the house: there are no ferries, few cruises and just a handful of settlements on the 120km-long fjord, all of which is protected by a national park. Simply, there's no other way to access the pebbly coves and buffed-smooth cliff-faces – up to 150m tall – that we glided right by.
The First Nations peoples explored here, of course; archaeological digs reveal 6,000 years of human history along the waterway. But that day we saw just one other boat. We traversed the flow, surfed the waves, picnicked on an empty beach and had this immense, glacially-gouged playground all to ourselves.
But back to those whales. I might not have met them by kayak, but the St Lawrence River is one of the world's best spots for seeing cetaceans. The village of Tadoussac, which sits where the Saguenay empties into the mighty mother-river, is a hub for whale-watching trips. And it was my next port of call.
Jacques Cartier was so taken with the scenery here that he dropped anchor in 1535; subsequent explorers – Pierre de Chauvin, Samuel de Champlain – did likewise, making this one of Québec's most historic spots. However I was heading offshore, on a mission of my own. The sky was cloudless as the Zodiac-style boat powered from the quay. My eyes were soon streaming in the wind-rush but I refused to cower away from the edge, and methodically – desperately – scoured every inch of blue, looking for a telltale flick or blow.
Nothing. The water remained unbroken, the 40-odd pairs of eyes on the boat unable to coax a creature to the surface. And then, all of a sudden, we were totally surrounded.
It was the end of the whale-spotting season, so I can't imagine what might face visitors in the prime summer months – because we seemed to have sailed into a marine-life stew.
Seals bobbed up like submarine periscopes to check out the ruckus; they became so numerous I stopped bothering to watch them, focusing instead on the pairs and trios of minke whales lunge-feeding on the surface. Then several sets of fin whales turned up – the second-longest species in the world. We watched as these slender, grey-brown giants forged their course, huffing like geysers, and showing their tiny dorsals only when about to dive. "Ils plongent!" proclaimed the onboard guide, recognising their signal. And, with that, the fins disappeared into the deep.
Classic 3: Romantic rails
The final episode of my adventure was aboard a train, which felt fitting. After all, that's how Canada was populated – thousands of immigrants arrived on the east coast and used the railways to spider across this vast land. My 140km trundle from Québec City to La Malbaie and back, along the edge of the St Lawrence River, wasn't quite so epic, but I was eager to hop aboard the Train of Le Massif de Charlevoix, the newest scenic rail offering in a country known for doing such things well.
At its peak in 1945, 2.5 million pleasure-seeking passengers rode this shore-hugging route. But the rise of automobiles left it unloved, and it has lain largely unused for decades. This spring sees the start of the railway's first full-season comeback.
I was on an early trial run, a day-tripping guinea pig for the 'rail-cruise' experience, with its flashy modern carriages, iPads on every table and gourmet cuisine. The train was indeed swish, the food tasty. But these frills were secondary to what was outside.
As we rolled slowly north-east, the city outskirts disappeared. After the great granite Basilica Sainte-Anne-de-Beaupré, houses segued to fertile plains, the St Lawrence at low tide to our right. We passed marshes aflock with snow geese, while a squadron of gulls passed the arc of a rainbow and an eagle swooped low over grasses pushed flat by the wind like hat hair.
We seemed to be squeezing along an impossible precipice, our way carved into weathered-smooth stone that reared up land-side, and pitched down to the water on the other. Although there wasn't any water right now as the shy St Lawrence had retreated, revealing its sludgy bottom, untidy with rocks.
But it was all change on the return leg. I imagined retracing the same route back would be a little repetitive, but after an over-long stop in La Malbaie (a town of limited charm, unless you find the artisans' cooperative shack), we reboarded and swayed through a different scene.
The tide was high now, the silver-blue St Lawrence reaching right up to the rails. "Beluga!" my tablemate Jean claimed over the starched linen. I followed his gaze out of the window; sadly I saw no whale (not even a ripple), but I like to think that he was right. And as late afternoon became dusk, crepuscular rays hit the herons, and the light – on the water, the rocks, the waving grasses – went all girlie, glowing Barbie pink.
Almost 480 years ago Jacques Cartier looked out on this same river. It's a different world now; what he would make of the train's mood-lighting and iPads I can't imagine. But that view – indeed, the views across most of Québec, a dramatic Canada-in-miniature – well, I'm sure I know what he'd think about that.