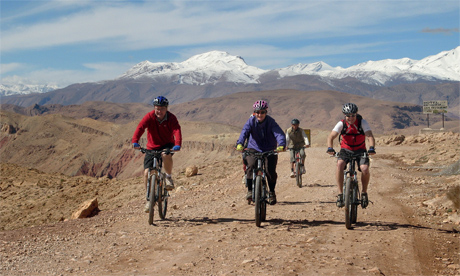 9 trips to take to learn a new skill
Make it your new year's resolution to learn a new skill this year – by signing up to one of these nine top trips
1. Vietnam: Kick-start your cooking
Tempted by the tastes of the Orient but never gone beyond supermarket sauces? On DialAFlight's tantalising Vietnam Culinary Discovery you'll journey from Hanoi and Halong Bay to historic Hué and Hoi An and on to the buzzing streets of Ho Chi Minh City, learning mouth-watering recipes from one of the world's healthiest cuisines as you go. Cook up bun cha (noodle soup) in the north, battered banh khoai cake in the centre, and sweet and spicy seafood in the south.
Who: DialAFlight
When: 25 Jan, 22 Feb 2013
How long: 11 days
How much: from £1,999 (incl flights)
2. Canada: Go for gold
Pick up some paddling prowess exploring the Yukon River on Grand American Adventures' Yukon Canoe Expedition. Following the historic gold rush route through the wilderness to Dawson City in two-person open canoes, you'll camp by the river under star-filled skies, watch out for black bears and moose, and test your daring at Five Finger Rapids.
Who: Grand American Adventures
When: 30 Jun, 14 Jul, 4 Aug
How long: 14 days
How much: from £1,459 (excl flights)

This trip features on Wanderlust's Trip Finder – find out more online here.
3. Morocco: Brush up on your bike skills
If improving your biking ability is up there on your New Year's resolution list, you'll be glad to hear that Exodus has recruited two of the UK's finest mountain-bikers – pro-racer Paul Hinton and racer Jenn Hopkins – to off er expertise on three Morocco Biking Skills Weeks.
Covering everything from bike set-up to pulling the perfect wheelie and sartorial cycle elegance, there's something for every level. And all this advice is dished out in the incredible craggy settings of either Morocco's Jebel Sahro or the Atlas mountains.
As part of this, Jenn will be joining a special female-only week led by Liz Proctor (Exodus's most experienced mountain-bike leader) for women who want to get into this male-dominated sport in a testosterone-free environment.
Who: Exodus
When: intermediates 7 Apr 2013; women only 26 Oct 2013; beginners 9 Nov 2013
How long: 10 days
How much: from £1,099 (incl flights)
4. France and Italy: Learn the ropes
If the impending 60th anniversary of the first Everest ascent has fired your mountaineering ambitions, KE Adventure's new introductory Alpine climbing Chamonix & Gran Paradiso trip is for you. Learn glacier skills, practise rock-climbing at Les Gaillands and ascend the Aiguille du Tour (3,544m) and Gran Paradiso (4,061m).
Who: KE Adventure
When: 15 Jun, 13 Jul, 10 Aug, 7 Sept 2013
How long: 7 days
How much: £1,095 (excl flights)

This trip features on Wanderlust's Trip Finder – find out more online here.
5. Be published in Wanderlust!
If your New Year's resolution is to be published or to take your travel photography to the next level, listen up! Every year Wanderlust leads a group of writers and photographers On Assignment to help them hone their skills and get tips from pros. Register your interest now...
Who: Wanderlust Journeys
When/how long/how much: TBA: check the mag and website for updates
6. Sweden: Master mushing in Lapland
Mush your own team of huskies through the forests of Jukkasjarvi on Discover the World's Wilderness Husky Adventure. Learn how to drive your sled and look after your team of dogs, plus sleep in the wilderness and the Icehotel.
Who: Discover the World
When: tailormade departures Jan-Apr
How long: 3, 4 or 6 nights
How much: from £1,499 (incl flights) 
7. UK: Take up twitching
Naturetrek has launched a range of Beginners' Birdwatching Trips especially for would-be twitchers, covering locations from Northumberland to Nepal. We're excited about The Somerset Levels weekend, which focuses on spectacular starling displays. All you need is binoculars and enthusiasm.
Who: Naturetrek
When: Somerset: 1 Feb, 23 Feb 2013
How long: 3 days
How much: from £295
8. Laos: Learn to be a mahout
They say elephants have long memories – well, this is a trip that you'll never forget!
Selective Asia's Way of the Mahout takes you from Luang Prabang (oft voted Wanderlust readers' Top City) deep into the Laotian countryside. You'll spend four days travelling with a caravan of elephants, who you'll bathe, groom, feed and learn to 'drive'.
Who: Selective Asia
When: tailormade departures
How long: 12 days
How much: from £1,403 (excl flights)
9. France: Get to grips with ice climbing
Ever wanted to scale a frozen waterfall? Perfect your frosty finesse at L'Ancienne Poste ski lodge in the Pyrenees on a Learn to Ice Climb short break. You'll get three individual ice-climbing lessons, a snowshoe trek and four-course meals.
Who: L'Ancienne Poste
When: tailormade, Jan-Mar
How long: 4 nights
How much: from €599 (excl flights)