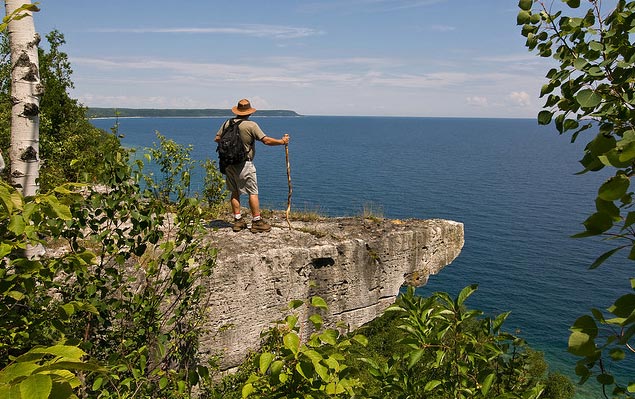 5 top hikes in Ontario, Canada
With 330 parks covering more than 9 million hectares, Ontario has some of the best walking in the world. Here's our pick of the best hikes in the province
1. Bruce Peninsula National Park
The Bruce, as it's known, offers something for everyone, from easy walks on the shores of Lake Huron to challenging hikes along limestone cliffs overlooking Georgian Bay.
Hearty hikers can tackle the spectacular Bruce Trail; this 885km trail winds along the magnificent Niagara Escarpment from Queenston to the tip of the Bruce Peninsula.  
It takes around 30 days to complete the trail end-to-end – but don't worry, there are plenty of self-guided hikes along the trail suitable for an hour or a day's worth of walking.  
2. Algonquin Provincial Park
Over a million visitors a year come to explore the stunning maple hills and thick pine forests of Algonquin, located between Georgian Bay and the Ottawa River in eastern Ontario.  
The park is huge – 7,800 sq km, or around a quarter of the size of Belgium – so it's pretty hard to go wrong hiking here. Try the Mizzy Lake Trail, an 11km loop that offers a good chance of seeing beaver and moose.  
Autumn is undeniably the best time to visit; from mid-September to mid-October the maple trees put on a dazzling show as their leaves turn varying shades of copper, gold and red.  
3. Lake Superior Provincial Park
This rugged park on the shores of Lake Superior, the largest of the Great Lakes, provides some of the province's most stunning wilderness.  
It may feel remote but the Trans-Canada Highway snakes through its heart making it easily accessible, while the Algoma Central Railway operates along the park's eastern border, dropping off hikers along the way.   
If you're up for a week-long hike try the Coastal Trail, a demanding 65km route over craggy cliffs and pebble beaches that offers unrivalled views of the lake's moody blue waters.   
4. Bon Echo Provincial Park
Bon Echo in the east of the province has long been a favourite for photographers thanks to the striking Mazinaw Rock, a sheer rock face rising out of Mazinaw Lake which features an impressive collection of Aboriginal rock paintings in Canada.  
The park's most popular trail leads hikers to the top of Mazinaw Rock, while another popular trail provides a good view of the rock's hardened pink granite and gneiss from a lookout.  
Experienced hikers will enjoy the 17km Abes and Essens trail, a strenuous hike over rough and uneven terrain.    
5. Awenda Provincial Park
Located on the edge of Penetanguishene Peninsula, Awenda is good for beginners and features over 30kms of easy walking trails.  
The park was created by retreating glaciers during the last ice age and is dotted with kettle lakes, boulder fields and cobble beaches that make for picturesque surroundings.  
The shortest trail takes just half an hour, or try the 13km Bluff Trail which offers great views from the park's most impressive landform, the 60-metre high Nipissing Bluff overlooking the turquoise waters of Georgian Bay.    
Win a trip to Ontario
Ontario Tourism is offering one lucky reader the chance to win an ultimate adventure holiday worth £5,000... more
More like this
'Top 5 activities in Ontario, Canada' | Inspire me... more
'Destination of the month: Canada' | Plan a trip... more
'Hunting for icebergs in Canada' | Destinations... more
Win with Wanderlust: Trips, books, DVDs, tickets + more | Competitions... more