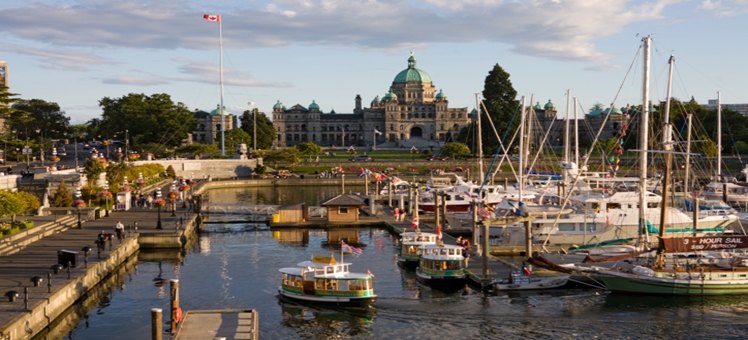 Shopping is an absolute must when visiting British Columbia. Bursting with life, the various different shopping districts dotted all around the province offer a slice of daily life. Watch people completing their chores at the local farmer's market, soak up the swift pace of life in the buzzing downtown districts or simply lose a day in one of the many glistening shopping malls.
Victoria
From charismatic markets to antique stores, huge shopping malls to tiny boutiques, British Columbia's capital is one of the best places to shop. A city made for strolling; if you wander along the streets you'll uncover a fascinating range of wares. Visit Antique Row and Mosaic Village to discover some artisan treasures, swing by the shops of Lower Johnson Street to dose up on high fashion and finish up at Chinatown to refuel for lunch. Make sure to also stop by bustling Government Street to peruse through some specialty boutiques and amble around Bastion Square for your fill of unique trinkets, arts and handicrafts.
Vancouver
Vivacious and cosmopolitan, Vancouver has a lot to offer in terms of its shopping. From informal shops to the very best in haute couture, all tastes and budgets are catered for. Whether its designer labels, accessories, jewelry or cosmetics you are looking for, you will find it in abundance here. Stock up on herbal and green leaf tea in Chinatown, wander through the boutique stores of Commercial Drive, relax in the bookshops of Davie Village and soak up the arty vibe of Vancouver's downtown district. For the shopping mall experience, head to Burnaby, just outside Vancouver, where you will find British Columbia's largest mall and an emporium of shops.
Granville Island Market
For unique shopping purchases, visit Granville Island. A prominent shopping district tucked away in Vancouver, Granville Island is known for its distinct array of shops. Here you'll find everything on sale from pottery to books, glass to kitchenware. Famed for its local market, it's also a great place to stock up on fresh produce, gourmet bites and artisan cheeses. You'll find it very hard to leave Granville Island empty handed!
Richmond
Just 20 minutes outside of downtown Vancouver, Richmond is another prominent shopping spot. Here you can pick up everything from the latest in fashion to homeware and electronics. Peruse the boutique shops of ocean-side Steveston, admire unusual Japanese products at Aberdeen Center or explore hundreds of outlets at Landsdowne Center shopping mall. From May to October, you'll also find a tempting selection of colorful market stalls and gourmet food vendors scattered all around Richmond's Summer Night Market.
Kamloops
Home to lively shopping streets, large shopping malls and trendy boutiques, Kamloops in a great place to shop. Visit Aberdeen Mall, Sahali Center and Northhills Center for your fill of shopping malls and brand-name retailers. Alternatively, spend some time in the atmospheric downtown core, where you will uncover a vibrant range of eclectic restaurants and trendy shops. Make sure to swing by Lansdowne Village in the downtown area to enjoy a charming selection of boutique shops, art galleries and diner-style restaurants.