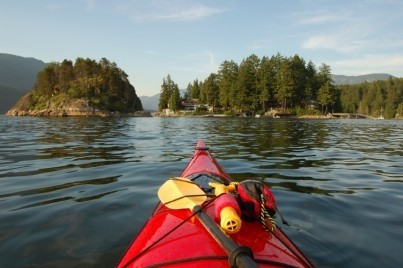 Reading the travel guides, Vancouver sounds more like a base for launching outdoor excursions into the rainforest than anything else. There's no question that it's ideal for outdoors types, but it also has a surprising number of cosmopolitan attractions that put it in league with other world-class cities in Canada.
As something of a small 'big city', Vancouver is an ideal tourist destination. Most of its major attractions are centrally located and within a short taxi ride of each other. There's also no freeway in the central district, so walkers have less traffic to contend with.

The best attractions in Vancouver are cultural gems like the Anthropology Museum or the impressive Chinese and Japanese gardens. Stanley Park is a hotspot for activity, both for its outdoor activities and its world-class aquarium. Even Canada Place, first site for incoming cruise passengers, is a must-see.


Canada Place
It's actually a convention center, but Canada Place is built to look like the world's biggest sailboat. It's a good place to begin a tour of the city and snap a few photographs, and for cruise passengers it's literally the point of disembarkation. The Pan Pacific Hotel is inside.


Vancouver Aquarium
Located inside Stanley Park, Vancouver Aquarium displays thousands of marine animals. Visitors are amazed by the tank of glowing jellyfish, or by the sheer size of the Caiman fish. In between are beluga whales, a walk-through rainforest exhibit (with on-the-hour rain showers), sea turtles and many other world-class attractions.


Vancouver Art Gallery
Vancouver Art Gallery has undergone drastic changes in recent years. It began as a second-tier art gallery that didn't get much attention, but it transformed into a show-stealer a few years ago. Housed in an impressive courthouse building built in the early 1900s, the gallery hosts sculpture, photography and video arts exhibits.


Museum of Anthropology
The recently renovated Museum of Anthropology sits on the waterfront and displays Native American artifacts and European ceramics. Among the many excellent exhibits are collections of totem poles, sculptures, beads and ceremonial masks. Bill Reid's artwork, some of which was stolen in a 2008 heist, is exceptional.


Dr Sun Yat-Sen Classical Chinese Garden
Visitors to this garden are immediately transported to the days of China's Ming Dynasty. The gardens beautifully embody the contrasting elements of China's classical gardens and offer an ideal escape from the streets of Chinatown. Dr Sun Yat-Sen Classical Chinese Garden hosts international music and dance programs on Friday nights.
Stanley Park
In the West End, Stanley Park spans 1,000 acres and dates to the late 19th century. The squirrels were imported from New York's Central Park, but there are many other elusive species including coyotes and beavers that the luckiest visitors may spot. Cyclists and walkers follow the five-mile seawall promenade, especially on weekends.


Christ Church Cathedral
This beautiful structure is one of two cathedrals in all of British Columbia. Regular Mass is held here, but non-worshippers are welcome to come inside and explore Christ Church's ornate interior at other times.


Grouse Mountain
A fun attraction in all seasons, Grouse Mountain is equipped with a cable car that speeds passengers to the summit, for the view or (in winter) to ski. The range of outdoor attractions is impressive and includes wildlife exhibitions, ice skating, sleighing and mountain biking. Movies are screened inside the lodge.

Find more information about Vancouver and hotels in the area:
Vancouver hotels | Canada hotels