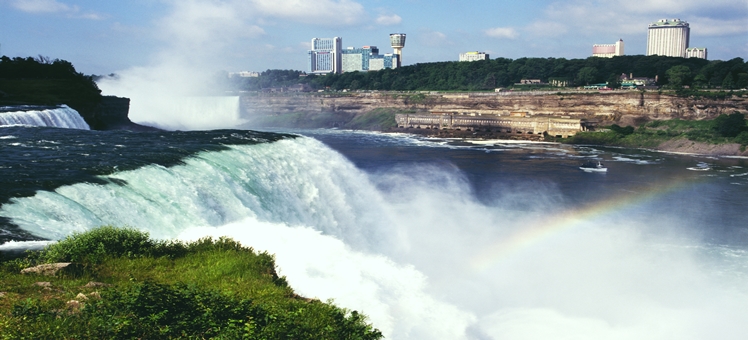 There's more to Niagara accommodations than cheesy honeymoon suites, though you certainly can find those, too. Niagara Falls has as many luxury hotels as economical, family-friendly options. In Niagara-on-the-Lake and throughout the surrounding area, numerous historic homes now serve as bed and breakfasts or inns. After a winery tour and a good dinner, you can even stay right at a vineyard. Increasingly, the local wineries are offering overnight accommodations with rustic décor and unbeatable views.
Hotels with Falls Views
Within Niagara Falls, a view of the falls sets premium hotel rooms apart from the rest. A range of hotels line Fallsview Boulevard, putting guests in close proximity to the area's biggest-ticket attractions. If you want a room with a view, contact the hotel directly to ensure you reserve the room with the best sightlines. While many of the area's cushiest lodgings are situated to ensure a good view, it's also possible to find more economically priced hotels where you can glimpse the falls from your very own room.
Bed and Breakfasts
The host of small, family-owned bed and breakfasts in Niagara-on-the-Lake make overnight jaunts from Niagara Falls highly tempting. Many of the bed and breakfasts are historic homes that date back well over a century. Some date back to the early 19th century and are featured as stops along the historic walking tours. Amenities vary widely, with some featuring cosy sitting rooms, fireplaces, bicycles for hire, and on-site restaurants. For no-frills accommodations, simpler bed and breakfasts feature smaller rooms and shared bathrooms.
Winery Hotels
After tasting wines all day and perhaps wrapping up with a wine-paired meal, you may wish to retire to a room right on the property. Local wineries vary widely in aesthetics and ambiance, from elegant resort-style panache to more rustic appeal. Likewise, the accommodations may include all the amenities you'd expect from a four-star hotel, or the winery may simply have a neat room to spare with a view of the vineyards. The more extravagant destinations have romantic suites, spa treatments, and packages for overnight or weekend stays.
Family-Friendly Hotels
For a family stay in Niagara, it's worth looking into some of the more kid-oriented hotels and resorts. In Niagara Falls, The Great Wolf Resort features an on-site waterpark and theme suites. Other hotels, such as the Sheraton on the Falls, offer special family holiday packages, including admission to local attractions at reduced rates. Wherever you decide to stay, it's worth inquiring about suite-style rooms for families, which are available at most of the hotels as well as many smaller bed and breakfasts.