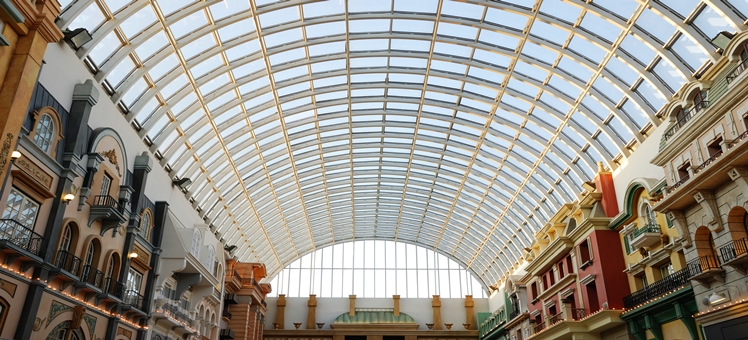 As in many places around the world, retail is one of the most popular forms of therapy in Alberta. From huge commercial malls to small boutique shops and markets, Alberta has it all. Here, you can find anything you are looking for, whether it's a thoughtful souvenir, or something special for yourself.
As Alberta is so large, you will never be short of shops to pick up something special. The big cities of Calgary and Edmonton have some brilliant shopping malls, whilst the ski resorts in Banff and Jasper have shops especially suited to those looking to hit the slopes.
West Edmonton Mall
Known as somewhat of a Mecca for shoppers, West Edmonton Mall, will have everything you are looking for. Known as being one of the largest shopping and entertainment complexes in the world, the options here are endless. Apart from the dozens of high street and luxury good shops, there is a whole other side to this mall. Check out Galaxy Land, the world's second largest indoor amusement park, which includes a massive roller coaster. Try your hand at ice skating or brush up on your golf swing at the golf center. You could spend an entire day here and still not get around to seeing everything!
Sports Experts
Sports Experts in Banff will have everything you need if you are looking to take to the ski slopes. They provide first-class equipment, which you can choose either to buy, or just rent during your stay. Featuring all the top brands in the world of snowboarding, you can be sure that you are in safe hands when buying from Sports Experts. If skiing isn't for you, then they can easily help kit you out with some brilliant hiking gear for you to take to the walking tracks.
Millarville Farmer's Market
Markets are always the perfect place to pick up some unique hand make crafts. Millarville Farmers' Market does everything from food and produce to art and jewelry. With over 170 vendors, it is now Alberta's largest outdoor market, attracting thousands of customers every time it opens. Once you have done all the shopping you can manage, check out the live entertainment and music at the market and enjoy some homemade cookies.
Cultural Art
With a long and rich history, Alberta is lucky enough to have a host of brilliant places to pick up some fantastic locally produced art. Many small towns throughout the province have great art and craft shops in which you can purchase some beautifully crafted hand made products. The Bearclaw Gallery in Edmonton is host to some terrific paintings and craft which have been created by some of Canada's top artists.