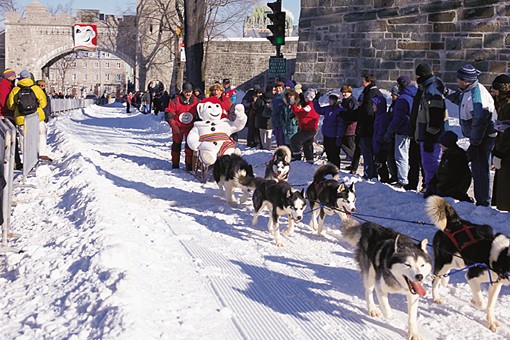 Enjoy winter vacations in Québec City, where streetlamps glow under a blanket of snow, couples warm up over mulled wine, and visitors play and dance at the world's biggest winter carnival. Book a winter hotel in Québec City for a magical winter getaway.
Winter Carnival
Québec City's streets fill with thousands at the world's largest winter street party, held each January and February. With live music concerts, visitors quite literally dance in the streets. And crazy outdoor recreation – like snow baths and ice canoeing – keeps enthusiasm high. Other highlights include fireworks, night parades, snow sculptures and sleigh races at this annual celebration of winter.


Cozy dinners
Enjoy views of wintery Old Québec from inside 18th-century taverns and restaurants, warmed by blazing fireplaces. The air at wood-fired grills is filled with the scent of caribou and bison as visitors feast on these Québec specialties, followed by maple tarts and warm mulled wine. Charming old-world restaurants can be found on rue Saint-Louis, rue Saint-Jean and the streets surrounding Place- Royale.


Ice skating
The Place d'Youville comes alive with music and skaters in winter, when this Québec City square is transformed into a bustling ice rink. Visitors rent skates, then swirl, glide or just try to stay upright in one of the world's prettiest skating venues – alongside the Saint-Jean gate of the 18th-century city walls, within view of the regal Parliament buildings.


Hardy winter fun
In a country known for winter sports, Québec City goes beyond the ordinary. Visitors try their hand at new winter adventures, mushing along behind dog sleds and treading on top of a meter of snow in snowshoes at Aventure Nord-Bec. Meanwhile, lovers glide side-by-side through Battlefields Park on Nordic skis, within sight of the St. Lawrence River and the Citadel, on winter vacations in Québec City.


Romantic lodging
Snuggle beneath thick feather duvets in romantic winter hotels in Québec City. The Château Frontenac sits in the heart of Old Québec City, its turrets towering overhead, its sumptuous crystalline- and tapestry- adorned lobby greeting guests as they arrive. Smaller historic inns also lie along the rue Saint-Jean and rue Saint- Anne.
Ice Hotel
Embrace the cold at the Ice Hotel, an adventurous winter Québec City hotel. Rebuilt each year from ice – and never according to the same plan – the Ice Hotel welcomes overnight guests who snuggle inside downy sleeping bags to spend the night and earn bragging rights. Less adventurous visitors can tour the hotel's guestrooms and wedding chapel before sipping cocktails from carved ice mugs at the Ice Bar.
Snow sliding
Adventurers of all ages head to the Terrasse Dufferin in Old Québec when the temperatures drop, eager to toboggan down the Glissades de la Terrasse ice slide. Set beneath the towering Château Frontenac hotel, the 215-meter-long snow slide launches riders down its wooden chute at speeds up to 70 kilometers an hour, squealing all the way.
Sleigh rides
When winter snows slow the rhythm of carriage wheels, the calèches of Old Québec replace their wheels with blades, converting them to winter sleighs. Cuddle under thick, woolen blankets on evening rides through the city, and soak up the views of evergreen garlands, streetlamps glowing under layers of snow and the horse's breath turning to frost in the night air.