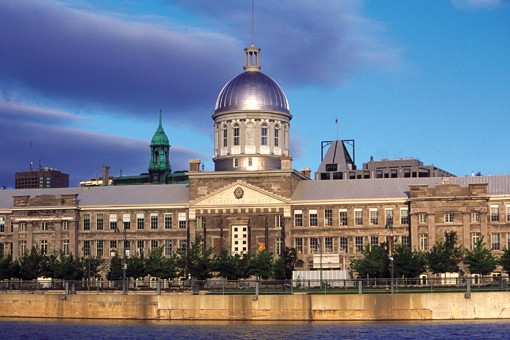 A Montréal vacation means 17th-century French cathedrals, a 20th-century Olympic Park and 21st-century shopping, dining and entertainment. Book a hotel in Montréal to span the centuries in one of Canada's most exhilarating cities.
Get your bearings
The St. Lawrence River snakes alongside Montréal, with the Old City's romantic cobblestone streets and 17th-century buildings hugging the river's banks. West of the Old City is Montréal's Downtown, with office complexes, luxury hotels and designer shopping. The imposing Mount Royal, known for its lush, manicured park, rises to the north. Farther to the north, the Plateau Mont-Royal neighborhood lures visitors with eclectic boutiques, bistro dining, galleries and vibrant night life. Keep heading north and the leafy residential Hochelaga- Maisonneuve offers shady walks and is home to the futuristic Olympic Park.


French history
The French settled Montréal in the 17th century, and Old Montréal is filled with their presence. Some 3,800 guests can sit within soaring, neo-Gothic Notre-Dame Basilica, a sanctuary resonating with 7,000 organ pipes. To the north, the ceiling of another 17th-century cathedral, Chapelle Notre-Dame-de-Bonsecours, is hung with tiny ship votives offered by centuries of grateful sailors. Visitors stop along narrow, cobblestone avenues to hear street violinists en route to the Pointe-à-Callière, Montréal's historical and archaeological museum, before relaxing at street cafés, taking in views of the St. Lawrence River and Montréal's Old Port.


From fine art to tango dancing
Montréal vacations include the finest in French-Canadian culture. Near Mount Royal, ballerinas glide across the stage at the Place des Arts, while a spicier beat prevails in the nearby Plateau Mont-Real, a hotspot for Montréal tango clubs. One festival follows another in summer, ranging from the Festival International de Jazz to celebrations of film, reggae, comedy and street painting. Canadian and European masterpieces dominate the Montréal Museum of Fine Arts, whereas the Contemporary Art Museum wows visitors with abstract sculpture and video installations.


Cider and poutine
Check out of your Montréal hotel for a breakfast of freshly baked croissants and an expertly prepared cappuccino at one of Old Montréal's French cafés. For a picnic in grassy Parc du Mont-Royal, buy Québécois cider and hot-from-the-oven bread, or lunch on regional cheese and artisanal charcuterie at stylish bistros in Hochelaga-Maisonneuve to the north. Global flavors converge on menus in pricey Plateau Mont-Royal, but visitors can also try the local poutine (French fries covered with cheese curds and beef gravy). And don't dare leave Montréal before scooping up some fresh maple-sugar sweets.
Diverse shopping
Bohemian jewelry and gauzy dresses fill display windows in du Mont-Royal Avenue, while the trendiest clothing and home décor are spotted first on intersecting Saint-Denis Street. Elite labels adorn fur coats and silk suits at department stores, and specialty food shops stock their shelves with Québécois cider and ice wine, all on central Phillips Square.


Natural pursuits
Mount Royal is the heart of Montréal recreation – locals walk their dogs there, jog its paths, toboggan down it, picnic in it and bicycle through it every day of the year. Île-Notre-Dame, an island in the St. Lawrence River, is home to Parc Jean-Drapeau with numerous bicycle and inline skating routes, a swimming beach and kayak rentals.