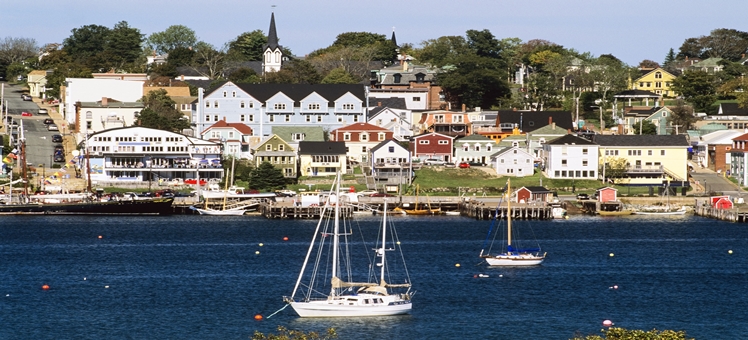 From swanky five-star hotels to small ocean-side cottages, Nova Scotia has it all. Whether you are searching for silken sheets and indulgent spa facilities or simply scenic landscapes and boutique-style settings, you won't have to look too far. Camp along the rugged coastline, relax in a cozy country inn or experience finer luxuries at the hotels in Halifax.
Halifax
The vibrant capital of the province, Halifax has bundles of charm. Home to galleries, theatres, restaurants and shops, there is more than enough to keep you entertained here. Explore the city's military history, visit the historic sites or simply stock up on gourmet food at the countless craft and farmers' markets found along the waterfront.
Hotels in Halifax
From modest bed and breakfasts to lavish hotel suites, Halifax caters to all crowds. The downtown core is occupied by hotels and inns, offering a great location for those wanting to explore the Halifax Harbor. If budget becomes an issue, however, there are also several great motels found scattered throughout the city.
Cape Breton
Panoramic scenery and breath-taking nature trails, Cape Breton is an island filled with memorable landscapes. Rich in history and culture too, there are plenty of museums and historical sites to explore. Ideally suited to the outdoors enthusiast, golfers and nature-lovers will not be disappointed with their decision to stay here.
Hotels in Cape Breton
Just like in most parts of Nova Scotia, a wide range of accommodation options are available in Cape Breton. Choose campgrounds, log-cabins, lodges or five-star suites. Here you will only ever be as off the beaten path as you choose to be.
Northumberland Shore
Home to more than 15 beach parks and infused with a rich Scottish heritage, the Northumberland Shore is another popular spot to explore. Visit cultural hotspots such as the Hector Heritage Quay in Pictou or attend the annual Highland Games in Antigonish.
Hotels in Northumberland Shore
Hotels along the Northumberland Shore often have the benefit of sea-facing views. Renowned for its pristine beaches, this is the ideal spot for families or couples looking to relax.
South Shore
A landscape decorated with lighthouses, seaside towns and local artisan communities, the South Shore is a charismatic place to stay. Local landmarks include the sandy beaches of Queensland and White Point as well as the leafy confines of the Southwest Nova Biosphere Reserve.
Hotels in South Shore
From river cottages to beachside campgrounds, the South Shore has a wide variety of eco-friendly accommodation options. If modern facilities are more your scene, however, there's also a handful of hotel chains dotted around the area.
Yarmouth and Acadian Shore
Perched on the southwest tip of Nova Scotia, the Yarmouth and Acadian Shore are bursting at the seams with seafood restaurants and cultural museums. Promoting a traditional way of life, expect to step back in time at places such as the historic Acadian village (Le Village historique acadien de la Nouvelle-Écosse). Leap forward into the present day at one of the many waterfront festivals, often scattered with street performers and food stalls.
Hotels in Yarmouth and Acadian Shore
Oceanfront cottages, lakeside campsites and rustic motels occupy the southwest coast of Nova Scotia. With a homely feel and picturesque surrounding scenery, these tranquil shores are a great pick for romantic escapes.
Fundy Shore and Annapolis
Containing the highest tides in the world, the Bay of Fundy has ocean-front activities right at its forefront. Kayaking, whale watching and tidal bore rafting are offered by the boatload. However, there's more to these shores than simply water-based attractions. Here, you can explore the fossil cliffs of Joggins, visit the Grand-Pre National Historic site or simply indulge in a gourmet dinner at one of the Annapolis Valley's abundant vineyards.
Hotels in Fundy Shore and Annapolis
Accommodation options along the Bay of Fundy range from ocean-facing villas to country inns, plush golf resorts to relaxed B&Bs. Digby, located along the southwestern coast, has become one of the most popular places to stay due to its sweeping views across the Annapolis Basin.