The romance of the rails doesn't come cheap in Canada. But you're sure to fall in love.
A train trip across Canada seems to be part of the iconic Canadian "brand"–up there with moose, Mounties and maple syrup. It's a bucket-list topper for locals and visitors alike.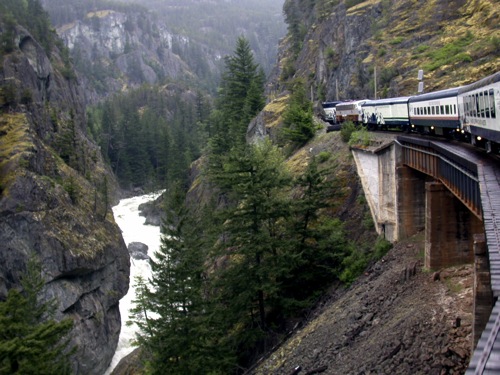 Trains are important to the Canadian psyche. It was, after all, the railway that united Canada both literally and figuratively more than a century ago.
In 1881, the federal government, anxious to bring the West into Confederation and shut out U.S. expansionism decided to push a railway through to the West Coast.
It was a formidable task, fraught with scandal and financial instability.
But with the pounding of the Last Spike at Craigellachie, BC in 1885, Canada suddenly became an international tourist destination.
So here's the good news:
Canada offers a range of breathtaking train tours.
Followed immediately by the bad:
They tend to come with breathtaking price tags.
I've recently been in a lengthy Twitter exchange with a European train enthusiast who was completely disheartened by the costs associated with train travel in Canada.
He was all set to give up his dream of seeing Canada by train. I told him it would never be "budget", but that it could be done without busting the bank.
Here's how:
Take smaller bites: I've said it before and I'll keep saying it–Canada's a big country. It will take you almost a week of travel to cross by train. Forget the budget question for a moment–can you really afford the time?  A shorter trip will cost you less and still deliver some spectacular scenery. (And it allows you to skip the boring bits of a cross-country trip. It must be said: while the flat Prairie landscape has its own appeal, it does get a little redundant after the first 12 hours…)
Focus on a region: In the West, take VIA Rail or the more luxurious Rocky Mountaineer from Vancouver or Calgary through the Rockies. In the East, follow the St. Lawrence  River from Montreal to Halifax. And in Central Canada, travel to Montreal from Toronto, or head north to Churchill from Winnipeg on VIA.
Take a day trip: If you want the romance without the commitment, look for a scenic day trip instead. Try VIA Rail between Toronto and Niagara Falls, or Victoria and Courtenay on Vancouver Island; or the Rocky Mountaineer Sea-to-Sky Climb between North Vancouver and Whistler, BC.
Hunt for deals: There are all kinds of opportunities to trim the bill: student and senior discounts; two-for-ones; flexi-passes;  early-booking bonuses; seasonal specials. Stalk the VIA Rail and Rocky Mountaineer web sites–or better yet, sign up for RSS notifications from them–and be ready to pounce on the right price.
Don't miss a chance to see even a tiny piece of Canada by train. Even a small investment in a well-chosen train journey will pay off in lifetime memories…
>>Related links:
Information about Canada
Getting around in Canada
Accommodation in Canada
>>Ready to book your trip to Canada? Use the search tool below to find the best rates on flights and hotels.