Getting from Vancouver International Airport to Downtown
TIME : 2016/2/25 14:25:45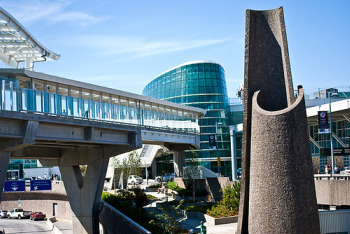 Getting from Vancouver International Airport to downtown Vancouver is fast and easy, if not particularly cheap. The most efficient and inexpensive option is to take the Canada Line, one of the lines of Vancouver's SkyTrain rapid transit network, which takes 26 minutes and costs $8.75 to get you downtown.
Public transportation
Both the International and Domestic terminals are served by the YVR–Airport Station of the Canada Line. To get there from the Domestic terminal, go to level 3 and walk towards the Link Building (which is located between the two terminals)  and then follow the signs towards the Canada Line.
From the International terminal, after clearing customs and immigration, walk toward the exit to the International Arrivals Greeting Area. Exit the building and follow the signs marked Canada Line, towards the parking garage. Just before the garage entrance, take the escalator up to the platform. The station is pretty well-marked and it would be difficult to get to lost, but look for one of the green-jacketed YVR greeters throughout the airport if you need help.
Once on the platform, you'll need to buy a ticket using the vending machine: cash and credit cards are accepted. If you're headed downtown, it'll be a 2-zone ticket, which costs $8.75.  Trains run every 6-10 minutes from 5:10am until 12:57 am.
Shuttle buses
Courtesy shuttles service several Richmond hotels and two Vancouver Airport hotels. Aeroshuttle also provides shuttle service to downtown hotels starting at $15.50 per adult (one way), which is useful if you will be bringing a lot of bags and don't want to hassle with public transportation, or if your hotel is far from a Canada Line station. No reservation is required; just head to the ground transportation area (level 2) of either terminal.