Mexico City's Magical Neighborhoods: Coyoacan
A place where everyone is welcome, everything converges.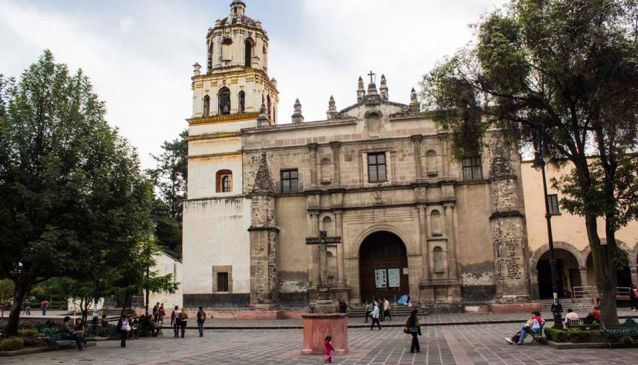 One day, any day, you awaken and decide to walk around your neighborhood. Along its peaceful streets, all you see are beautiful colonial-style mansions, each in a different color, cobblestone streets, flowering bougainvillea, ancient jacaranda trees, and picturesque churches. It is as if time travel were possible. Yet, you are in the heart of one of the largest cities of the world. This is Coyoacan: This is how it feels; this is how it lives.
Now one of Mexico City's best known boroughs, Coyoacan, was an autonomous town outside the metropolis for several centuries. Its name means "place of coyotes" in Nahuatl, the language spoken by the Aztecs, as wild coyotes lived here in large numbers in the pre-Hispanic era. Coyoacan's first sedentary human residents were the Colhuas, who set down roots in the 6th Century. When the Spanish Conquistadors arrived in the Valley of Mexico in 1519, Coyoacan was inhabited by the Totonecas, an aboriginal population subordinate to the Aztec Empire. Thus, it was easy to convince them to help overthrowing the Aztec capital, Tenochtitlan.
Once the Aztec Empire was defeated in 1521, the Spanish established the first capital of New Spain (as Mexico was then known) in Coyoacan, during the period of time it took to build a new Spanish city upon the scorched ruins of Tenochtitlan. The leader of the Conquistadors, Hernan Cortés, fell in love with the mysticism of Coyoacan. He had a home built for himself here, and one for his translator and lover, an Indigenous woman named Malitzin. In the years to come, small chapels, majestic cathedrals, and beautiful baroque-style mansions were erected throughout. This alluring locale also served as a getaway spot for many of Mexico City's wealthiest families, who came to won or construct summer houses and haciendas here. It wasn't until the 20th century that Coyoacan actually became an incorporated part of Mexico City's metropolis. In acknowledgement of its beauty, the government declared the borough a "Picturesque and Traditional Zone." More recently, in order to celebrate and preserve its history, Coyoacan was officially declared a "Magical Neighborhood."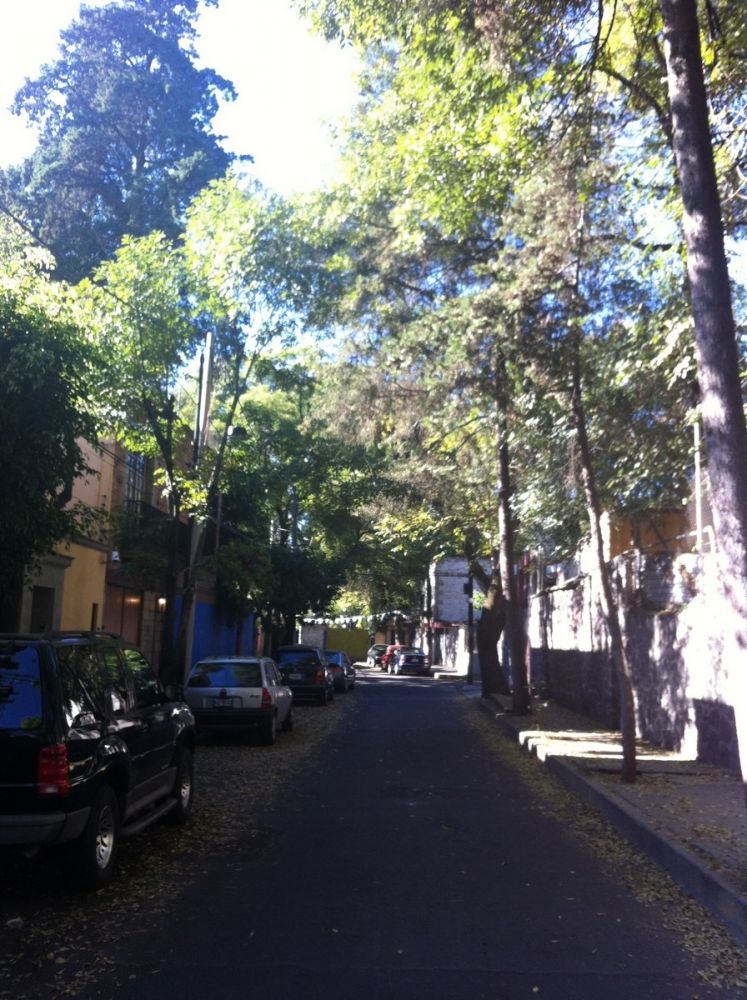 Because of its unique aesthetic and culture, Coyoacan feels like a city on its own. It preserves its cultural legacy and mystical ambience. It is no accident that important political and cultural figures from around the world have decided to take up residence here: From Russian revolutionary, Leon Trotsky, to Colombian Nobel Prize winner, Gabriel Garcia Marquez, who wrote 100 Years of Solitude in this borough. From icon of surrealism, Frida Kahlo, and Mexico's most emblematic muralist, Diego Rivera, to Mexican Nobel Prize winner, Octavio Paz, and Mexican film director, as well as model for the Academy Award's "Oscar" statuette, Emilio "el Indio" Fernandez. Even internationally acclaimed Hollywood star, Dolores del Rio, found her home here, along with many others. Hence, it should come as no surprise that Coyoacan has traditionally been known as Mexico City's top bohemian and intellectual borough.
Walking around Coyoacan also means taking an audiovisual tour of ghost stories and legends. If you ask, (and sometimes even if you don't) local residents will be keen to tell you every single one of them. You will hear about the devilish figure and the crying nun that appear at night in Avocado Alley (Callejón del Aguacate); the weeping woman (Llorona) walking by the Magdalena river crying out to her children; the priest that lurks around Plaza Santa Catarina's church every autumn and the ghosts that still scream from within el Indio Fernandez's home.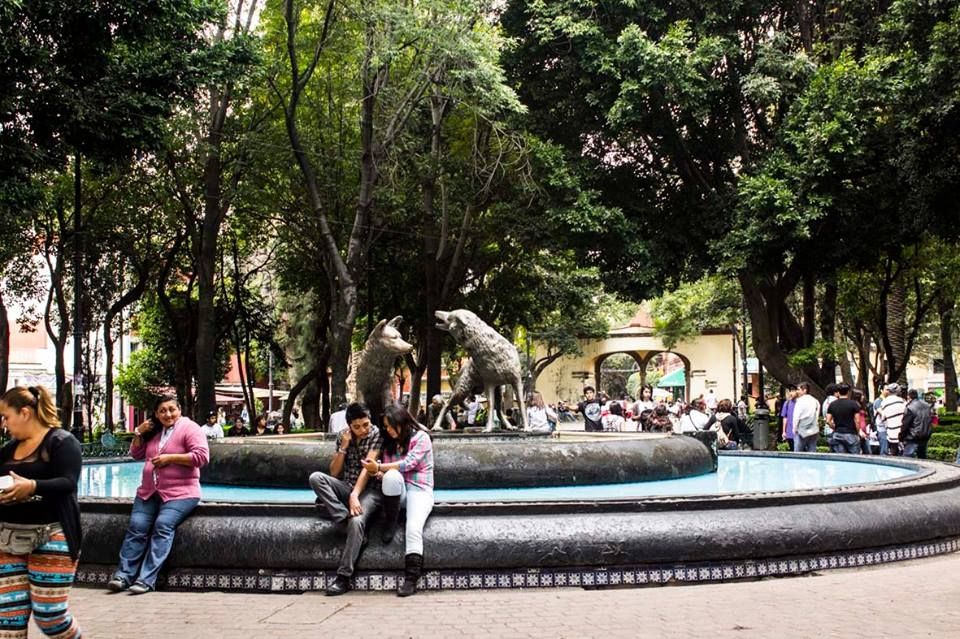 Ghost stories notwithstanding, Coyoacan is vibrant and full of life. Entering Francisco Sosa Street, you'll find the beautiful chapel of Panzacola, which dates back to the 16th century, and cross a bridge built in 1736. From there, the street's colorful houses and convents are found all around. You can visit any number of historical buildings, such as the "Fonoteca" (audio library) once home to poet and scholar, Octavio Paz; Santa Catarina Chapel, that sits in a plaza by the same name; the enormous House of Culture, named after Jesus Reyes Heroles; the National Company of Theater, and the Italian Institute of Culture, to name but a few. You will also find many delicious restaurants, as well as gourmet coffee and ice cream places, all along the way!
At the end of Francisco Sosa, you will reach one of the crown jewels of this neighborhood: Its most emblematic garden, the Jardin Centenario. At its entrance, you'll see an engraved double archway that dates back to the 16th century, decorated with angels chiseled by Indigenous hands. This garden houses the often photographed, "Coyotes Fountain." A symbol of this beautiful borough, it is usually surrounded by families and young people holding hands. The park is bordered by top-tier restaurants and bars. It is the place to be to socialize in southern Mexico City!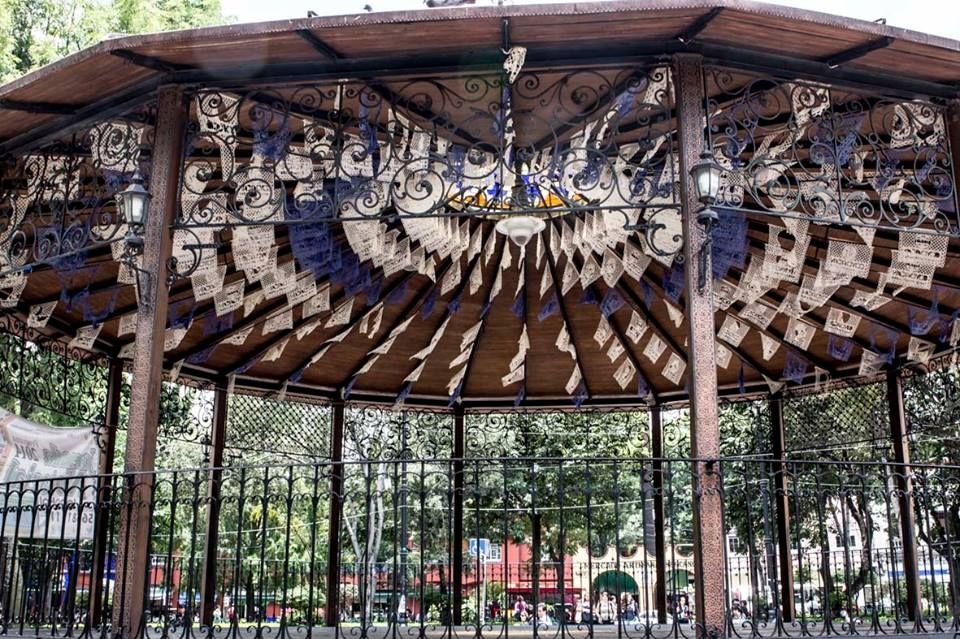 Just across the street, you'll find Jardin Hidalgo, where you can climb atop a picturesque glass-domed kiosk, crowned by a bronze eagle. Standing next to this park, San Juan Bautista cathedral, one of the oldest churches on the continent, constructed in the 16th century, excels in beauty. This is another great spot for finding outstanding restaurants, bars and coffee places. This square boasts a crafts market, a public library, the Municipal Palace, as well as people from all walks of life: Indigenous artisans, hippies, punks, fashionistas, hipsters, tourists, couples in love, extended families eating… In Coyoacan, everyone is welcome, everything converges.
The borough also houses several museums that you won't want to miss! Frida Kahlo's "Blue House," Diego Rivera's Studio "Anahualli", Leon Trotsky's home, Emilio Ferndandez's fortress, and the National Museums of Folk Cultures, Interventions, and Cars, among them. Of course, no museum visit would be complete without an accompanying sampling of local cuisine. It has become a tradition to enjoy an ice cream or serving of fresh-corn soup (ezquites) while strolling through the gardens, as well as to rest while savoring coffee or hot chocolate and churros after visiting one of the long-ago established, landmark coffee merchants. In addition, there are two traditional marketplaces where you can savor many of the traditional meals Mexicans crave and seek out! In the various stalls found in the "Mercado de Coyoacan" and "Mercado de Antojitos," you'll find a near infinite assortment of dishes: quesadillas, flautas, sopes, huaraches, tostadas, pozole, pambazos, tacos, etc. Too elaborate and delicious to describe, you'll just have to try each one!
To be sure, there are many extraordinary neighborhoods in Mexico City. However, Coyoacan remains one of the most charming, beautiful and authentic. Everything rests here: history, tradition, art, culture, gastronomy, diversity, nature, luxury… simply everything! The best way to become intimately familiar with the neighborhood is accompanied by a local, but the borough also lends itself self-guided exploration and discovery. In either case, consider starting your journey with a trip aboard Coyoacan's touristic tram. One thing's for sure, you will never get tired of experiencing and learning more about this place. We dare you to come and discover it!
Sources:
Casa de México: http://casademexico.com/coyoacan.html
Delegación Coyoacan: http://www.coyoacan.df.gob.mx/Turismo/museos.php
México Desconocido: http://www.mexicodesconocido.com.mx/coyoacan.html
Visit Mexico: http://www.visitmexico.com/en/neighbordhood-in-coyoacan-in-mexico-city
SECTUR DF: http://www.mexicocity.gob.mx/barriosmagicos/coyoacan.html