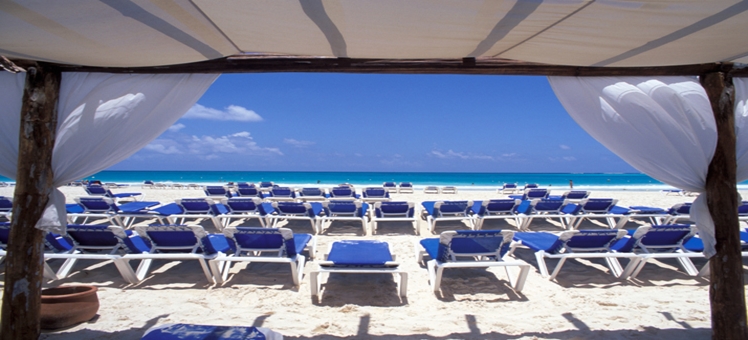 Filled with luxury resorts, boutique villas, design hotels and cozy inns; the Riviera Maya has somewhere to suit every type of traveller and budget. Unlike other beachfront destinations, however, not all the best hotels are found right next to sand and sea. Lodges housed in the middle of the wildness, surrounded by lush rainforest vegetation, are just one of the many alternative stays offered in the Riviera Maya.
Playa del Carmen
This area of the Mayan Riviera, also called 'Playa' by the locals, is known for its relaxed atmosphere. Famed for its luxury boutique hotels, endless stretches of sand and abundant water sports, Playa del Carmen is a particularly popular place to stay. With archaeological sites such as Tulum located nearby, this is also a great spot to begin an exploration of the Riviera Maya.
Hotels in Playa del Carmen
Aside from the countless 5-star hotels, offering every luxury you could possibly imagine, boutique hotels and a small handful of hostels exist here too.
Cozumel
Translating as 'the Island of Swallows', Cozumel is renowned for its tropical marine life. Located a ferry-ride away from Playa del Carmen, Cozumel is Mexico's largest inhabited island. Famed for its ecologically rich diving scene, here you will discover an abundant range of flora and fauna, including over 250 species of turtles, rays and of technicolored fish.
Hotels in Cozumel
Affordable hotels and B&Bs are in abundance in Cozumel so, if you have a more restrictive budget, then Cozumel is the place for you.
Tulum
One of the most historic parts of the Mayan Riviera, Tulum was once a sacred place to the Mayan Kings. Now a walled city containing tropical beaches, archaeological ruins and sweeping views of the Caribbean Sea, Tulum is a particularly appealing place to stay.
Hotels in Tulum
In the historically significant area of Tulum, there are quite a few budget accommodation options from hostels to B&Bs. Family-run establishments, often dotted with garden hammocks and small restaurant facilities, these charismatic places offer a real window into local life.
Puerto Morelos
For a laidback atmosphere, stay in Puerto Morelos. This old fishing village has largely missed the tourism boom of other areas and is still a local's favourite hangout. The harbor is the centre of all the action; here you'll find locals listening to traditional Mexican music.
Hotels in Puerto Morelos
There are no shopping malls, high rise hotels, up-market restaurants or supermarkets here; if that's your idea of heaven, then this is the place to stay. Instead enjoy modest hotels and tranquil B&Bs.
Akumal
Located south of the Playa del Carmen is the small town of Akumal. Translating as the 'Land of Turtles', the nestling turtle population is a huge draw to this area. Similarly, a snorkelling haven, peaceful bays and secluded cenotes are in abundance here.
Hotels in Akumal
In Akumal there are lots of boutique hotels and villas, ideally suited for families and groups who prefer a home-away-from-home type stay. With most located right next to the beach or hidden within lush surroundings, these options are great for those looking for a tranquil escape.