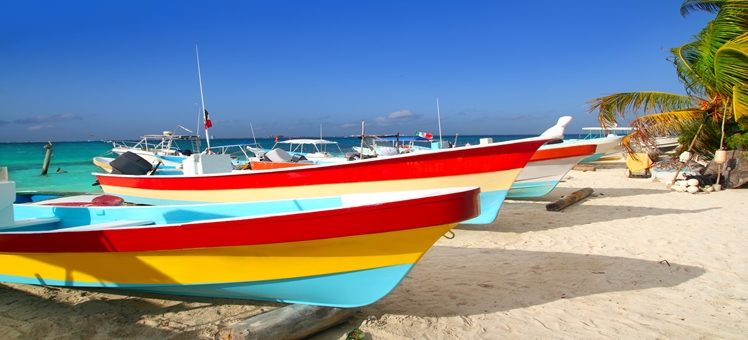 The Riviera Maya (also known as Mayan Riviera) is a picturesque coastal stretch located in Southeast Mexico. Running along the Caribbean coastline of Mexico's Yucatan Peninsula, from Puerto Morelos to the Sian Ka'an Biosphere Reserve, white sandy beaches have been carefully crafted into a popular tourist corridor. Once sleepy fishing ports, today the area has transformed into a vibrant hub of 5-star hotels, fine dining, spa retreats and golf courses; without losing its laidback charm.
Playa del Carmen
Otherwise known as 'Playa', Playa de Carmen is one the main city of the Mayan Riviera. A coastal resort located 70 kilometers south of Cancun International Airport, Playa del Carmen is known for its buzzing nightlife, boutique hotels and European atmosphere. There are plenty of luxury places to stay and relaxed beaches to explore. If you are a particular water sports fanatic, take a boat ride out to the Mesoamerican Barrier Reef - the second largest in the world - to explore a colorful underworld of tropical marine life. Or for your fill of shopping, head to Quinta Avenida - the area's bustling commercial hub.
Puerto Morelos
The small fishing town of Puerto Morelos is situated between the two jostling centers of Playa del Carmen and Cancun. Surprisingly, though, this charismatic area has managed to maintain its tranquil appeal. If you want to experience the Rivera Maya, away from the all-inclusive hotels, Puerto Morelos is the place to head. There are no supermarkets, up-market restaurants or shops here; however, the harbor offers a row of modest dining venues pumping out joyful Mexican music.
Akumal
Situated along the Riviera Maya, between Playa del Carmen and Tulum, is the small town of Akumal. Known as the 'Land of Turtles' in the Mayan language, the area has become a breeding ground for nesting turtles; drawing in tourists to swim with these wild creatures. Filled with secluded bays, underground rivers and balmy snorkelling waters such as the Yal-Ku Lagoon, this tiny beachfront resort is an attractive escape.
Tulum
One of the most unique areas of the Mayan Riviera, Tulum was once a place of worship and solitude for the Mayan Kings. A walled city containing some to some of the best tropical beaches along the coastline - ideal for kitesurfing - Tulum is a must-see spot. Also home to countless archaeological ruins, perched on jagged cliffs overlooking the Caribbean Sea, these striking prehistoric sites are part of the biggest draws to the area. Nestled amongst the ruins, you'll also find a collection of small hotels and traditional restaurants.
Cozumel
Translating as 'the Island of Swallows', Cozumel is a Caribbean paradise filled with tropical marine life. Located a short ferry-ride away from Playa del Carmen, this is Mexico's largest inhabited island. Not overrun with tourists, however, it offers a tranquil escape for divers. Ranked as one of the world's top destinations for diving, head here to explore the National Marine Park; home to countless species of turtles, rays and technicolored fish.