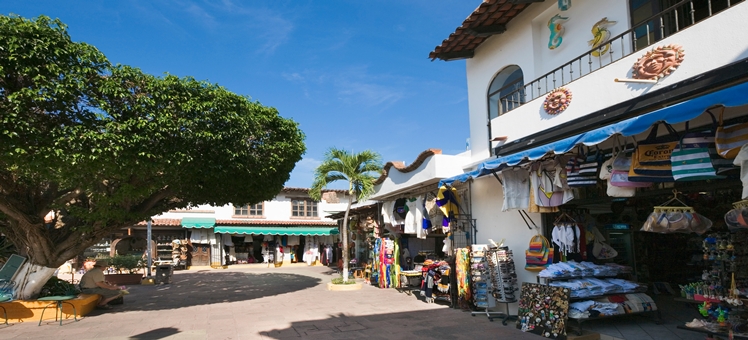 It's hard to decide which is better, shopping in Puerto Vallarta or enjoying all its incredible restaurants. This is no difficult dilemma, however, as there are enough of both options to keep the foodie and fashionista happy. Work up an appetite finding some wonderful and unique souvenirs to impress friends back home.
Most shops are in Old Vallarta where you can find speciality stores and gourmet groceries, as well as lots of art galleries, but there are excellent shops throughout the city. You should also check out the Malecón for jewelry, the Cuale River for the flea market and the half a dozen malls on Boulevard Francisco Medina Ascencio, the road which connects downtown with the hotel zone and Marina Vallarta. If you want to pick up some homemade craft or food items, head to Basilio Badillo Street on Saturdays for the Farmer's Market. Best buys are contemporary Mexican fine art, pottery and ceramics and silver jewelry.
Old Vallarta
There are a huge variety of unique stores and galleries along the cobbled streets of Old Vallarta. Mexico is a leading producer of silver and you'll find lots of beautiful pieces at great prices, but if you want the highest quality avoid the alpaca silver metal sold by beach vendors and stick to the stores. Viva Collection on Basilio Badillo Street is one especially notable store. If you are into art you might be interested to know Huichol art is a speciality here, with one of the best collections in Mexico. There are lots of places you can buy their art but Niuweme is different as it's actually owned by a Huichol family.
Centro/Downtown
There are plenty of options in downtown, particularly along the Malecón and surrounding streets. Plaza Malecón offers the best selection of shops, with clothes and eco themed souvenirs, but some of the more unique retail options are on the streets two or three blocks away from the beach.
Cuale River
It might sound cliché but you really can shop 'til you drop at the flea market. Spread over two storeys are stalls selling everything Mexican you could want from sarapes, sandals, souvenirs and t-shirts to jewelry, leather goods and handicraft items. Keep your energy up for all that shopping at one of the food stalls selling home-style fare. Head over to the outdoor market at Rio Cuale Island for more of the same.
Boulevard Francisco Medina Ascencio
Known as the airport road, here you'll find folk art, resort clothing and home furnishing stores amongst the supermarkets, bars and movie theatres. If you are looking for a shopping center with all the works, Galerias Vallarta is worth seeking out. Home to many of the most important stores and restaurant chains it's also where you'll find Mexican Department store, Liverpool. Plaza Peninsula is a more exclusive mini-mall and also home to galleries and boutiques.
Puerto Vallarta shopping tips
Most stores open around 10am and stay open until 8pm, but some stores close between 2pm and 4pm. At the markets always barter for the best price, but be aware the stall holders are used to this type of selling and you can probably get them down to about 40 per cent of their initial price. There's a lot of repetition on the stalls so walk around a bit and get the best deal. A 15 per cent value added tax (locally called IVA, impuesto al valor agregado) is levied on most larger purchases. It is mostly included in the price though usually disregarded by market vendors. As a foreign visitor you can reclaim this by filling out paperwork at the airport. You have to spend more than $115 and you need a receipt and official refund form from the seller.