Where to eat in Puerto Vallarta - a dining guide
TIME : 2016/2/24 11:54:30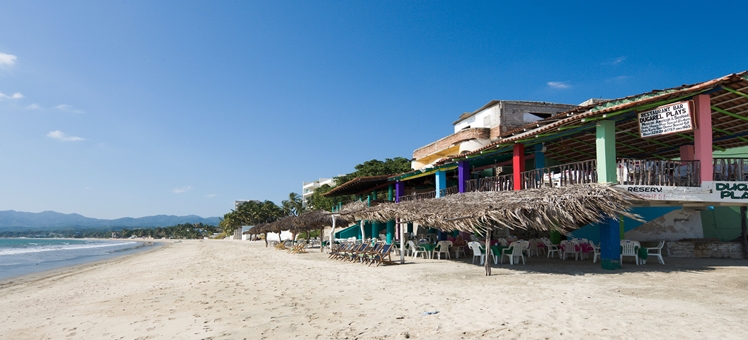 With more than 250 restaurants, you won't struggle for choice in Puerto Vallarta. You can fork out lots for expensive platters but you can also get freshly caught fish and hot-off-the-grill tortillas for very little money. In the city's historic Zona Romantica and Colonia Emiliano Zapata are lots of family-owned businesses that show the relaxed, laid-back vibe of the city. However, if it's high-end sophistication you're after, Puerto Vallarta also attracts some serious culinary talent with world-class results.
Like many nations cooking, Mexico's cuisine has numerous influences. Indigenous and European tastes have made their mark, with the Spanish influence perhaps the strongest. Most dishes involve corn, beans and chili peppers in some shape or form and Mexican's like their food to come with a kick. Mexican street food is a great place to try lots of local specialities with tacos, quesadillas and tamales familiar options. Seafood fans should head to the Pacific Coast and keep their eyes peeled for Pescado Sarandeado, grilled red snapper.
El Centro/ Downtown
This is the main restaurant area, with a wide variety of different cuisines from traditional Mexican to Caribbean, French, Italian and seafood. Found eight blocks north of the Cathedral of Our Lady of Guadalupe, the Café des Artistes Bistro is considered to be Vallarta's finest restaurant and is set on a hill overlooking the Malecón. The chef Thierry Blouet creates dishes that fuse classic French methods with Latin flavors. Other pricey well-regarded restaurants in this area are Mediterranean-themed Trio and Hacienda San Angel where a 12-piece Mariachi band serenades diners on the terrace while they enjoy gourmet dishes.
•
Café des Artistes
, Guadalupe Sanchez 740.
Around Banderas Bay
There are lots of lovely places to eat if you want to venture away from the main area of the city and where better to enjoy some quality seafood than by the beach. Adauto's On the Beach is the best to the beachside seafood restaurants if you walk along the main street on the north side of Bucerias' dry riverbed. Mariscos Tino's is a great family-run favourite for seafood and there are three restaurants to choose from - on the Malecon, at La Laguna in Nuevo Vallarta and Anclote Beach in Punta Mita. For those with a bit more to spend, you can soak up lovely views and check out the boats in the million dollar private marina at La Cruz's Ikuai.
•
Adauto's On the Beach
, Av. del Pacifico 11A.
Zona Romantica /Old Vallarta
For a more authentic experience Old Vallarta is filled with cafes and is home to 'Restaurant Row' where you'll find outstanding dining ranging from casual to luxurious – expensive to budget. Red Cabbage Cafe is a funky reasonably-priced restaurant in the Zone Romantica, with traditional food and good service. El Brujo is on a noisy street corner but it can't be beaten for quality for such a small price - good authentic food and generous portions. Cafe de Olla has good cheap food and Takos Panchos next door to it serves great tacos for about $1USD.
•
Red Cabbage Cafe
, Rivera del Rio 204A.
Marina
Most of the best restaurants in the marina are in hotels but a number of quality options line the boardwalk bordering the marina. Las Palomas Beyali has authentic and tasteful food in a peaceful atmosphere surrounded by yachts. For meat lovers Rincón de Buenos Aires is a great steakhouse with a decent wine list. Aimed at families and businessmen, La Coleguita is a very popular Mexican restaurant and waiters bring you free tequila, shrimp broth and crispy tostadas to whet your appetite but it's the huge shrimp platters and generous fish portions that are the real crowd-pleaser.
•
Takos Panchos
, Basilio Badillo 166.