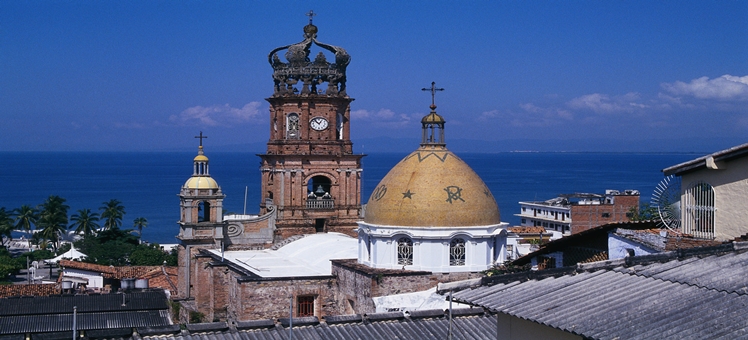 Life in this coastal city revolves around the ocean, with its beautiful beaches, water sports and whale-watching tours. There is plenty to explore on land as well, whether you want to embrace some local culture or explore the area's biodiversity. The city's cobblestone streets and the festive town square create a welcoming atmosphere that will draw in any visitor and there is so much natural beauty to enjoy.
As you explore Old Vallarta and its traditional architecture, you can get a real feel for the Spanish colonial atmosphere. But the city also embraces modern culture with some of the finest galleries in all of Mexico clustered together along a few small streets in the Centro area and public sculptures dotted around the city. The majestic Sierra Madres Mountains which rise to 2,000ft above sea level make the perfect backdrop.
The Cathedral of Our Lady of Guadalupe
The cathedral, on Calle Hildago behind the city's main square, is dedicated to the patron saint of Mexico and of Puerto Vallarta. The center of the cathedral's marble altarpiece holds the image of the lady and the brick bell tower is adorned with a crown that pays homage to the one worn by Carlota, who was briefly empress of Mexico in the 1860s. If you are looking for a good time to visit, December 1 to 12 is ideal as you'll also be able to enjoy the street processions, festive food and mariachi music as people come together to celebrate the Feast of Our Lady of Guadalupe.
Cuale Archaeological Museum
The museum, on the Isla Rio Cuale, is small but packed with interesting finds. Pre-Columbian figures, Indian artefacts, shaft tombs and exhibits of Aztatlán and Purépecha cultures and the Spanish conquest are some of the treasures in store. Fascinating creations of the Huichol tribes, one of the few remaining indigenous groups that still maintain ancient customs and beliefs can also be found here. They are known locally for creating traditional motifs, such as symbolic animals and birds, in intricately detailed beadwork and yarn-paintings.
Sierra Madre Mountains
Adventure lovers can travel through the mountain range into the tropical jungle, through plantations and across rivers and streams for an awe-inspiring view of Mexico. Tours in off-road vehicles will take you off the beaten track and deep into the jungle, giving you an opportunity to see everyday Mexican villages. Tours can also include a hike with an experienced guide to discover the area's flora and fauna.
Las Caletas
Once the home of film director John Huston, Las Caletas is an unspoiled paradise on the southern shore of Banderas Bay. This secluded spot is only accessible by sea and given its location in a nature reserve, daily tours allow you to enjoy some fantastic scenery. Indulge at the hilltop spa, go snorkelling, scuba diving or kayaking, take a guided walk through the jungle, check out a Mayan pyramid or encounter parrots and monkeys.
Vallarta Botanical Gardens
For nature lovers and anyone who enjoys being engulfed in exotic flowers, plants and trees, Vallarta Botanical Gardens has your name all over it. Home to a variety of plant species, there are numerous hiking trails for visitors to explore the carefully presented collections. The orchid collection in particular is one to look out for – the aim is for this to be the leading collection of the flower in Mexico. As well as walking you can also take a dip, in the neighbouring Rio Horcones.
Los Arcos Amphitheatre
This outdoor amphitheatre, which also goes by the name Aquiles Serdán Theatre, is a Vallarta landmark and is backed by four distinctive stone arches that have become a symbol of the city. It's used regularly as an open-air theatre for cultural performances and festivals on weekends and during holidays. Choirs, bands and dancers put on performances most nights and they are usually free to watch. The sunsets are also pretty special from here, the arches and Banderas Bay making the perfect backdrop.