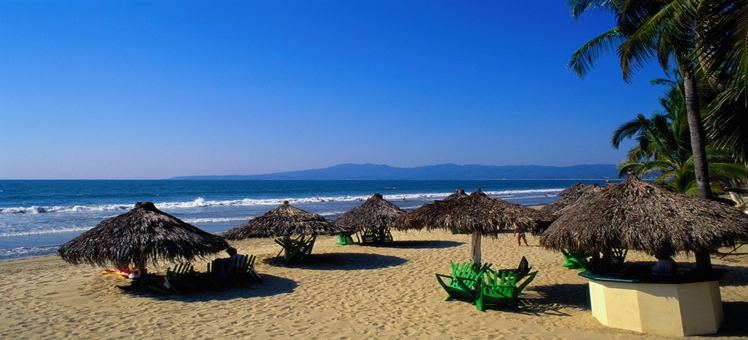 With its peaceful beaches, world class restaurants and the latest in ecotourism and extreme adventure, Puerto Vallarta offers incredible experiences against a backdrop of mountains, rivers and the seventh largest bay in the world. The city is internationally recognised for its charm and friendliness, which you can soak up browsing the market stalls or enjoying its many cafes and nightclubs. Discover some of its bountiful wildlife including birds, iguanas and humpback whales.
Art and Culture
The historic Old Vallarta is a haven for art-lovers thanks to the plethora of galleries, sculptures and cultural festivals. The state-of-the-art Teatro Vallarta which opened in 2010 has further increased the cultural draw, housing a modern art gallery and playing host to both national and international shows. Throughout the year there are jazz, film, photography and documentary festivals.
Activities
Make sure you take a walk along the Malecón, a promenade that stretches half a mile that laces the city's historic center and waterfront. Grab some refreshment at one of the many cafes before crossing the swinging bridges to Cuale Island and browsing the numerous market stalls. For a great view of the bay make sure you climb the Matamoros lighthouse, while those in search of marine life should head out onto the sea and prepare their cameras for humpback whale sightings.
Nightlife
Puerto Vallarta has a thriving nightlife scene where bars and clubs complement the late-night restaurants and live music. Indeed, if you want to party the night away, you'll be spoilt for choice. For those who prefer to stay close to home, many hotels have Mexican fiesta dinner shows which can feature folk dances and even fireworks. Los Arcos or Anfiteatro Aquiles Serdán offer up nightly entertainment in the warm evening air with cowboys performing rope tricks and dancers doing Mexican or pseudo-Aztec dances.
Shopping
Shop the Malecón for silver, opal and turquoise jewelry before heading over to the Cuale River to the flea market. For something to hang on your wall make your way to the art galleries in Old Vallarta while Boulevard Francisco M. Ascencio is lined with half a dozen malls if you need a fashion fix. On Saturdays head to Basilio Badillo Street to sample an array of homemade craft and food items at the Farmer's Market.
Beaches
The city's beaches are varied, from secluded coves and remote stretches of soft sand to long arches of turquoise water fringed by golden sand, entertainment and hotels. Downtown's main beach, Los Muertos, is very much the latter and despite its name (Beach of the Dead) it is hugely popular, with lots of places to eat and drink and a variety of water sports on offer. Olas Altas Beach, (High Waves Beach), is quieter but does sometimes have big enough waves to surf. Once the home of movie director John Huston, Las Caletas is a beautiful private beach you can access through a special tour.
Eating and drinking
Travelers are drawn to Puerto Vallarta for the sun and sea but its restaurant scene is what makes people want to keep going back. There are plenty of simple options at cafes, delis, fondas and cenadurías (small, local Mexican eateries), but it also has award-winning restaurants. Events are also hosted here at various times of the year promoting local and international gastronomy - Wine Fest, Restaurant Week and Festival Gourmet.
Where to stay
Puerto Vallarta is known for its wide selection of beach hotels scattered along the bay it's grown up on. In the Centro and Zona Romántica (Old Vallarta) neighborhoods expect refurbished budget and moderately priced hotels, or head north to the Hotel Zone, Marina Vallarta and Nuevo Vallarta for hotels on the seafront. Further north in Riviera Nayarit you will find less mainstream options with unique boutique hotels, inviting B&Bs and villas that are as luxurious as they are inviting.