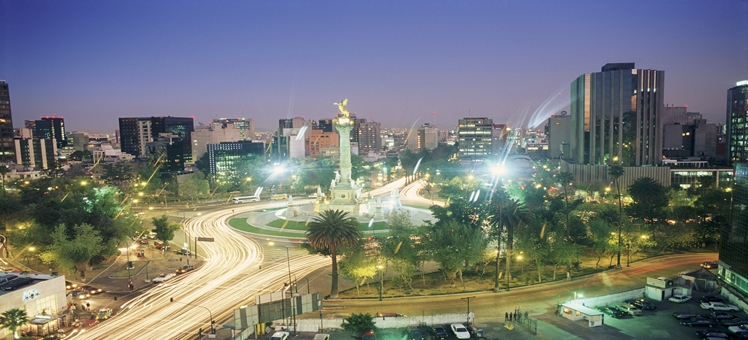 There is a plethora of accommodation options in Mexico City, with everything from small guesthouses to large luxury hotels. Some of the cheapest options can be found in the Centro Histórico, whilst the more upmarket choices can be found in and around Polanco and the Zona Rosa. In the fashionable Roma and Condesa districts, accommodation varies between hostels and chic boutique hotels. If you're looking for mid-priced hotels, then try the Alameda and Plaza de la República areas.
Upmarket hotel
At the Camino Real Polanco Mexico, there are over 700 rooms, covering 33,000 sq metres. It's a national architectural landmark and has provided a bed for the night for presidents, soccer stars, Olympians and even kings. One for the high rollers.
Hotel for families
The Hotel Marlowe faces the pagoda gate of Chinatown. The bright and breezy lobby offers a warm welcome to guests and the large rooms have decent carpets, extravagant bedspreads and calming art. They also have air conditioning and inset lighting. The gym also has a magnificent view – don't forget to bring your trainers! Located minutes from Torre Latino and Palacio de Bellas Artes, this family friendly hotel is ideally positioned for those wishing to explore the cultural highlights of the city.
Budget hotel
The Four Points by Sheraton Mexico City offers a pleasant place to stay for those on a budget. It's close to Glorieta de Insurgentes and each room has a private spa tub and LCD television. Computers with internet access are available to keep you connected. Inspired by Art Deco, this hotel is suitable for young travelers looking for somewhere cheap to stay.
Hostel
For those looking to save yet more money, then hostels can be an excellent way of cutting corners. El Hostel Amigo is on the grounds of a former nunnery, though you won't find much quiet contemplation here! Suitable for those who like to party, there is a 24 hour reception desk. If you are staying for three or more nights, there is free airport pickup, free internet round the clock as well as a buffet breakfast. Grab a bargain and get your party on!
Apartment to rent
There are also a number of apartments to rent throughout the city. These are perfect for couples wanting a slightly different accommodation option for their stay in Mexico City. For example, at Alameda Centro Histórico, there is an apartment to hire which is 15 minutes walk from the Cathedral and the Templo Mayor Ruins. It has two bedrooms and two bathrooms, a sitting room with sofa and flat screen TV and fully furnished kitchen. There's also an outdoor communal pool, 24 hour security service, kids play area and gym.
Guesthouse
Looking for a guesthouse? Then why not try the Jade guesthouse in Eligio Ancona, for a very affordable price. The building dates back to the 18th century and is run by a welcoming French family offering two rooms to rent. There is a communal terrace and kitchen area. Four stops from Zocalo and the Centro Histórico, it's well worth a visit.