Where to shop in Cancún – where and what to buy
TIME : 2016/2/24 11:54:44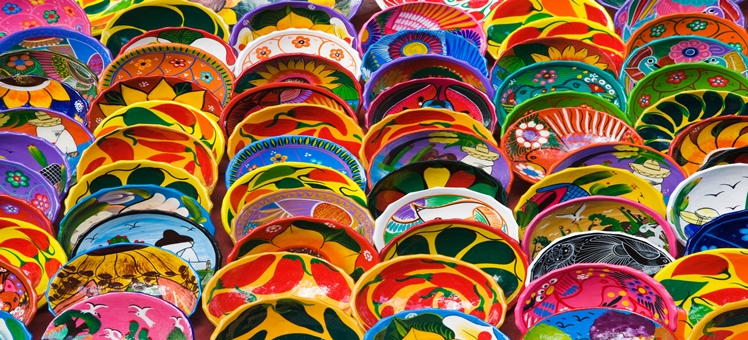 Cancún has a lot to offer if you are here to shop! In Cancún you will find a whole host of shops from famous brand names in chic designer stores to flea markets, modern shopping malls to street-side jewelry stands. One important thing to note is that Cancún is a duty-free zone meaning that you can purchase perfume, spirits and fine jewelry at some of the lowest prices in Mexico making the resort a shopping paradise!
Shopping tips: Although most places accept foreign currencies it's well worth changing your money at a 'Casa de Cambio' in order to get the best rates as you'll get more for your money. The Hotel Zone is where you will find more of the high-end shops, but don't discount a stroll through the downtown area in order to pick up a bargain or two. Given the climate in Cancún you'll need to dress appropriately to keep cool whilst shopping - it may be worth heading out either early on or in the evening to avoid the hottest temperatures. One souvenir you could pick up to help you keep cool are authentic Mexican sandals known as 'huaraches.'
Kukulcan Plaza and Luxury Avenue
These shopping havens are adjacent to each other in the Hotel Zone and between them there are more than 250 shops and boutiques to choose from with famous brands such as Luis Vuitton and Cartier on offer. There are many boutiques, perfume and jewelry shops in this area with Kukulcan Plaza being the most exclusive shopping area in Cancún. Within Kukulcan Plaza there is a large indoor children's' play area and a small food court on the second floor. Luxury Avenue has 25 boutiques with beauty, fashion and jewelry being prominent in terms of high-end stores on offer.
La Isla Mall
This open-air mall is located at the 12.5 km point within the Hotel Zone and comprises of more than 150 stores with famous ones including Tommy Hilfiger and Omega. You can find this shopping mall on the Nichupte Lagoon under a giant canopy. There are some special attractions here including an interactive aquarium and Museum Pelopidas, as well as a cinema. There are many upmarket boutiques and souvenir shops and a special feature of this mall is that there is a canal running through it with bridges above which gives the shopping mall a very Venetian feel.
Handcraft markets
These markets are located in different locations within Cancún with many souvenirs to be found in each. Mercado 28 (Market 28) is Cancún's biggest flea market, located in the downtown area of the city on Avenida Sunyaxchen and comprises of around 100 stalls across different cultures. There's also Coral Negro where you will find all sorts of Mexican products including the famous sombrero. It's located in the Hotel Zone and has about 50 stores. Ki Huic is a further market that is located in the downtown area and has a huge range of products on offer.