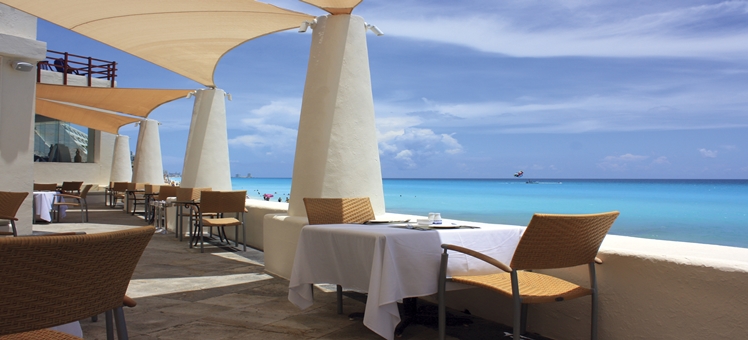 Cancún is a world tourist destination, and so as you would expect it boasts world-class cuisine. Cancún restaurants cater for everything from traditional Mexican cuisine to fast food and an array of world food types. You can eat in-house in one of Cancún's many hotels, head out into one of the many restaurants in the 'Hotel Zone' or take a leisurely stroll to downtown Cancún where you are sure to find a restaurant that takes your fancy.
There are a variety of food types to choose from, including Mexican, fish and seafood, steak house, Oriental and Italian. In terms of Mexican food, the Yucatan Peninsula has a style all of its own combining a blend of European and Mexican flavors. A lot of the dishes are not spicy, but still delicious. You also have typical Mexican food with a variety of sauces to try including the habanero chili which is fiery hot. If you like seafood, it's well worth giving a dish called ceviche a try which is a tropical Mexican speciality.
Downtown Cancún restaurants
There's something for everyone (gastronomically speaking) in the downtown area of Cancún from seafood to Italian, Mexican to steak. In this area there are excellent restaurants, for example along the Avenida Tulum and Calle Yaxchilan. One fine restaurant in this area is La Habichuela next to Parque Las Palapas which has been open for many years. Another fine restaurant has sprung up more recently by the name of Les Cepages. The restaurants in the downtown area of Cancún generally tend to be cheaper though just as good as those in the Hotel Zone and you can soak up more of the local Mexican atmosphere.
Hotel Zone restaurants
There are a wide range of restaurants to choose from in the Hotel Zone of Cancún spanning Mexican, American, Asian and European cuisines. There are only a few restaurants along the oceanfront not located in a resort; however there are some fine restaurants along the seafront at the Nichupte Lagoon which offer great views of the famous Cancún sunsets. There are a number of AAA Five Diamond Award Winning restaurants including The Club and Grill and Fantino both located in The Ritz Carlton Cancún. One cheap, reliable chain of restaurants in the Hotel Zone is 'Vips' which is across from the Convention Center.
Isla Mujeres
There is also the nearby island, Isla Mujeres (around a half hour ferry ride from Cancún). This island also has a range of restaurants and cuisine styles from which to choose. Fresh fish is highly recommended as it is caught daily by the local fishing fleet with the overall speciality of the island being seafood. Here, the food is less elaborate and mainly consists of seafood, pizzas, salads and Mexican dishes. Generally speaking, the restaurants here are more affordable in price.
Restaurants:
•
La Habichuela
, Margaritas 25, Benito Juárez, 77500 Quintana Roo, Mexico.