Cancún city guide – watersports, mouth-watering cuisine and a vibrant nightlife
TIME : 2016/2/24 11:54:51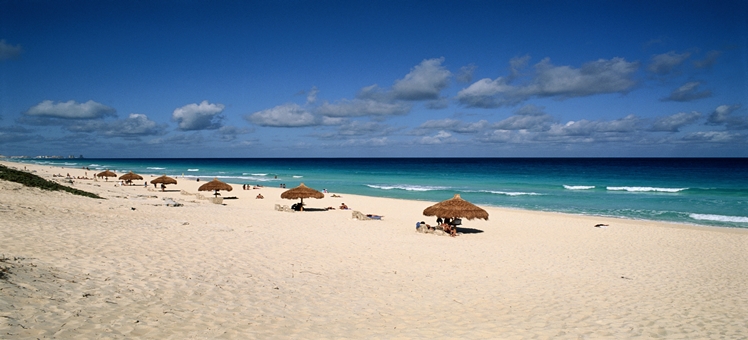 Cancún is a gateway to both the Caribbean and ancient Mayan civilisation being situated on the south-east coast of Mexico's Yucatan peninsula. Known for its tropical climate and 14 miles of pristine sandy beaches on the Caribbean Coast, Cancún boasts fantastic watersports, vibrant nightlife and, nearby, some of Mexico's best Mayan ruins.
What to see and do
You'll never run out of things to see and do in Cancún. One of the best attractions is Cancún's water sports which include scuba diving and jet skiing. There are boating excursions to the Nichupte Lagoon, Contoy Island and other destinations. Home to the Mayan Barrier Reef, Cancún is renowned for diving as well as being in close proximity to ancient Mayan ruins, including 'El Rey' located in the resort area. Fishing and golf are popular Cancún pastimes with first class golf resorts - and swimming with dolphins is another must!
Nightlife
There's something for everyone if nightlife is what you are after - Cancún's nightlife is world-famous. Cancún is home to some of the best nightclubs in Latin America including Coco Bongo, Dady O and The City with the Hotel Zone offering the best nightclubs. There's live music in many of Cancún's hotels and an array of bars, restaurants and shows. Some of the most famous bars are Senor Frogs and Carlos'n Charlies. There are also many live music venues with the Bulldog Cafe for rock, Azucar for salsa, and Roots for some smooth jazz. There's also a whole host of lounge bars with Thai Lounge being notable.
Where to eat
There's a vast array of choice in Cancún for places to eat and you can choose from a whole range of cuisines. The Yucatan Peninsula has a style of food all of its own with the fiery habanero chilli on offer in many restaurants. Take a stroll down Boulevard Kukulkan and you are sure to find a restaurant that takes your fancy. There are also Fish and Seafood restaurants galore such as Puerto Madero Cancún, fine dining including three AAA Five Diamond Restaurants and many restaurants in the Downtown area along the Avenida Tulum and the Calle Yaxchillan. These restaurants tend to be cheaper than the Hotel Zone but just as good.
Where to shop
The shopping in Cancún is impressive with a great deal of choice. In the Hotel Zone there's La Isla Shopping Village and Kulkulcan Plaza and Luxury Avenue which are adjacent to each other. Also in this area is Flamingo Plaza. Situated just north of the Cancún Convention Centre is Plaza Caracol and in the downtown area there is the Plaza Las Americas. There's also a huge flea market called Mercado 28 in this area of town. Another shopping highlight in Cancún is Plaza Forum by the Sea located in Punta Cancún. Paseo Cancún is another shopping highlight. One thing that is important to note is that Cancún is a duty-free zone.