An Acapulco travel guide – golden beaches, seafood banquets and fearless cliff divers
TIME : 2016/2/24 11:54:54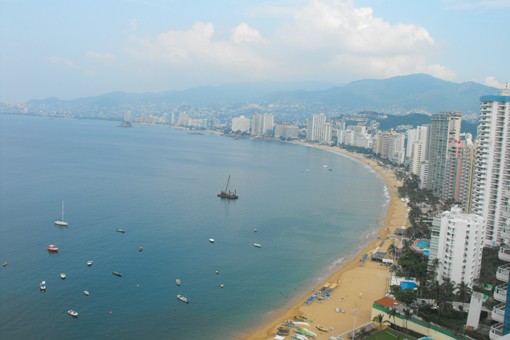 A curving bay of resplendent sand and shimmering buildings, Mexico's playground of Acapulco breathes tropical life back into the most jaded of limbs. Marvel at the gravity-defying stunts of its famous cliff divers on an Acapulco vacation.Book an Acapulco hotel and savor the catch of the day under swaying palms.
Beach life
Acapulco's sweep of endless Pacific beaches is a delight for tan seekers, joggers and laid-back vacationers. Local families gather on the sheltered coves of Playa Caleta for gentle lapping waters, while style-conscious residents fill the luxurious beach clubs of Acapulco Diamante. Find a spot under a coconut grove, sip some fresh passion fruit juice and succumb to the ocean breeze.


Seafood indulgence
No Acapulco vacation is complete without sampling its seafood treats. Relish mouth-watering barbecued red snapper on Playa Hornitos beach, served fresh from the sea at Palapas (traditional shacks made from palm fronds). In-the-know locals feast on tacos de camarón (zesty shrimp and chilies wrapped in corn tortillas) on the Costera seafront at Pipo's rustic benches. For fine dining, climb the eastern peninsula of Acapulco bay to the Brisas neighborhood – a Mecca of modern Mexican cuisine and glorious vistas.


Romantic Acapulco
The La Quebrada cliffs of Acapulco's old town play host to a sunset, death-defying display. Onlookers hold their breath as divers launch themselves from high up the rock face down to the crashing waves below. La Perla's terrace gives the best views of their courageous antics as the glowing Pacific sun slowly sinks below the horizon. Before heading back to your Acapulco hotel, take in the warm sea breeze and sample the legendary mango margaritas at the open-air bar of Las Brisas - an old favorite of one-time visitors Elvis Presley and Frank Sinatra.