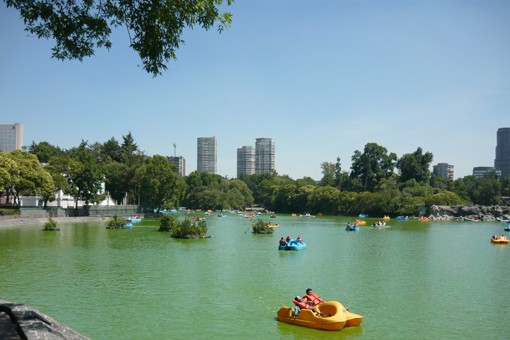 A fall vacation in Mexico City explodes with patriotic fervor and traditional fiestas with September's El Mes de la Patria – a month-long celebration of Mexican independence. Book a Mexico City fall hotel and enjoy balmy evenings of festive food and warmhearted revelry.
September street festivities
From cobblestone lanes to grand avenues, in September the streets of Mexico City become drenched in the national flag's colors of red, white and green. Pushcarts plough the Centro Histórico offering banners of all sizes, trumpets, sombreros and drums. Marvel at the elaborate flower arrangements on Avenida Reforma and join in the lively, local neighborhood street parties. Alternatively, spend an evening strolling Polanco's elegant plazas lit up with national symbols and colorful decoration.


Celebratory food
Some dishes, celebrating Mexico's proud heritage, appear only during the patriotic month of September. Topping the list of seasonal treats to savor is Chiles en Nogada – green chilies, stuffed with meat and fruit, then fried in batter and served with white walnut sauce and red pomegranate seeds. A fall holiday in Mexico City is incomplete without a visit to a traditional fonda (home-cooking diner) in quaint Coyoacán. After a fiery meal, wash it all down with gallons of Ponche – a festive punch made with sugar cane, raisins and apples.


Independence day fun
The celebration of Mexico's independence from Spain is the most significant commemorative day in the city's calendar – once experienced, never forgotten. A sea of Mexican flags engulfs houses, buildings and cars in the days preceding the night of September 15th. Honoring the priest Miguel Hidalgo's rousing call to fight for liberty, the President of Mexico passionately reenacts El Grito de Dolores – Hidalgo's speech calling for independence – from the balcony of Mexico City's National Palace. Let yourself be swept along by the jovial crowds that gather in the city's famous main square, the Zócalo, for this emotion-packed annual ritual. Arrive in advance of 11 p.m. When the clock strikes the hour, silence falls for the President's call and a kaleidoscope of fireworks illuminates the night sky to ecstatic cheers of "Viva Mexico!"
Horsemen's acrobatics
Mexican charros (horsemen) are proud standard-bearers of a long-standing custom that resides at the heart of the city's dignified September traditions. El Día del Charro – September 14th – hosts spectacular parades. Cowboys dressed in heavily embroidered suits, wide-brimmed sombreros and sparkling boots take to the streets of Mexico City, accompanied by heartfelt mariachi music. Don't miss the event at the Lienzo Charro del Pedregal, in Pedregal district, where you'll be treated to an adrenalin-soaked show of calf roping, horse racing and fancy lassoing.


Fall's sun under clear skies
Enjoy the delightful warmth of a fall visit to Mexico City, avoiding the oppressive humidity of summer and the cold nights in winter. Stay at a Mexico City fall hotel and appreciate the cloudless azure skies overhead and the lower levels of air pollution during the fall. The city's leafy parks are wonderful for late afternoon walks under a radiant sun. Families flock to child-friendly Chapultepec park while budding writers take inspiration from the neoclassical sculptures in La Roma's Plaza Río de Janeiro. Balmy evenings are not complete without a leisurely meal at La Condesa's enchanting sidewalk restaurants.