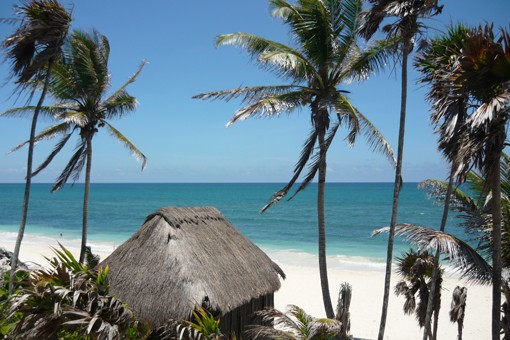 Flanked to the east by the turquoise waters of the Caribbean and dotted with the fascinating remnants of the once great Mayan civilization, a vacation in the Yucatan is like stepping into another world. Book a Yucatan hotel and be transported to a Mexico steeped in ancient history and lined with pristine white-sand beaches.
Get your bearings
The Yucatan peninsula basks in the Caribbean sun with some of America's best beaches and most inspiring ancient ruins. The northeastern tip of coast, known as the Mayan Riviera, is an 80-mile strip of land containing coastal settlements such as the mega-resort of Cancun and the slightly more laid-back Isla del Carmen. Further south is the somewhat tamer Tulum, whose white sands are peppered with wooden shacks and whose millennia-old temple complex looks right out to the water. Further on down the coast is Sian Ka'an ("Origin of the Sky" in Mayan), a protected biosphere reserve with tropical forests, mangroves and marshes.

Reefs and mangroves
The Yucatan's coast has the second largest offshore coral reef in the world. Head out on a snorkeling or diving tour and sightsee along miles of soft and hard corals, explore hidden underground grottoes (cenotes) and come eye-to-eye with shimmering mojarrita fish or the peaceful whale shark. Alternatively, book a fishing tour to try your hand at catching blue marlin or barracuda. Explore inland to catch sight of the jaguars and pumas in the region's tropical forests and mangrove swamplands.

Powder-sand beaches
Leave your woven cotton hammock swinging in the breeze and take to the Yucatan's heavenly white-sand beaches. The region's 250 miles of powdery, coral sand mean that you could walk for days and still not reach the beachfront's end. You need only toddle a few feet out into the sea to walk into the technicolor aquatic world below. Tulum boasts a particularly unspoiled stretch of wide, palm tree-studded beach, where you can stroll along its sands to explore its cliff-top archaeological ruins.

Mayan temples
The Yucatan was once an important hub of the Mesoamerican world, evidence of which remains in its awe-inspiring Mayan temples. Depart the coast for a trip inland past the colonial cities of Valladolid and Merida to explore dozens of Mayan sites around the region. The largest and most impressive is Chichen Itzá which beckons with its collection of mysterious, millennia-old Toltec pyramids filled with subterranean passageways, sacrificial altars and underground riverbeds.


Haciendas and palapas
The Yucatan holds hundreds of converted haciendas, ideal for couples looking to get away from it all. Hacienda Xcanatún, an 18th-century plantation, has been restored with local woods, wrought iron and marble across nine gardened acres. Quintana Roo is home to the Tides Riviera Maya, with private pools, hand-crocheted hammocks and mahogany-louvered doors set in a jungle area by Playa del Carmen. Nearby is Esencia, with an organic Aroma Spa set within a grand palapa (palm-thatched shelter) of chocun bark and limestone.