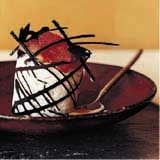 Marie Hennechart The Abruzzi region of Italy produces some of the finest
zafferano
in the world. Now travelers can join in the autumn crocus harvest, staying and working with saffron growers and sampling the famous spice in meals straight out of the farm kitchen
A musky scent of plowed earth, fallen leaves, And early morning mist overwhelms me as I hunker down to pluck a purplish crocus that bloomed overnight. I'm in a well-tended field of the Navelli high plain in Abruzzi, under a gleaming October sun. After snipping just a few more buds, my thumb and forefinger are yellowish brown, like the leaves of the walnut tree at the edge of the field. Gina Sarra, the elderly farm woman I am working with, laughs as I stare at my fingertips. I'd better wash my hands as soon as we get back, she tells me, or they'll be stained for days. We're harvesting the species called Crocus sativus , the source of the saffron in your spice rack.
This region of Italy, less than two hours east of Rome, produces some of the best zafferano in the world. L'Aquila saffron, named after the region's capital, costs more than $200 an ounce in Rome-much more expensive than most imported saffrons on sale in New York-and is not available in the United States.
Italian saffron is harvested only in the fall and only in these Abruzzi highlands. As legend has it, Crocus sativus bulbs were smuggled here by a Dominican monk in the 13th century. During the Renaissance a saffron tax financed construction of a town hall and hospital in L'Aquila. Saffron from the Navelli plain was exported throughout Europe in those days.
Bulbs grown here are larger and more potent than most, primarily because they are always uprooted yearly and selected for size, but also because of soil and climate conditions. Saffron from this region is high in crocin, a natural dye whose color, when diluted, was best described by the pop singer Donovan as "mellow yellow," and in safranal, which exudes an ambrosial aroma, like the sweetest tobacco laced with an elixir. But massive migrations and price wars with Spain have reduced the area's annual output to just 132 pounds from 440 pounds in the early 20th century.
Gina and Salvatore Sarra are a sister-and-brother team who founded the main saffron growers' co-op. They also run the agriturismo farmhouse-Casa Verde-where I slept last night, in the village of Civitaretenga, just a few minutes above the crocus fields by way of Salvatore's 1969 Fiat station wagon. Down the road from the farmhouse, a plume of smoke sputters from the Crocus Bar, where the field-workers feed and fuel.
Agriturismo is a relatively new concept in Italy, a way for farmers to boost their incomes by converting their dwellings into rural bed-and-breakfasts. European Union subsidies are given on the condition that guests actually experience "agricultural" life. In my case this meant collecting flowers in the morning, before the petals opened (this protects the stigmas inside), then sitting in Gina's yard and pulling three fiery filaments from each bud-a procedure known as sfioritura, or deflowering. A typical morning's harvest, about 2,400 buds, will yield less than half an ounce of dried saffron. In the evening I watched the tall, white-haired Salvatore toast the day's crop, which was spread out on a sifter over oak coals in the kitchen fireplace. He made sure that I had a glass of his homemade red wine as I admired this rite.
Abruzzi is a rugged region broken by the stark limestone knots and tall peaks of the Apennines. It has a population about one-third that of Rome, a high concentration of sheep, and Italy's largest expanse of national parks. Craggy hills slope toward verdant plains and valleys, woods, rivers, and grottoes, all flanked by a strip of Adriatic coast. Romans ski here in winter and hike year-round. But Abruzzi is no tourist mecca, no "Chiantishire." It is harsher, poorer-a land of crumbling castles and deserted stone houses, tiny general stores, and sleepy dogs by the roadside. Old women in black dresses and cheap sneakers sit on doorsteps shelling lentils and wild beans.
The town of Navelli, with its sumptuous Renaissance palazzo , used to be the area's saffron capital. But since 1970, when the Sarras formed the 30-family co-op, the hub of saffron activity has been Civitaretenga, in the foothills of the Gran Sasso (Big Rock) chain. Long ago, bandits and wolves in the nearby mountains forced people to live in closely knit communities such as this one. Indeed, Civitaretenga seems isolated and protected from time itself. A faded Fascist motto on a town wall still exhorts citizens to believe, obey, and fight. An azure cushion fastened to a doorknob announces in needlepoint letters that a boy is born. Odds are that the boy will have moved away by the time he is 20.
Even in Abruzzi, agriturismo guests don't often get their hands dirty. But farm stays do usually involve hearty communal dinners. Abruzzi is renowned for what Italians call cucina genuina , home cooking done with local ingredients. In these parts that means handmade pastas with porcini mushrooms and truffles when they're in season; roast kid, baby lamb, and wild boar; hearty lentil and barley soup; and scamorze and pecorino cheeses. Saffron appears in almost everything: rice, pasta, meatballs, fish-even in the medicinal-tasting zaff , a liqueur Salvatore makes himself.
After leaving Salvatore and Gina, I drove to the nearby village of Caporciano for a stay at Marina Battistella's uattro A, another agriturismo farmhouse. Marina, in her forties, is an old-world New Ager transplanted from northern Italy to these parts. She had painted clouds and swallows on the walls of the guest room where I would sleep. That evening in her bare, brick-arched dining room we served ourselves from huge bowls of homemade gnocchi with pesto, tomato, and Gorgonzola; grilled lamb, green tomatoes, and ricotta cheese followed. Marina, meanwhile, proudly announced that she had demolished her teenage son's Sony PlayStation in a reactionary fit.
Breakfasts with tangy marcetto cheese, low-yeast white bread, quince-apple jam, and creamy caffellatte are another benefit of an Abruzzi farm stay. Since agriturismo often entails Formica furniture and faulty plumbing, some visitors may prefer the more patrician comfort of hotels in L'Aquila. Also, guests should assume that English will not be spoken by farm hosts. The Abruzzese are so hospitable, however, that they usually manage to turn a language barrier into a building block of fraternity.
THE FACTS
The Navelli plain in Abruzzi is a two-hour drive east of Rome on the A24 highway. Most farm-stay rates include breakfast and one other meal.
Farm Stays
Casa Verde Civitaretenga; phone and fax 39-0862/959-163; $34 per person.
Quattro A Caporciano; phone and fax 39-0862/931-394; $34 per person.
La Valle San Pio delle Camere; 39-0862/93678, fax 39-0862/931-373; $34 per person. A modern farmhouse, with a sweeping view of the Navelli plain, whose owners serve heavenly homemade fettuccine and gnocchi.
Hotels
Grand Hotel e del Parco 74 Corso Federico II, L'Aquila; 39-0862/413-248, fax 39-0862/65938; doubles from $102. Duca degli Abruzzi 10 Viale Giovanni XXIII, L'Aquila; 39-0862/28341, fax 39-0862/61588; doubles from $60.