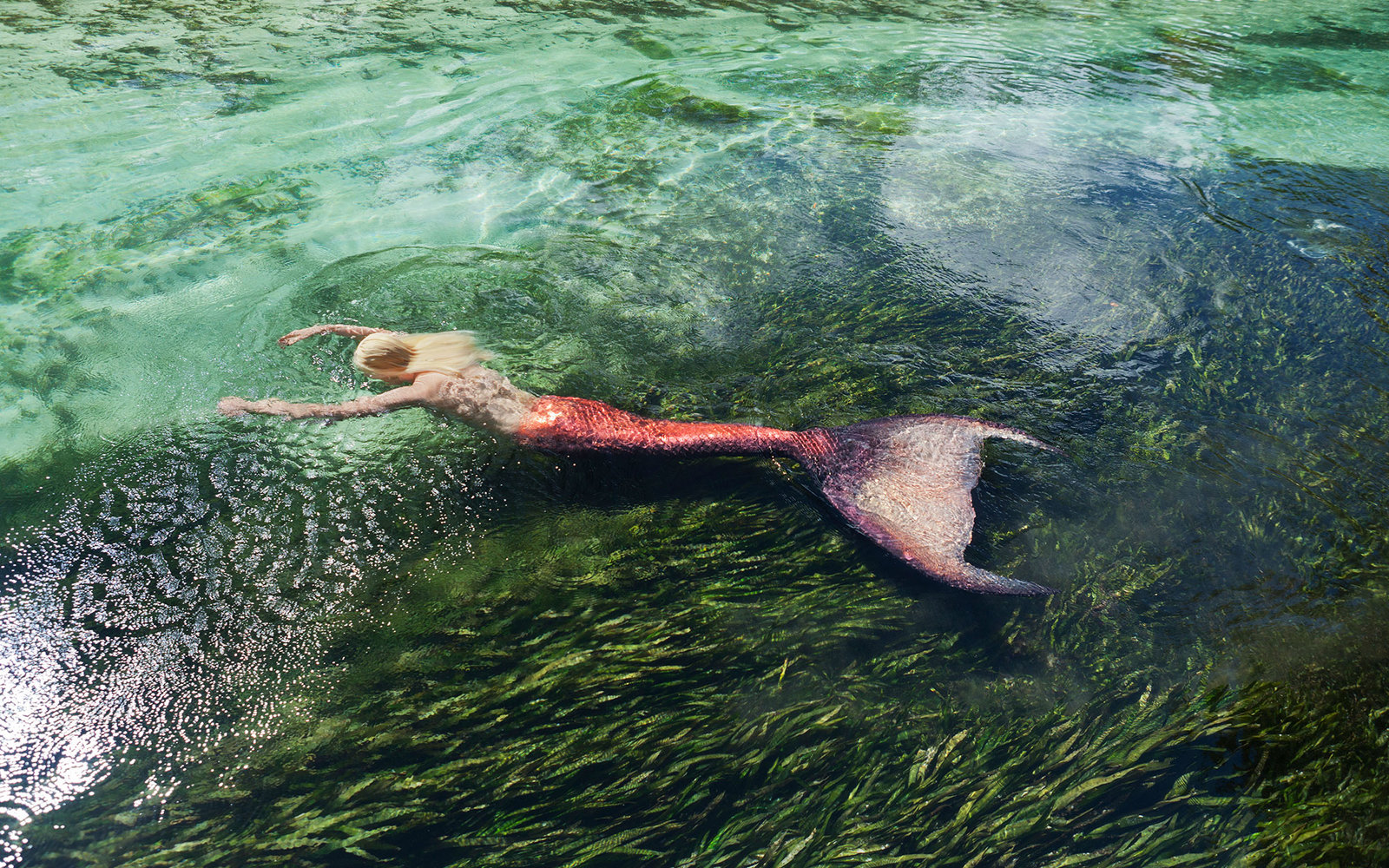 Though P. T. Barnum's famous Fiji mermaid turned out to be a half-monkey, half-fish hoax, there are places stateside where flesh-and-blood mermaids can be found.
Mermaids—half human, half fish—have surfaced throughout the globe in different folkloric traditions: ancient Greece's sirens, Scheherazade's tale of "Djullanar the Sea-girl," Scotland's selkies, Thailand's Suvannamaccha, the African diaspora's Mami Wata, Indonesia's Nyai Roro Kidul, Brazil's Iara, the Slavic rusalki, and Hans Christian Andersen's (and, by extension, Walt Disney's) "Little Mermaid." Today, mermaids (okay—humans in mermaid costumes) can be found across the United States, from roadside attractions to popular festivals.
1. Florida's Weeki Wachee Springs is one of the oldest roadside attractions in the state—home to an underwater theater and, since 1947, live mermaid shows. In 2008, it became a state park.
2. Florida clearly loves its mermaids: Fort Lauderdale's mermaid bar, The Wreck, has been around since 1950. With aquariums for windows and lots—lots—of tall ship-style lanterns and rope decor, the bar has a live mermaid show every Friday and Saturday evening.
3. The mermaids of Ripley's Aquarium in Myrtle Beach, S.C., swim every weekend in Ray Bay, among cownose, spotted eagle, and south string rays. Did we mention the sharks? There are also sharks—bonnetheads and leopards.
4. In New York, Coney Island's famous Mermaid Parade gives spectators an annual opportunity to see merfolk of all shapes and sizes on dry land. The Mermaid Parade has celebrated the beginning of summer (it takes place the Saturday closest to the season's start date) since 1983, but it reaches back into Coney Island's storied, and carnivalesque, past.
5. The East Coast doesn't have a mermaid monopoly. Las Vegas's Silverton Casino showcases mermaids in their 117,000-gallon aquarium, which is also home to more than 4,000 fish. Scuba-certified visitors can even tie the knot in the tank—just don't forget to bring the best merman.
6. Denver's Downtown Aquarium restaurant hosts underwater performances in view of their dining room, where mermaids swim to music and teach their audience important environmental lessons. The Aquarium also boasts more than 500 species on display in a million gallons of water—there's a lot more to see than just the mermaids.
7. Sacramento's Dive Bar takes its name seriously. No dingy drinking hole, this aquatic-themed watering hole features a 7,500-gallon aquarium above the bar where patrons can find mermaids (and merman) swimming every happy hour. Their tails were specially designed for the venue by "the Mertailor."
8. For those merfan who want to get interactive, San Diego's Siren School offers Mermaid Bootless Camps: a two-day program in Long Beach, California, that promises participants fins-on experience. Bring your own tail!
9. The Sirens of New Orleans are a marching group that parades in mer-costume every Mardi Gras. Founded in 2010, the group of now more than 145 dancers and supporters show off their scales throughout the year at parades and charitable events.
10. In Great Falls, Montana, the Sip 'n Dip Tiki Lounge boasts an underwater view into a hotel pool—part of which is roped off for mermaids-only swimming. Even Darryl Hannah has taken a dip. Evening shows Tuesday through Saturday.