Banganga Tank
TIME : 2-22 11:31:29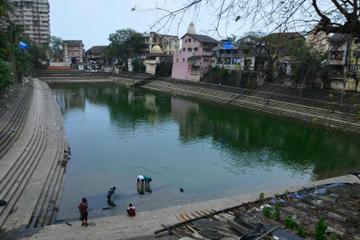 Banganga Tank
In the heart of Mumbai's most exclusive district, Banganga Tank is one of the oldest and holiest sites in the city. First built in 1127 AD during the Silhara dynasty, this natural freshwater spring is surrounded by the stone-turreted temples and colorful shrines of Walkeshwar Temple Complex. As you sit on the pool's surrounding steps, notice the wooden pole which appears like an arrow in the middle of the water. Said to point to the center of the earth, legend has it that, 5,000 years ago, while the Hindu god Ram was searching desperately for his kidnapped wife, Sita, he stopped at this spot and begged his brother Lakshmana for a little water. Lakshmana threw an arrow into the ground, and immediately an eruption of water burst forth.
Said to be a tributary of the Ganges, which flows 1,000 miles away, on a visit to Banganga Tank you may well see religious pilgrims bathing themselves in the spiritual healing waters. An especially good time to visit Banganga Tank is in January, when the annual two-day Banganga Festival celebrates classical music performed by Indian musicians from across the country.
Practical Info
On the southern tip of Malabar Hill, in Walkeshwar Temple Complex, Banganga Tank and the temple complex is around a 10-minute walk from Walkeshwar Bus Depot. Entrance is free, and the holy site is open year-round.