Annah Rais
TIME : 2016/2/22 11:56:41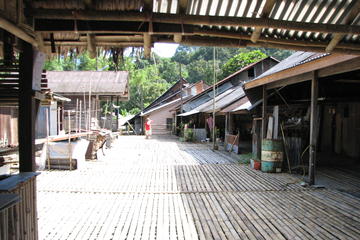 Annah Rais
Situated 62 miles (100 kilometers) south of Kuching, Annah Rais is a Bidayuh longhouse settlement in the foothills of the Borneo Highlands. While the 500 or so residents of Annah Rais make a living from tourism and the settlement has long been on the tourist map, they've done well to preserve the traditional longhouse architecture, and visitors get a sense of what life in such communal settlements is like.
Annah Rais comprises three separate longhouses, Kupo Terekan, Kupo Saba and Kupo Sijo, which travelers can visit solo or with a guide. Each longhouse has a covered bamboo verandah, called an awah, used for communal activities. Doorways spaced along the longhouse lead to each family's private quarters.
While some visit Annah Rais just for the day, some of the residents open their homes to visitors as part of a cultural homestay program. Visitors are paired with a local family who provide a traditional dinner and breakfast in addition to the enriching cultural exchange.
Practical Info
The easiest way to get to Annah Rais, aside from booking a private tour, is to hire a taxi in Kuching.