Nagi Gompa
TIME : 2016/2/22 12:07:00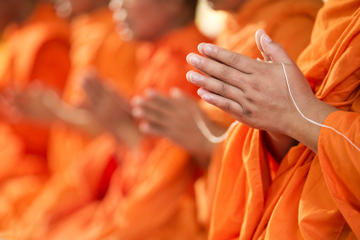 Nagi Gompa
The Nagi Gompa monastery is a nunnery located in Shivapuri National Park and can be found on the northern slopes above Budhanilkantha. At an altitude of 2,330 meters, the monastery is overlooking Kathmandu Valley and is home to over 100 nuns, who have come here to meditate and study the Buddhist scriptures in the peaceful surroundings and clean air of the green mountain landscape. Here, the focus lies not only on awakening to an enlightened nature, but also on transforming harmful mental states to love and wisdom. Nagi Gompa is one of only few monasteries offering such opportunities to female Buddhists and accordingly, the nunnery is so popular, that more women arrive from all over Nepal and Tibet every year and various expansion plans had to be put into action.
Nagi Gompa is also the perfect place for foreigners looking for a short or even longer respite. Since the nunnery serves as a retreat center, it is possible to rent a room in the monastery and stay there for days or even weeks to meditate to the sounds of drums, cymbals and chants. Although some travelers decide to stay longer, many just stop for an hour on their hikes to elsewhere to see the performance of "chöd," a Tibetan meditation dance, which the nuns at Nagi Gompa have become famous for.
Please note that Nagi Gompa nunnery suffered damages in the earthquake and subsequent aftershocks in Nepal in late April and early May 2015. Several of the complex's buildings have completely collapsed and several others are partially destroyed. Authorities have said they will do all they can to restore historic and cultural sites in Nepal and are assessing the extent of damages.
Practical Info
To get to Nagi Gompa, take the bus from Ratna Park in Kathmandu to Budhanilkantha, where you will have to purchase your entrance ticket to Shivapuri National Park. From there, it's a 2-3 hour hike to the monastery, although it is possible to drive up there with a 4x4 vehicle. 
You Might Also Like