Opéra Bastille - Opéra National de Paris
TIME : 2016/2/22 10:54:54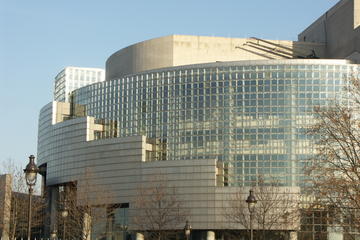 Opéra Bastille - Opéra National de Paris
Paris' most eye-catching modern theatre is the Opéra Bastille, located in the 12th Arrondissement of Paris and cutting a striking silhouette against the city's many traditional baroque theatres.
It was the 20th century composer Pierre Boulez who spearheaded the campaign for a new government-built opera house, initially intended to replace the historic Opera Garnier, or Palais Garnier, and encourage a new generation of concertgoers to enjoy classical music. The two theatres now compete for the title of Paris' most prestigious classical venue, with the original Opera house remaining the home of the Paris National Ballet and the celebrated Opéra National de Paris moving to the contemporary Opéra Bastille.
Designed by the previously unknown Canadian-Uruguayan architect Carlos Ott, who beat 1,700 other design proposals submitted via an international competition in 1983, the Opéra Bastille was inaugurated in 1989 on the 200th anniversary of the storming of the Bastille. An accomplished feat of architectural ingenuity, the modernist design utilizes the same materials inside and out, and features a vast mosaic of glass panes that make up its dramatic transparent façade. Inside, the acoustically homogeneous main auditorium features 2,700 seats, each with an unobstructed view of the stage, and makes an atmospheric setting for champagne-fuelled classical music concerts and operatic performances.
You Might Also Like