Waterford Treasures Medieval Museum
TIME : 2016/2/22 11:36:03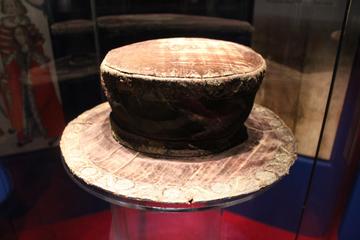 Waterford Treasures Medieval Museum
The Waterford Treasures Medieval Museum is one of three museums that make up the Viking Triangle in Waterford, Ireland. It is Ireland's only purpose-built medieval museum and features two medieval chambers: the 13th century Choristers' Hall and the 15th century Mayor's Wine Vault. The latter is the oldest wine vault in Ireland, built around 1440.
Visitors to the Medieval Museum have the opportunity to see an impressive collection of historical treasures, including the Relic of the True Cross, acquired by Pope Paschal II during the First Crusade, and King Henry VIII's Cap of Maintenance, the only piece of the king's wardrobe to survive anywhere in the world. Also on display are the Great Charter Roll of Waterford from the 14th century, the Sword of King Edward IV, the Cloth of Gold Vestments from the 15th century, the Great Parchment Book of Waterford, which contains city records from 1356 to 1649, and the Luker Chalice, the oldest Waterford chalice in existence.
Practical Info
The museum is open daily year round, except Christmas Day, St Stephen's Day (December 26) and New Year's Day. Opening hours are Monday to Friday, 9:15 a.m. to 6 p.m. (5 p.m. September to May); Saturday 9:30 a.m. to 6 p.m. (10 a.m. to 5 p.m. September to May); and Sundays and bank holidays 11 a.m. to 6 p.m. (5 p.m. September to May). The last admission is at 5:20 p.m. (4:20 p.m. September to May). Admission is 7 Euros or 10 Euros for a combined ticket with the Bishop's Palace. Tours are available and take about 45 minutes.
You Might Also Like