Circumetnea Railway
TIME : 2016/2/22 11:42:21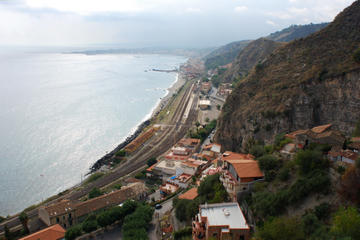 Circumetnea Railway
There are many ways to explore the sights of Sicily, including its famous volcano - Mt. Etna. If you're not up for hiking to the volcano's crater, you can stay closer to sea level and circle the mountain with a train ride on the Circumetnea Railway.
The Circumetnea Railway, as you might guess from the name, more or less circumnavigates the base of Mt. Etna, from Catania to Riposto on Sicily's eastern coast. The entire trip is just over 68 miles, with 35 stops in total (including the cities at either end of the route). The track was first laid in the late 1800s.
There are several trains per day when the Circumetnea is in operation, which is every day except Sundays and holidays. The schedule varies depending on the season, so you'll need to check with the train ticket window at the station when you arrive to find out what the current schedule is. Also note that not every train serves every station along the route, so make sure the train you're taking will get you where you want to go.
A ticket from one end of the Circumetnea to the other - Catania to Riposto - is less than €8 one-way, or less than €12 for a round-trip ticket. A complete trip from one end to the other takes more than three hours one way, assuming there are no delays.