La Graciosa
TIME : 2-22 14:09:01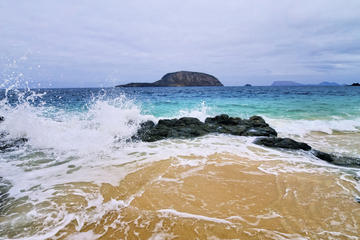 La Graciosa
Those looking a change of pace from the busy beach resorts and lively nightlife of mainland Lanzarote will find the tranquil isle of La Graciosa to be an enchanting place, just a short boat ride from the island's northern coast. The largest and only inhabited inland of the small Chinijo archipelago, La Graciosa is home to just 600 people, has no roads or natural water supply, and no hotels, making it the perfect spot to get away from it all.
With its dreamlike landscape of sandy beaches, sweeping dunes and volcanic hills, most visitors come to La Graciosa to soak up the scenery and getting around the 30 square-kilometer island is easily done on foot, by jeep or water taxi. Along with swimming and sunbathing, the most popular pastimes for day-trippers include cruising around the surrounding isles, cycling along the coast or scuba diving in the surrounding marine reserve, whereas holidaymakers can rent out one of the traditional whitewashed cottages by the Caleta del Sebo harbor.
Practical Info
La Graciosa is the largest island of the Chinijo archipelago, located off Lanzarote's north coast. Regular ferries from Órzola to La Graciosa run daily between 10am-6.30pm during the summer months and take around 20 minutes, or else you can hire a boat or join a guided tour. Water taxis and bikes are available to rent from the town of Caleta del Sebo.
You Might Also Like