Santa Clara Island
TIME : 2016/2/22 14:10:22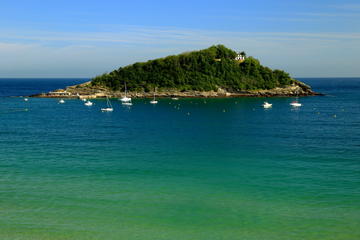 Santa Clara Island
Santa Clara Island One of San Sebastián's most-seen sights is in fact probably one of its least accessible: that's because it's an island. Santa Clara Island is situated in the middle of La Concha Bay, and stretches 400 meters across and 48 meters up into the sky, where it's topped by uninhabited lighthouse.
The island isn't just for looking at from afar, though, as ferries make regular journeys there during the summer (and those with more physical prowess can get there by rented kayak). What waits for you on the other side? Santa Clara Island is noted as being home to San Sebastián's fourth beach, a miniature, 30-meters-in-length stretch of land that only reveals itself for a few hours during low tide. It may be small, but given its popularity, a lifeguard watches over the shore.
If you miss the beach, there are other things to do here, too. You can trek up to the top of the island to – if you've planned accordingly – enjoy a picnic lunch at one of the tables. Or you can just take in unique views of the coastline and San Sebastián's old quarter, which sit right across the water. The island is also home to a small bar, where you can restock on refreshments and snacks during your visit or before taking the short journey back to the city's port.
Practical Info
Ferries leave daily from the San Sebastián port from June 1 to September 30 and during the week of Easter, weather permitting. For those who plan to go for a swim, note that public showers are available should you wish to rinse off.