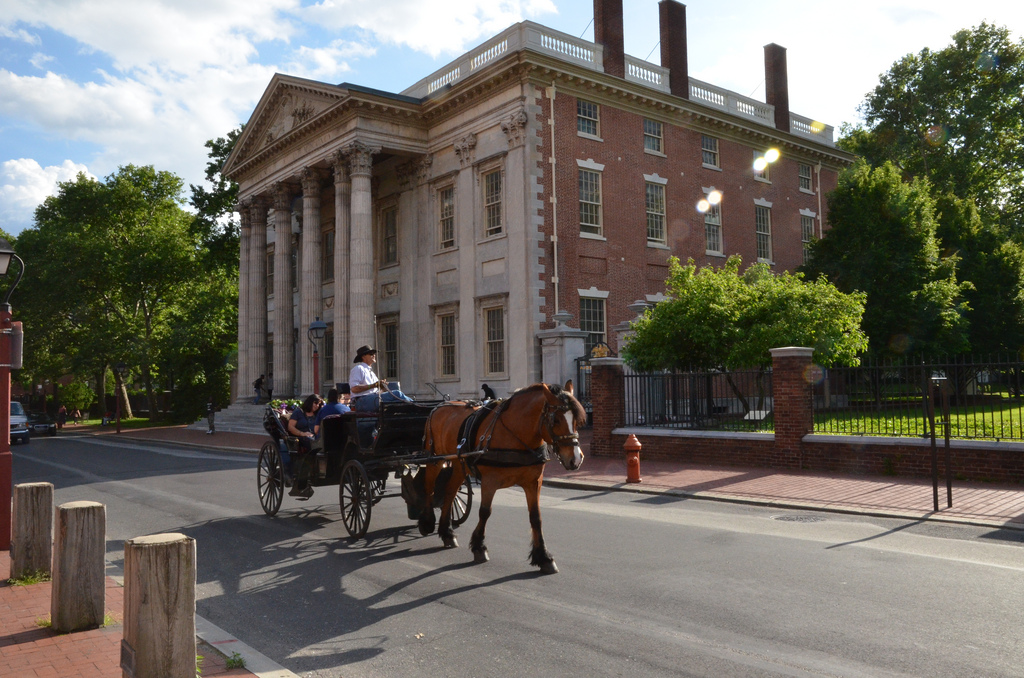 Taking a guided tour can be a fun and educational way to start your visit to Philadelphia. Options range from your basic history tour to a bar crawl led by guides in colonial garb. Old City is usually best explored on foot, with lots of sights within close proximity of one another, but to cover farther-reaching areas of the city—or when hot summer temperatures make it unpleasant to do much walking at all—there are also bike, bus, trolley, carriage, boat, and even kayak tours to choose from.
On Foot
Guided 75-minute Constitutional Walking Tours (215/525-1776, Apr.-Nov., $17.50 pp, $12.50 child 3-12, $55 family of four) start at Independence Visitor Center (6th and Market Sts.) and cover about 20 sites, including the Betsy Ross House, Christ Church, and the National Constitution Center. For $15, download the tour to your MP3 and go at your own pace. Note that the price of the tour does not include admission tickets.
On a 90-minute Candlelight Ghost Tour (215/413-1997, Mar.-Oct. daily 7:30pm, additional times in summer, Nov.-Feb. days and times vary, $17 adult, $10 child 4-12) of Independence Park and Society Hill, you'll hear tales of ghosts believed to roam "America's most historic and most haunted city," with stops including Independence Hall and St. Peter's Cemetery. The same company offers a Haunted Trolley Tour, also 90 minutes, which covers more ground with less time at each site ($30 adult, $20 child 4-12). Walking tours depart from Signers Garden (5th and Chestnut Sts.), and trolley tours depart from outside the Bourse (11 S. 5th St.). Purchase tickets at the Independence Visitor Center, Omni Hotel Gift Shop (415 Chestnut St.), or online.
A variety of unique tours depart from Historic Philadelphia Center (Chestnut and 6th Sts., 215/629-4026, Apr.- Oct., times vary). On the Tipplers Tour ($40 adult, $35 senior, military, and student), adults enjoy a drink at four different bars while learning about the role of the local watering holes in colonial Philadelphia. The Independence After Hours Tour ($85 adult, $55 child 12 and under, $80 senior, military, and student) includes a three-course dinner at City Tavern with colonial townspeople and Revolutionary-era reenactments between courses, followed by a walk to Independence Hall where you'll "sneak" inside to watch the founding fathers debate the Declaration of Independence. In addition, the Lights of Liberty underwent a $10 million makeover with a new and improved tour debuting in 2011 that tells the story of the American Revolution through an audio track, giant laserlight images, and groundbreaking 3-D technology.
For a free tour of Independence Park, Twilight Tours (early July-Labor Day, daily 6pm, free) are offered by Friends of Independence National Historical Park (143 S. 3rd St., 215/861-4971). The volunteer-led walking tours meet at Signers Garden (5th and Chestnut Sts.) and last about an hour.
Philadelphia Society for the Preservation of Landmarks tours (1608 Walnut St., 215/546-1146, prices and tours vary) are a hit with those interested in an in-depth tour focusing on architecture and history featuring off-the-beaten places that most visitors and many locals never see.
On Wheels
Philadelphia Trolley Works and 76 Carriage Company (215/389-8687) operates narrated tours on open-air Victorian trolleys, double-decker London-style buses (Big Bus Company), and horse-drawn carriages (76 Carriage Company). Bus and trolley tours depart from the Independence Visitor Center (5th and Market Sts.) and allow you to hop off at any of 21 stops around the city, including Independence National Historical Park, Chinatown, City Hall, Eastern State Penitentiary, Philadelphia Museum of Art, Philadelphia Zoo, Franklin Institute, and Penn's Landing. An all-day pass costs $27 (adult), $25 (senior), or $10 (child 4-12), and a two-day pass is $43, $40, or $18, respectively. Carriage rides through Old City and Society Hill depart from 5th and Chestnut Streets and cost $35-90 for four people, depending on the length of tour, and an additional $10 for each additional rider. Avoid taking a carriage ride on the hottest summer days—the horse will be even hotter than you are. Check the website for the full variety of specialty tours offered by this company.
Tours on Segways (those two-wheeled, self-balancing electric scooters) are offered by two companies. Wheel Fun Rentals (215/523-5827, $60-90) offer a 3-hour all encompassing tour of downtown Philadelphia and a 1.5-hour Old City Historic Tour. Both tours depart from the Independence Visitor Center. Detours (22 N. 3rd St., 267/324-5408, 1.5-3 hours, $55-89 pp) offers Segway tours that depart from Old City with the choice of three routes: one to the Art Museum District; one within Old City and Independence Park; and a "Cheesesteak Tour" to South Philly, stopping at five popular cheesesteak spots.
On Water
Schuylkill Banks River Tours (Schuylkill River at Walnut St., 215/222- 6030) offers three seasonal boat tours: a general river tour; a trip to Bartram's Garden with time to explore; and a jazz cruise. Kayak tours led by a certified instructor depart from the same spot.
There are several ways to tour the Delaware River, including American Sailing Tours (211 S. Columbus Blvd., Penn's Landing, 215/900-7758, Apr.-Oct.), which offers a variety of themed tours throughout the day and night on a historic schooner. Check out the popular BYOB wine and cheese tour.
Not exactly a tour, but more of a party on water, the Spirit of Philadelphia (Pier 3, Columbus Blvd., Penn's Landing, 866/455-3866, prices vary) is a large ship spread out over two floors offering lunch, dinner, late-night cruises, and special theater and holiday cruises along the Delaware River. The staff entertains with Philadelphia facts and dance routines before the dance floor opens to everyone.
---
Excerpted from the Third Edition of Moon Philadelphia .