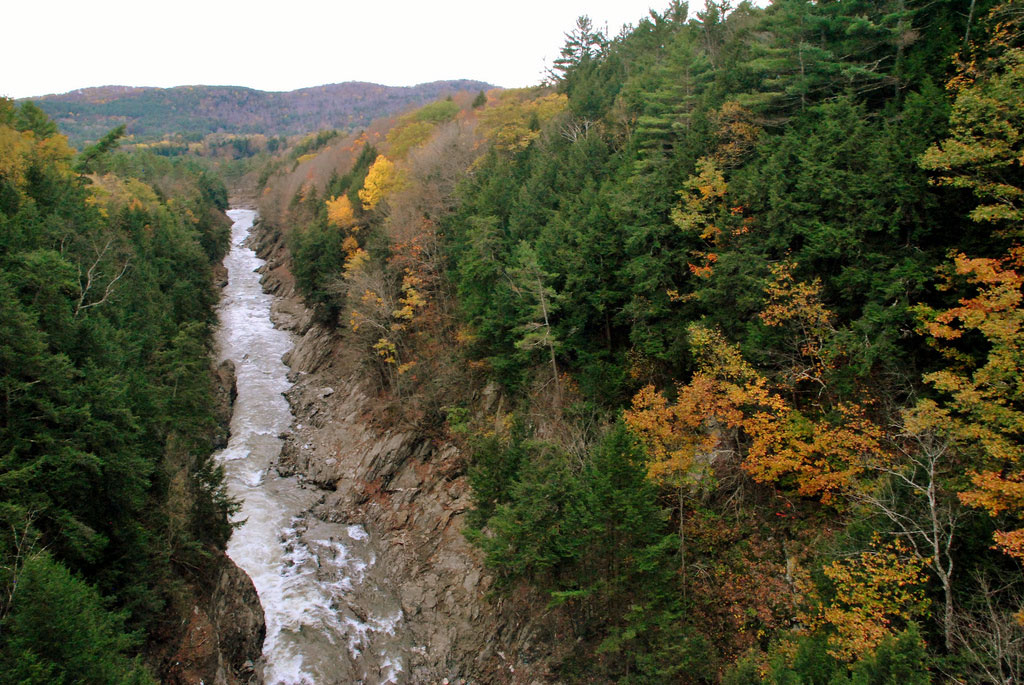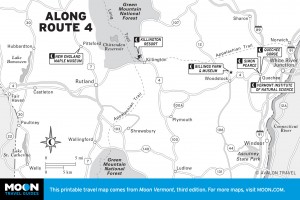 As Route 4 winds its way along the Ottauquechee River into the heart of the state, it passes through a region beset by contrasts. On one hand is the natural beauty of the river, which reaches its peak at the stunning Quechee Gorge. On the other is the runaway development of condos and schlocky tourist shops of Quechee, which somewhat mars the tranquility. Even so, there is something endearing even about all the schlock, which seems more beholden to a retro era of car-touring and motor lodges than modern strip-mall development. Quechee is officially a village of the town of Hartford, so depending on the source you may find street addresses listed as either location.
Sights in Queechee
Vermont Institute of Natural Science
The Vermont Institute of Natural Science (Rte. 4 just west of Quechee Gorge, 802/359-5000, 10 a.m.–4 p.m. daily Nov.–mid Apr.; 10 a.m.–5 p.m. daily mid-Apr.–mid-June; 10 a.m.–5:30 p.m. daily mid-June–Oct., $12 adults, $11 seniors, $10 children 4–17, children 3 and under free) is a museum simple in its concept—an outdoor semicircle of cages underneath a large awning. But to call the feathery raptors inside the cages "birds" is like calling John Lennon "a musician." Over the years, VINS has made it its mission to rescue and rehabilitate birds of prey, including hawks, owls, and eagles, and display them for the education of visitors. Watching the raptors watch you is an unforgettable experience; behind the hooked beaks lie the deadly eyes of a killer. They become more accessible with the expert interpretation of the center's trained staff, who know the habits and quirks of the birds inside and out.
Try to time your visit with one of the raptor educational programs, held at 11 a.m., 1:30 p.m., and 3:30 p.m. daily, during which you can see these predators take flight. Of course, the other prime time to visit is during feedings, just before dusk. In addition to the raptor exhibits, VINS also has an hour-long interpretive nature trail and offers guided hikes into nearby Quechee Gorge.
Quechee Gorge
It's not quite Vermont's answer to the Grand Canyon, no matter what some might say. And yet there's no denying that Quechee Gorge (Quechee State Park, 5800 Woodstock Rd., Hartford, 802/295-2990) is a breathtaking natural wonder. Part of the appeal of the narrow, rocky canyon is the way it comes across Route 4 so suddenly, plunging 165 feet down into the Ottauquechee River racing below. The gorge was formed some 13,000 years ago, when waters from a glacial lake cut inch by inch through tough bedrock schist. While the view from the railroad bridge on the highway is spectacular, a more rewarding view can be had by taking a short hike down to the river.
Simon Pearce
Town and Country readers from all over the East Coast make special trips just to buy glassware and pottery at Simon Pearce (1760 Main St., the Mill at Quechee, 802/295-2711, 10 a.m.–9 p.m. daily), which has crafted exquisite specimens of both for more than three decades. Located in an old mill building completely run by hydroelectric power, the studio is open to the public for demonstrations (call to confirm demonstration dates and times).
In the downstairs area, potters spin Pearce's distinctive shapes, while glassblowers blow bubbles into glowing orange balls of 2,400-degree silica (the glassblowing room is a particularly popular place to spend time in winter). Also on display are pictures from the excavation of the mill pond and installation of a turbine brought from Nova Scotia in 1983. And then, of course, there are several levels where you can buy Pearce's designs yourself, including a healthy sampling of cut-rate "seconds" with minor imperfections. To find the Mill at Quechee (coming from I-89), cross Quechee Gorge and take a right at the first blinking light.
Vermont Toy & Train Museum
Just as impressive as the gorge next door, albeit in a completely different way, is the Vermont Toy & Train Museum (Quechee Gorge Village, Rte. 4, 802/295-1550, 9:30 a.m.–5:30 p.m. daily, free), which has three complete model railroads and vintage toy train displays catering to the four-year-old in all of us. That's not the half of it, however. The real draw of this mini-museum is encapsulated in its slogan: "I had one of those!" Display after display exhibits vintage lunchboxes, dolls, robots, stuffed animals, and action figures from Star Wars, Star Trek, Lost in Space, My Little Pony, Strawberry Shortcake, and a dozen other galaxies you haven't inhabited in years. There's guaranteed to be at least one toy that sends you into spasms of reverie, if not a full-fledged nostalgia-fueled time warp back to an earlier, simpler time when a couple hunks of plastic and your imagination were all you needed for a great afternoon.
Events in Quechee
Colored canvas lights up the sky above Quechee Gorge at the annual Quechee Hot Air Balloon, Fine Arts, Craft & Music Festival (802/295-7900, June), a tradition for more than 25 years. The event features musical performances, kids' games, and—of course—rides "up, up, and away" in more than two dozen brightly colored balloons.
Information and Services
The racks at Quechee Gorge Village (Rte. 4, 802/295-1550, 9:30 a.m.–5:30 p.m. daily) are stuffed with brochures on the town and surrounding area. For more information, contact the Hartford Area Chamber of Commerce (802/295-7900).
---
Excerpted from the Third Edition of Moon Vermont.