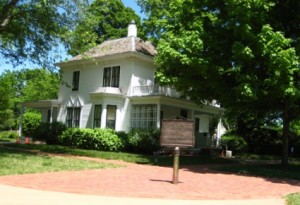 For my latest blog series, I've been sharing some of my favorite small towns in the United States—which, as I've explained in the first part of the series, I consider travel-worthy communities of less than 10,200 residents. So far, I've covered six towns, stretching from Astoria, Oregon, to Deadwood, South Dakota.
Here, then, are three more enticing destinations, situated in the Western, Midwestern, and Southern regions of America:
Telluride, Colorado
As with Park City, Utah, and Ketchum, Idaho—two towns mentioned in the previous part of this series—Telluride is a former silver-mining camp of the 19th century. Situated about 120 miles north of Durango in southwestern Colorado, this lovely resort town sits beside the San Miguel River in the western San Juan Mountains. Long an artists' haven, this small community of roughly 2,450 residents is home to the popular Telluride Film Festival and Telluride Jazz Celebration, among other well-favored cultural events. Designated a National Historic Landmark District in 1964, Telluride's core area encompasses Victorian-era homes, historic structures, art galleries, quaint boutiques, and gourmet restaurants. Of course, the town—which I remember fondly during a long-ago visit as a child—is also well known for its array of outdoor diversions, including biking, hiking, backpacking, fly-fishing, golfing, horseback riding, and rock-climbing during the summer months. Visitors can also enjoy river-rafting, stargazing, and hot-air balloon rides, not to mention wintertime snowshoeing, dog-sledding, and sleigh rides. In fact, the Telluride Ski Resort is internationally recognized as a premier skiing and snowboarding destination. For more information about Telluride and its environs, consult Steve Knopper's Moon Colorado or Sarah Ryan's Moon Colorado Camping.
Abilene, Kansas
Though many travelers (including me) have been known to complain about tedious driving routes across Kansas, history buffs will find a lot to love about the Sunflower State. One destination worth your time is Abilene, a town with a population of more than 6,800. Located in the northeastern part of the state, about 90 miles west of Topeka via I-70, Abilene is perhaps best known for its array of historic mansions and structures, not the least of which is President Dwight D. Eisenhower's boyhood home (pictured above). Abilene is also the site of the impressive Eisenhower Presidential Library & Museum as well as the Greyhound Hall of Fame, the American Indian Art Center, and the Abilene & Smoky Valley Railroad, which operates an excursion train from May to October. Besides old-fashioned soda fountains, antiques shops, and narrated trolley tours, you might also appreciate catching a show at the Great Plains Theatre, considered "the only professional theatre between Kansas City and Denver."
Gatlinburg, Tennessee
As with Branson, Missouri, many people dismiss Gatlinburg as just another touristy town, and while I admit that this former mountain hamlet houses its share of glaringly commercial enterprises, it's well worth a visit—especially for outdoor enthusiasts. After all, this community of approximately 5,100 people lies at the heart of the Smokies and serves as the principal gateway for Great Smoky Mountains National Park, the most visited national park in the country. More than two decades ago, I made my first trip to Gatlinburg with my mother, and I can still remember the thrill of driving alongside the rushing Little Pigeon River, climbing to the top of Clingmans Dome, and, yes, touring an array of kitchsy museums. While hiking, biking, fishing, and camping in the nearby park are the preferred diversions of most visitors to Gatlinburg, families may appreciate such attractions as the Mysterious Mansion, the Motion Ride Movie Theater, Ripley's Aquarium of the Smokies, the 75-year-old Great Smoky Arts & Crafts Community, the world's largest Amazing Mirror Maze, and two options that offer panoramic views of Gatlinburg and the surrounding mountains: the 400-foot Space Needle and the old-fashioned Gatlinburg Sky Lift. For more information about Gatlinburg, consult Deborah Huso's Moon Blue Ridge & Smoky Mountains or Susanna Henighan Potter's Moon Tennessee.
So, as I've asked in my previous posts, have you ever visited any of these curious places? If so, do you agree with their inclusion on this list—and if not, why not?
In the meantime, stay tuned for the fifth part of my series, which will highlight three more of my favorite small towns, spread throughout the Midwest.